In This Issue
Annual Meeting
Conferences
Open Houses
Company Moves
Educational Outreach
VC Corner
RRPC Board Elections
Get Your Ballots In!
RRPC voting members ought to have received the ballots for this year's election the week of March 21.
Completed ballots must be received no later than 5:00PM, Friday April 4th.
If your company's primary contact for RRPC business did not receive a ballot, contact The Rivers Organization immediately at (585) 385-6053.
The nominees are:
Chris Cotton, ASE Optics
William Greener, Bond, Schoeneck & King
John Hart, Lumetrics
Katherine Kamenecka, Corning
Gregg Sadwick, JML Optical
Paul Tolley, Syntec Optics
New directors will be announced at the annual meeting on April 23.
Sydor Completes Facilities Consolidation
Sydor Optics, specializing in the fabrication of precision flat-surfaced parallel and wedged optics, announced they have completed the relocation of their final satellite operation, the CaF2/MgF2 laser optics fabrication shop, into their newly expanded facility in Rochester, NY. The laser optics shop, located in Fairport, NY, moved into the company's headquarters located at 31 Jet View Drive in Rochester, NY on March 26, completing the consolidation of all operations.
After purchasing the 28,000 sq. ft. facility in 2007, Sydor Optics renovated the building and moved their optics fabrication operation and their Instruments group to the new location in June of 2007. With the recent completion of a 12,000 sq. ft. addition, the consolidation project is concluded. In preparation for long-term growth, Sydor Optics has also purchased the adjacent 23,500 sq. ft. building.
As a result of the recent facilities expansion, as well as their latest investment in capital equipment, Sydor Optics is well positioned to continue their record breaking growth of over 200% over the past three years. "It's a good time to be in the optics business", states company President Jim Sydor. "The entire industry is busy and this is reflected in the volume of business we have been experiencing here at Sydor. We now have plenty of room to take on more large volume opportunities and to expand our operations as needed" says Sydor.
Sydor's move was assisted, in part, by Monroe County Economic Development and COMIDA.
Market Expansion Again for Squiggle
New Scale Increases Market With Agreement
New Scale Technologies, Inc. has expanded its SQUIGGLE motor license agreement with Tamron Co., Ltd. (www.tamron.co.jp), a leading global manufacturer of high-precision optics and optical assemblies.
The new multimillion dollar agreement extends and expands Tamron's license to use New Scale's patented piezoelectric SQUIGGLE motor - the world's smallest linear motor. The new agreement grants Tamron a license to manufacture SQUIGGLE motors and integrate them into Tamron products at its high-volume precision manufacturing facilities in Japan and other parts of Asia. Tamron may also produce SQUIGGLE motors as a contract manufacturer for New Scale as needed.
Tamron has a 50-year history of precision, high-volume manufacturing and a reputation for high quality. New Scale will continue to produce SQUIGGLE motors at its Victor, NY manufacturing facility with a production capacity of up to 100,000 motors per month, for applications including research, electronic locks and medical devices. Collaboration with Tamron extends that capacity for high-volume consumer products such as mobile phone cameras.
"Our successful collaboration with Tamron has allowed New Scale to make inroads into the mobile phone camera market, and this expanded agreement is a key part of our strategy to meet this market's demand for millions of tiny motors per month," said Ted Franceschi, co-CEO and chief development officer at New Scale. "It is another milestone in our build-up of global manufacturing and supply chain capabilities for SQUIGGLE motors, both at our US manufacturing center and at our partners' facilities close to customers around the world."
Tamron is traded on the Tokyo Stock Exchange (TSC- Section 1). "
Call for Papers
Technical Conference: October 19–23, 2008
OSA's Annual Meeting: Frontiers in Optics (FiO) 2008, the longest-standing meeting in optics and photonics, will once again be held in Rochester, New York this year. Colocated with the meeting is the American Physical Society's (APS) annual meeting, Laser Science XXIV.
The meeting is also the occasion of OSA's Fall Optics & Photonics Congress. Submission deadline for papers is May 19th for all three segments of the Congress:
8th Annual Golf Tourney
Spread the word! The 8th annual WNY Photonics Golf Tournament will be held on July 17th at Shadow Lake and Shadow Pines Golf Clubs in Penfield NY.
Last year's event raised $14,500 for a total thusfar of $43K to benefit the Golisano Children's Hospital at Strong.

The participation from WNY photonics companies, their suppliers and and friends, as well as companies from as far away as Opto Sigma in California made the event another rousing success. Ron and Diane Schulmerich are looking for volunteer committee members to help organize this year's event. The organization of the tourney has become more challenging each year with the increasing participation. They are in of a need of a little help from their friends!! We also want to get an early start on soliciting larger corporate sponsors this year.
Contact them at wnyoptics@rochester.rr.com or
585-663-7230 if you are interested in volunteering for the Optics Industry's largest networking event of the year.
---
Speaking of Golf:
New Photonics Golf League!
Carol Corey of Sydor Optics and Ron Schulmerich of Angstrom Precision Optics are organizing a Photonics Golf League at Shadow Lake. After contacting the area courses, there were limited options for time slots. As a result, they've selected Friday nights after 5:00 and are looking for people who would be interested in participating.
The league season will last from May 9 to August 22, however with the Friday night slot, we'll be able to golf longer if we desire. We will also be alternating between the front and back nine each week. Those of you who have participated in the annual WNY Optics/Photonics Golf Tournament at Shadow Lake, know what a great facility it is. It would be a wonderful opportunity to come out and golf as well as get to know other folks from the local industry.
The cost per person is $23 per week per person; $6 extra per week for a cart
Those amounts include a $5.00/week fee that will be applied towards an end of season tournament and dinner.
If you are interested please contact Carol at 585-271-7300 or Ron at 585-663-7230. Sign-ups will be based upon a first-come, first-serve basis with full payment due by no later than April 18.
Events and Conferences
SUNY CAT Hosting Dinner /Showcase
Rensselaer Polytech's Center for Automation Technologies and Systems (CATS) will host its annual Technology Showcase and Dinner
Wednesday, April 30
4:00pm - 8:00pm
Russell Sage Dining Hall
RPI Campus, Troy, NY.
A technical poster session and reception will be held from 4:00-6:00 p.m. featuring a broad range of Center activities and technologies.
The dinner will start at 6:30 p.m. Edward Reinfurt, Executive Director of the New York State Foundation for Science, Technology and Innovation (NYSTAR), will be the speaker.
Attendees call or e-mail Jeanette Young
(youngj4[at]rpi.edu, 518-276-874
---
CCMR Facilities Open to Visitors
Facilities Overview for Regional Businesses
The Cornell Center for Materials Research (CCMR) will host "Facilities 101."
Tuesday, April 8
9:30am - 4:00pm
701 Clark Hall, Cornell campus
Cost: $100
To register or access further information visit the CCMR website here. Attendees will learn how to access CCMR's extensive materials testing resources to help solve problems and increase competitiveness.
---
CLEO / QELS / PhAST 2008
4 - 9 May, 2008
San Jose, California
Conference
MD&M East
2 - 5 June, 2008
Jacob K. Javits Center
New York, New York
Conference
Optatec 2008
17 - 20 June, 2008
Frankfurt, Germany
Conference
OSA Annual Frontiers in Optics 2008
19 - 23 October, 2008
Rochester, NY
Riverside Convention Center
Optifab
11 - 14 May, 2009
Early Bird Contract, due February 15
here.
Rochester, NY

Save the Date!
RRPC Annual Meeting
Special Guest panel,
Entrepreneurship and Optics
3:30pm - 5:30pm
featuring:
John Bruning, Corning Corporation
Stephen Fantone, President & CEO
Optikos (Wakefield, MA)
N. Darius Sankey, Managing Partner
Zone Ventures (Los Angeles, CA)
Dick Kaplan, President & CEO
Pictometry International (Rochester, NY)
Turan Erdogan, Chief Technology Officer
Semrock (Rochester, NY)
Panel Moderated by Duncan Moore,
Rudolf & Hilda Kingslake Professor of Optical Engineering
Professor of Optics, Biomedical Engineering and Business Administration
Vice Provost for Entrepreneurship
University of Rochester
This year's Annual Meeting includes a late afternoon panel discussion with entrepreneurs from the Optics and imaging fields, moderated by Duncan Moore. The combined events, with your support, will also be a fundraiser.
Here is how it works:
As a New York Photonics / RRPC member, each company gets one free ticket. Additonally, e are encouraging all members to purchase tickets and invite colleagues from outside the industry, and we are sending out a suggested list of invitees just in case. This event will have broad appeal to people from the tech, finance and economic development communities and we want to make sure they get invited.
One registration is $45; five are $195. And of course, the tickets can be business-expensed because you are also wining and dining your guests.
Host business colleagues
Show off the industry
Make a donation to the RRPC fundraiser
RRPC networking reception and Annual Meeting:
5:30pm - 7:30pm
including:
Announcement of new RRPC Board
RRPC Business
Panel Recap
Help make this our most successful Annual Meeting to-date!
Go to Calendar and register on-line here.
Download and print registration form here.
Thanks to this year's sponsors:
Optics Program Seeking Adjunct Faculty

Monroe Community College is home of both an Associate's degree program for opticians and an advanced manufacturing program where technicians can learn about optics manufacturing techniques. The College is looking for adjunct faculty to teach in both programs. If you or someone you know might be interested, both the College and the Industry need your help!
To look at the available position click here.
Then select "search postings"
From Search Postings select "Adjunct Faculty, Optical Technology" from the drop down menu
Click "Search"
You will then be able to view and apply for the position.
Industry Educational Outreach
Schools, Teachers & Students Talk Optics
March was a busy month for outreach between schools and the Optics Industry in the Rochester region. MCC held its first "Hot Jobs Career Night" on Thursday, March 20th and Michael Mandina from Optimax was a guest speaker.
On Wednesday, March 26th, Sydor Optics hosted The Rochester Area Career Education Collaborative and some twenty teachers from around the region interested in learning about the Optics Industry. Mike Mandina of Optimax and Bob Novak from MCC shared presentation duties.
On Thursday, the 27th, The Monroe County School-To-Work initiative and RIT hosted over 100 students and their teachers for a multi-track workshop covering education and career opportunities in Optics & Imaging, Information Technology, Biosciences and Hospitality. Joe Pow from RIT's School of Imaging Sciences led the Optics & Imaging portion of the workshop.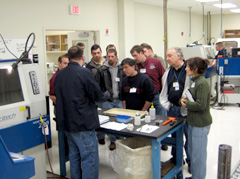 Friday, March 28th saw 16 science teachers from the Greece Athena School District touring Rochester Precision Optics in order to learn more about careers where physics, mathematics, science, and engineering are crucial for success. Thanks to Bill Hurley, Ed Patton and all of the crew at RPO, and Kathy Schindler from Greece Athena Schools for making that tour happen.
Thanks are also due to the OSA for promotional materials that were shared with students and teachers last week.
You can host events and participate in events such as these to promote both your company and our industry. If you are interested, drop an email to Tom Battley at the email address on the bottom of this newsletter.
VC Corner
Preparing for the Storm
Perhaps I'm a bit contrarian because I don't believe we're going to experience a severe economic downturn. (I even refuse to use the "R" word.) But I have enough practical business and investment experience to know that this is an opportune moment to prepare for one and take precautionary measures to insure that your company isn't excessively harmed by it. In a sense, make that trip to the supermarket and hardware store to stock up on water, candles and other supplies in case the storm does hit.
As a venture capitalist, I was an active investor during two severe downturns - the credit crisis in 1990-91 and the dot-com/telecom meltdown during 2001-02. My advice is the product of numerous firsthand encounters that were costly and painful.
It is always preferable to prepare beforehand by assuming that your company will experience a material sales shortfall. When preparing or reviewing your '08 - '09 budget, produce several scenarios assuming with a 10% and 25% revenue shortfall. In each case, determine how you will pare back costs (or defer them) in order to assure your long-term viability. I encourage you also to identify how many of those expenses were incurred during the recent period of prosperity - and perhaps you will conclude that some belt tightening indeed makes sense now. Larger companies are usually guilty of incurring excess expenses when the economy is healthy; entrepreneurs are generally better at managing costs when times are good. A word of caution: treat client relationships as the family jewels. Cutbacks that will have a direct effect upon the client experience should be avoided if possible. That means areas like new product development and training should be targeted first.
Postpone any long-term commitments or investments if possible. If you've been contemplating a move to a larger, more costly facility and are in a position to postpone that decision, you may be best served by hanging tight. Not only will you preserve cash, you may benefit if the real estate market softens. That holds true for certain capital and IT purchases, too.
Consider what you will do if you face a major reduction in cash flow. Where are your alternative capital sources in a moment of need? Remember, the economy is cyclical, so there is always an upturn after a downturn. How are you going to have enough cash to make it through the downturn? In the event you need additional liquidity, do you have a line of credit? What are your borrowing sources? Do your investors have the ability to fund the company? Do you? There are some traditional and creative sources of capital to get you through this. Banks fall into the former category. Make sure your banking relationship is in good order. Have you been in regular contact with your loan officer sharing reliable financial information? Have you had conversations with your investors about how they might support you in a pinch?
Running a company is about the most demanding and rewarding occupation - other than raising a child. It is management's responsibility to plan for the future and abide by the parental advice that "an ounce of prevention is worth a pound of cure.
Contact RRPC
New York Photonics and the Rochester Regional Photonics Cluster are active and growing collaborative organizations. Efforts are under way on joint training events, workforce development, collaborative advertising opportunities, promoting the commercialization of I.P., and the development of our website to further facillitate business development.
Join us! There are advantages to working together, and we are interested in working with you. Send an email to us at membership@rrpc-ny.org.

To subscribe, to unsubscribe, to submit a news item or upcoming event, to suggest a feature or column, or to offer feedback, contact Tom Battley, at 585-329-4029.