In This Issue
Draft ISO Optical Specifications
NASA Launches Largest Camera Ever
Recognition and Awards
New Members
MCC Optics Program
Technical Workforce Training
CLEO/IQEC & PhotonXpo Preview
Conferences and Events
Kepler Space Telescope
In Search of Earth Analogues
NASA's Kepler mission successfully launched into space from Cape Canaveral Air Force Station, Fla., aboard a United Launch Alliance Delta II at 10:49 p.m. EST, Friday, March 6, 2009. Engineers acquired a signal from Kepler the next day, after it separated from its spent third-stage rocket and entered its final sun-centered orbit, trailing 950 miles behind Earth. The spacecraft is generating its own power from its solar panels.
Kepler has the largest camera ever launched into space, a 95-megapixel array of charge-coupled devices (CCDs). The mirror blank was made by Corning Glass works out of ULE, ultra-low expansion glass. The optical polishing of the mirror was performed by Brashear LP, NASA and Ball Aerospace.
We haven't been able to ascertain whether Brashear used QED's MRF two-meter capable Q22-2000F machine to polish this optic, but if you look at session 9 in the advance program for Optifab 2009, you will see this line-up:
Precision figure correction of two-meter optics with magnetorheological finishing, François Piché, Andrew R. Clarkson, L-3 Brashear (United States);
William Messner, Christopher M. Supranowitz, Paul Dumas, QED Technologies, Inc. (United States)
Should be some interesting images on display during that session at Optifab. Draw your own conculsions about how the optic got polished.
An engineering drawing of the Kepler spacecraft is here. An artist's conception of the Kepler target region inthe Milky Way is here.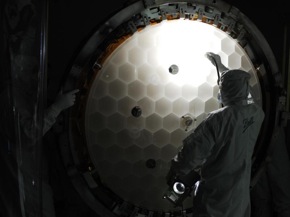 A bigger image of the primary mirror is here.
New Members
Moondog Optics, Inc. is a privately held company founded in 2007. Moondog offers optical design and engineering services with particular expertise in plastic and glass molded aspheres. Their extensive product development experience comes from organizations such as Kodak, Corning, and Jenoptik. The approach is highly collaborative and the primary goal is to help customers create unique, manufacturable designs that can be produced at commodity prices.
Contact Scott Cahall
tel: 585-957-2012
fax: 585-678-4240
http://www.moondogoptics.com
---
Precision Laser Technology (PLT) is a small business offering precision laser engraving &

marking services to industrial markets. PTI works closely with many of the Optics OEM's and contract manufacturers in Rochester, but also with out-of-state companies, providing permanent markings on lenses, lens barrels and rings. Recently, the company relocated to Lexington Avenue in the City of Rochester in order to expand capacity and services. Click PLT's logo to find out more.
Spectrum Thin Films Awarded Contract
Spectrum Thin Films of Hauppauge, NY announced that it was awarded a significant contract with Lockheed Martin to produce a range of optical components for its Space Systems Group.
Spectrum's Founder and President Anthony Pirera said, "Spectrum's ability to deliver turnkey optics and optical assemblies leverages its core competency as a world leading optical thin film deposition house. Our successes with the Mars Phoenix Lander and our current work to help support the James Webb Space Telescope further solidify our position as a leading supplier of mission-critical optical components."
Spectrum purchased and took residence in its current Hauppauge location in 2008. The move doubled Spectrum's footprint and allowed for better organized separation of clean room areas and management functions. For more information please contact Phil Barrows, Sales Manager, 631-901-1009.
CLEO/IQEC & PhotonXpo: A Preview

Once a year, the scientific and technical optics community comes together to experience the latest breakthroughs in electro-optics, lasers and the application of light waves at the Conference on Lasers and Electro-Optics/ International Quantum Electronics Conference (CLEO/IQEC). This year CLEO/IQEC will be held at the Baltimore Convention Center in Maryland, May 31 through June 5.
New this year is the debut of PhotonXpo - The Exhibit at CLEO. PhotonXpo is the premier destination for a global audience of professionals who seek rare insights into the latest in photonics applications and innovations. Attendees of PhotonXpo will learn from the experts with free on-floor programming and presentations while also getting an up-close and hands-on experience with all of the industry's latest products.
Always popular are the Plenary Sessions, being held Monday, June 1 and Wednesday, June 3. This year's speakers for the CLEO session are Edward Moses from Lawrence Livermore's National Ignition Facility and quantum cascade laser inventor Federico Capasso from Harvard University. Quantum physics expert Alain Aspect from France's Institue d'Optique will be giving IQEC's plenary presentation.
Also included in the exhibit attendee pass is access to the three PhAST Market Focus sessions. This free business programming taking place on the PhotonXpo show floor includes a session Tuesday, June 2 called Photonics for Energy that focuses on photovoltaics and a worldwide government/subsidy overview. Biophotonics is the topic Wednesday, June 3, focusing on diagnostics and therapy, particularly cell sorting and manipulation and microscopy/spectroscopy. The final session is Thursday, June 4 and features Photonics for Security and the Environment. This session explores how photonics is benefiting imaging and surveillance along with sensing and threat detection.
The CLEO/IQEC job fair enables attendees to look into new career options or to expand their work force. It provides an opportunity for job seekers to confidentially post their resume free of charge, search hundreds of job postings and set up interviews with potential employers. Last year's job fair assisted more than 800 job seekers and 73 companies.
For those seeking a more in-depth learning experience, the peer-reviewed technical program includes invited presentations by experts in the field and will cover the latest breakthroughs in hot topics like metamaterials, biomedical optics and nanophotonics. This year CLEO/IQEC received more than 2,100 paper submissions to the overall conference from top researchers at the world's most prominent institutions.
No matter the reason for attending, CLEO/IQEC will prove to be a worthy investment in the future of lasers, photonics and quantum physics technologies. Start planning now for the 2010 show in San Jose, Calif., May 18 -20.
TEN Accepting Applications
Entrepreneurs training group encouraging alums, speakers, and other TEN supporters to refer regional candidates
The Entrepreneur's Network (TEN) is currently accepting applications for Class VII which will start in May, 2009. If you are a current or alumni member of TEN and know someone who could benefit from the program, please feel free to refer them. If they're accepted into the program, you will receive a no-cost alumni membership in TEN, giving you access to the majority of TEN programing throughout Class VII.
Click on this link for the current TEN Membership Application.
If you have any questions or comments, please feel free to contact me directly, or David Gottfried at (585) 919-3081 or davidg@javelin-group.com.
Events and Conferences
University of Rochester
Optics Colloquia (ongoing)
Cornell Materials Research
Facilities 101
April 8, 2009
Ithaca, NY
Information and registration here

Defense, Security & Sensing
13 - 17 April, 2009
Orlando World Center
Orlando, Florida
Optifab
See Conference Details Here
11 - 14 May, 2009
Rochester, NY
CLEO / IQEC 09
May 31 - June 5, 2009
Baltimore, Maryland
World Science Festival
11 - 14 June, 2009
New York City
Photonics Festival in Taiwan 2009
OPTO Taiwan / OPTICS Taiwan / LED Lighting Taiwan / SOLAR Taiwan / Display Taiwan
10 - 12 June, 2009
Taipei World Trade Center
SPIE Defense & Security
Training Discount For Cluster Members Only
To help stimulate interest and help us provide value for Cluster members, SPIE has agreed to provide three training courses for the price of two at the Defense, Security and Sensing meeting next week in Orlando. The special deal is simple: two people sign up and pay for a course (or one signs up for two courses) and the next person gets a free course of equal or lesser value. Buy two, get one free. (The attached PDF form must be used for this program.) The course listing is here.

Click here for the required form. The deadline has been extended thanks to Peter Hallett at SPIE.
You may also see John McCain at the the Course Materials at Defense & Security to take advantage of the offer while you are at the conference.
Optifab 2009
Attend the most important optical fabrication event in North America - SPIE Optifab, and you'll see the newest technologies and big machines in optics.
Optifab
See Conference Details Here
11 - 14 May, 2009
Rochester, NY
ANS OP1.110 Draft Specifications
by Dave Aikens
The first two parts of the new American National Standard for optics drawings, OP1.110, are already in final draft form, and will be voted on at the standards meetings at OptiFab. This new standard is practically identical to the existing international drawing standard, ISO 10110.

Since their publication in 1996, the ISO drawing standards have been controversial, especially in the United States. The international standards were drafted based on the German Industry Standards (DIN 3140) with minimal consideration for the active U.S. Military drawing standards such as MIL-PRF-13830B, MIL-G-174B or MIL-STD-34. Thus the ISO standards are a significant departure from standard practice in the United States and many other countries. In spite of this, the ISO standards have been gaining momentum and support throughout the industry, and have been adopted as the national optics drawing standards in many countries including Japan, Germany, France, and Russia, among others.

In most countries, adoption of the international standards is a matter of translation. In Germany for instance, the national drawing standard, DIN ISO 10110, is a German translation of ISO 10110, with no changes to the technical content. As a result, the ISO numbering convention can be used. If a country wishes to deviate at all from the content of the international standard, a new numbering system must be used.

The new American National Standard for drawings, OP1.110, will be structured in parts mirroring those of ISO 10110. A translation table is shown here. By releasing the standard under a new numbering system, or a MOD edition, the American standard can be changed to suit the American optics industry. For example, OP1.110 will allow the use of Military standards as well as other national standards such as OP1.002, especially in the areas of glass specification and surface imperfections; this is prohibited in ISO 10110. Other changes, such as the use of a decimal point instead of decimal comma, or the default wavelength of 632.8 nm, instead of 546.17 nm, should facilitate their introduction into the American optics industry. By the end of next year, the Optics and Electro-Optics Standards Council expects to have the entire suite of standards released and available for use.

If you are interested in learning more about the new standard, or to participate in optics standards efforts, check out the OEOSC website, or contact Gene Kohlenberg. Gene's contact information is here.
Corning VP Touts Workforce Skills Training
America must reform its workforce training systems or the nation's ability to compete in a global economy will be at grave risk.
That was the warning sounded by Corning's Don McCabe, senior vice president, manufacturing and Performance Excellence, at a recent National Association of Manufacturers (NAM) event that proposed a new approach to manufacturing skills training to help today's workers prepare for jobs requiring more education and a higher level of technical proficiency.
McCabe was one of the featured speakers at a media event sponsored by NAM and held at Washington's National Press Club. He was joined by former Michigan Governor John Engler, now President and CEO of NAM, as well as representatives from ACT, Inc. the Manufacturing Skill Standards Council, The National Institute for Metalworking Skills, the American Welding Society and the Society of Manufacturing Engineers.
"Even in this economic downturn, the skills of our workforce remain a top strategic priority and the most important driver of business success," Don remarked. "Today's workforce requires more education and higher level skills due to the growing technical demands of the modern manufacturing workplace. I believe our nation's community colleges have an important role to play in addressing these challenges. Deploying the NAM-endorsed skills certification program will be critical to their success."
McCabe plans to coordinate with several community colleges in U.S. locations where Corning has manufacturing facilities to discuss implementing elements of the NAM curriculum.
The NAM Manufacturing Skills Certification System focuses on the core, basic skills required for entry-level workers in all sectors of manufacturing. The core skills include personal effectiveness competencies such as willingness to learn and dependability; academic competencies such as applied sciences and presentation skills; workplace competencies such as teamwork and applied technology; and industry-wide technical competencies such as supply chain logistics and heath & safet.
"As a nation, we will rebound from this difficult economic time and, to be prosperous, we must have a workforce that can compete on the global stage," Don commented. "This skills certification system promises to be an important tool to expedite and strengthen the training of skilled technical workers.
"This is the first - but a very important - step. We have a large challenge in reforming America's workforce training system, but industry-based skills certifications are the best approach for bringing education and employment together on behalf of workers and our companies' futures," he concluded.
MCC Optics Program
Moving The Precision Optician Technician Standards Forward: With A New Laboratory

MCC Interim President, Dr. Larry Tyree took time during the past two months to learn about the importance of the optics and photonics industryin the Rochester region. On Friday, February 6, Tyree met with representatives of the RRPC for a dialogue about the Optics, Photonics and Imaging industry and the Optics program at MCC. On March 18th, Tyree toured the Laboratory for Laser Energetics and met with Robert McCrory, Director of the LLE. On March 30th, he toured Sydor Optics and Sydor Instruments.
It was no accident then, when Tyree invited Emmett Ientilucci PhD, a graduate of MCC's optical fabrication training program, an Associate Professor in the College of Imaging Sciences at RIT, and an adjunct instructor / consultant in MCC's Optics Program to speak during his outgoing"thank-you" dinner for members of the Rochester community at MCC on March 31st.
Following their endorsement of Op-Tec's Precision Optics Technician Skill Standards in October, 2008, which RRPC members helped draft, RRPC optical fabricators have been working on specifications for a new optics laboratory at MCC.
Contact RRPC
How does one acquire the coveted RRPC Newsletter Cub Reporter Badge?
Contact us with industry news and be the first in your office to wear one (or hide it in your desk).

New York Photonics and the Rochester Regional Photonics Cluster are active and growing collaborative organizations. Efforts are under way on joint training events, workforce development, collaborative advertising opportunities, promoting the commercialization of I.P., and the development of our website to further facillitate business development.
Join us! There are advantages to working together, and we are interested in working with you. Send an email to us at membership@rrpc-ny.org.

To subscribe, to unsubscribe, to submit a news item or upcoming event, to suggest a feature or column, or to offer feedback, contact Tom Battley, at 585-329-4029.