In This Issue
Rare Earths Brouhaha
APOMA Workshop
Unusually Uncertain Times
New Members
The Future Is Yours
Optifab
SBIR Opportunities
Optifab
Optifab Abstract Submissions
There is still a one-week window for submissions of abstracts for Obtifab. The conference in May looks very strong (more authors, more papers, more posters) and the content is strong, but we know there are people in the optics community that have not submitted abstracts because they do not realize the due date has come and gone.
If you want to be present a paper at Optifab 2011, submit your abstract to Jay Kumler, program chair, within the next week. jay.kumler/at\jenoptik-inc.com
Student Grants!
In conjunction with Optifab 2011, APOMA will sponsor travel grants and monetary awards for Outstanding Student Poster at Optifab.
Multiple $200 travel grants will be awarded to students presenting posters at Pptifab. In addition, a $1,000 Exceptional Student Paper award and a $750 Outstanding Student Paper award will be made at the conference. Posters will be judged by APOMA industry representatives. Student applicants must provide the documentation described below, including abstract and a signed proof of current student (undergraduate or graduate) status signed by their advisor.
The travel grants are intended to encourage student participation at regional or national conferences that broaden academic education, while providing first hand exposure to technical and manufacturing issues important to the optics industry. The grants may be used to defer costs associated with transportation, registration or housing. Guidelines and eligibility are given below.
APPLICATION GUIDELINES ARE HERE
Optifab
9 - 12 May 2011
Rochester, New York, USA
APOMA Workshop Surveys Technology
Sixty representatives from all over the U.S. convened in Tucson, Arizona at the Optical Science Building at the University of Arizona November 10th and 11th. The workshop even attracted five participants from Germany.
The back-to-back schedule included talks about all aspects of optical fabrication including polishing, metrology, standards - even a fascinating discussion by John Greivenkamp about the 300-year quest for binoculars.
A tour of the Steward Observatory Mirror Lab included a great view of one of the seven 8.4 meter diameter off-axis primary segments for the Giant Magellan Telescope, destined for the Las Campanas Observatory in Chile.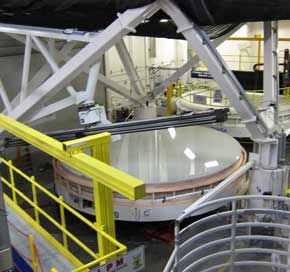 SBIR Solicitation
DoD SBIR 11.1 Solicitation was issued for public release on November 10, 2010
The DoD SBIR 2011.1 solicitation was pre-released at on November 10, 2010. The Army, Navy, DARPA, CBD, DTRA, OSD, and SOCOM invite small businesses to submit proposals under this solicitation. During the pre-release period, which ends on December 12, you may contact the topic authors directly (contact information is listed with the topic) to ask technical questions about specific solicitation topics. The DoD will begin accepting proposals on December 13, 2010 and will close to proposals on January 12, 2011 at 6:00 a.m. ET. Plan ahead and submit your proposal early to avoid the risk of website inaccessibility due to heavy usage on the final day.
---
The Tibbetts Awards nomination process opened November 15, 2010.
The Tibbetts Awards are presented to those small businesses and individuals judged to exemplify the best in the SBIR program. The award is named for Roland Tibbetts, acknowledged as the father of the Small Business Innovation Research (SBIR) program, and is presented to companies and individuals that promote the mission and goals of the SBIR program and Small Business Technology Transfer (STTR).
The nomination period will close on December 15, 2010 at 5 PM ET. Anyone can nominate a company and/or individual for a Tibbetts Award - including self-nominations.
More information on eligibility, evaluation/selection criteria, and the nomination process can be found on the SBA website.
New Patent for New Scale
New Scale Technologies received its fifth U.S.patent for miniature piezoelectric motortechnology. Trade-named the UTAF motor (for Ultra-Thin Auto Focus, its target application), the tiny new device integrates all ultrasonic motor functions into a single piezoelectric ceramic beam measuring only 4.5 X 0.82 X 0.7 mm.
U.S. patent # 7,786,648 was issued Aug. 31, 2010 to inventors Qin Xu and David Henderson.
Piezoelectric ceramics vibrate in response to electrical signals; ultrasonic motors translate those micrometer-scale vibrations into larger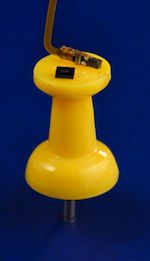 motion through friction contact. The UTAF motor uses an innovative co-fired multi-layer ceramic process to create a single beam composed of many thin layers of piezo ceramic. Sub-segments of the monolithic beam are energized independently, causing the beam to vibrate simultaneously in two orthogonal directions as its motion mechanism. Frequency, phase and amplitude of the ultrasonic vibrations are controlled by a two-phase drive circuit. Because the layers are very thin, they respond to signals of only 3 volts or less. This is a significant advantage in smart phone camera applications, as it allows the UTAF motor to operate directly from the phone battery.
New Scale has licensed its UTAF motor patent to TDK-EPC (EPCOS), a world leader in manufacturing advanced multi-layer piezoelectric ceramics. "The UTAF motor combines the motor design innovation of New Scale Technologies with the world-class manufacturing capabilities of EPCOS," stated David Henderson, New Scale's founder and co-CEO. "Together we have created a truly unique solution for adding high-performance auto focus to smart phone cameras."
R&D On the Shop Floor

Optimax has blended their R&D and manufacturing teams to work together on creating solutions for real time manufacturing issues. Opticians and Manufacturing Engineers are able to collaborate on the experiments on the production floor. As a result, the entire team is working to develop a standardized finishing process and increase UV transmission by improving the manufacturing process for Fused Silica - creating practical solutions for emerging market requirements.
New RRPC Members
Embedded Design with D3

D3 Engineering provides intelligent Imaging, Sensor & Control solutions for the Industrial, Biomedical, and Security/Surveillance markets. The company provides complete product development services, including hardware, software, algorithms, and packaging. D3's Imaging & Sensors group develops realtime systems for machine vision, image processing, and photonic devices, including end-to-end opto-mechanical design services.
D3's Power & Motion group develops DSP-based Digital Power, Motion Control, and Energy Management solutions, including the design of high power electronics.
Specializing in rapid prototyping and low-rate production, D3 leverages over a decade of expertise in TI DSP, Microcontroller, and MEMS technology development to provide rapid time-to-market results for our customers.
D3's quality management system conforms to FDA 21 CFR Part 11 practices, as well as IEC 61508 and DO-178B certification procedures for automotive and aircraft design.
---

Vacuum Innovations is dedicated to the manufacture of exceptionally-engineered, high-quality equipment for optical coating deposition processes. We understand the frustration of equipment failures, lengthy down times, and the resulting impact on your productivity. After using and researching optical coating equipment for many years, we've engineered superior products that ensure precision and uniformity - providing higher yields, easier maintenance, simpler operation, and a better investment.
At Vacuum Innovations, we'll sit down with you and discuss your specific needs. No longer will you have to return to the OEM for costly upgrades. Whether you need a planetary rotation, system controller, or a fully redesigned system - we have you covered!
Events and Conferences
SPIE Photonics West
22 - 27 January 2011
Moscone Center
San Francisco, CA, USA

SPIE Medical Imaging
12 - 17 February 2011
Orlando, Florida, USA
OFCNFOEC
6 - 10 March 2011
Los Angeles, California, USA

SPIE Defense, Security & Sensing
25 - 29 April 2011
Orlando World Center Marriott
Orlando, Florida, USA
CLEO
1 - 6 May 2011
Baltimore, Maryland, USA
Optifab
9 - 12 May 2011
Rochester, New York, USA

Laser World of Photonics, Munich
23 - 26 May, 2011
Munich, Germany
Frontiers In Optics / Laser Science
16 - 20 October 2011
San Jose, California, USA
Rare Earths Shortage
Beijing cut its export quotas for rare earths 40% this year to roughly 30,000 tons, claiming the need to conserve the resources for sustainable growth of various industries in China, and that their actions fall well within WTO's trade guidelines.
Bull Market Report, an online investment newsletter, announced in its daily report, "It is true that China controls 95% of the market at present, but that is different from China controlling 95% of the available supply which it does not."
Indeed, recent surveys show that the United States has abundant supplies within its own borders, although extracting them can be costly, with envirnmental concerns that many were willing to outsource to China along with the commodities themselves.
Researchers have been pressured to develop substitute products for everything from new magnet materials to polishing slurries.
Half of China's rare earths go to Japan which uses them in high-technology products. Shipments of rare earths, which resumed to other countries in late October, also resumed to Japan in late November according to a survey of 27 companies by Japan`s Economy, Trade and Industry Ministry . Some of Japan's larger corporations have been active trying to establish a global sourcing strategy.
Sojitz, a Tokyo-based trading company, announced a $250 million procurement deal with an Australian mining company. Rumors circulated that Japanese firms had already secured the complete output of certain minerals from the Mountain Pass mine in California for ten years, once production resumes. In fact, it appears that heavyweight W.R. Grace & Company is securing some of those rights. The Mountain Pass mine, run by the American company Molycorp has not been in production during the past decade.
According to a New York Times report, camera manufacturers have been so affected by the rare earth shortage that they have bought tons of the mineral compounds from stockpiles in Europe and airlifted them to Japan.
Meanwhile, fabricators in the optics industry who have relied on rare earths such as cerium oxide for crucial polishing processes, and who never paid much attention to mining industry reports, now regularly scan Internet news sources for the latest news concerning rare earths. None of this of course, bodes well for pricing in the future, and higher prices will no doubt simply be added to the score of inputs into high technology product production -- ultimately adding to inflationary pricing forces on everything from televisions to cars to motors and wind turbines -- even missile domes.
Even local business reporters in the Rochester region have gotten wind of the story from companies feeling the pressure. Off the record, however, one VP of sales commented, "ultimatelythis will get passed on to the customer and what will they see in their pricing, an additional few cents per part?"
Some savvy speculators have done well with mining stocks during the past year.
VC Corner

"Unusually Uncertain"
The conventional wisdom is slowly catching up to the concept of the "New Normal." In 2009, Mohammed El-Erian, PIMCO Funds CEO, described how the global economy had undergone profound change that is unlikely to be reversed for years. It is now common to read about deflation and how unemployment is likely to remain high. Testifying before the Senate several months ago Ben Bernanke stated that the outlook for the U.S. Economy is "unusually uncertain."

The global economic variables are unlike those that influenced previous recoveries, thus references to historical data meant to predict the post-recession landscape are not very relevant. Inflation is not a current threat and we are far more likely to face a prolonged period of price stability or modest deflation. We are in a phase where household and government balance sheets are a mess and require repair. This leads to deleveraging and takes time. Plus, it's a global phenomenon, at least in the developed world.

There are important trends that have been gaining momentum for years that will continue to shape the economic recovery. One relates to the so-called "job crisis" and how it is a continuation of a trend that started a couple of decades ago. During plant tours, many entrepreneurs I know have shown me their expensive investments in capital equipment that limit or reduce the need for employees. These friends are not mean spirited Scrooges, but savvy business people who find that buying equipment is cheaper than adding people. And, in an environment where inflation is virtually nonexistent and companies have no pricing power, keeping costs down may be a matter of survival.

Richard Florida, in his latest book, The Great Reset: How New Ways of Living and Working Drive Post-Crash Prosperity, points out how we tend to view prolonged economic downturns, such as the Great Depression of the 1930s, in terms of the crisis and pain they cause. But history teaches us that these great crises were opportunities to remake our economy and society and to generate whole new eras of economic growth and prosperity. Florida reminds me of Malcolm Gladwell (The Tipping Point, Blink), but with academic "street cred." In other words, he promotes his ideas with catchy phrases and is a successful author, but he is a trained urban planner with interesting insights and a gift for communicating them.

In terms of innovation, invention, and energetic risk taking, Florida points out that previous "resets" have also been periods of "creative destruction." While there was ambiguity and some amount of suffering, these periods were some of the most fertile in history. He believes that Americans must save more, invest more, consume less and make this "reset" as clever as possible by innovating to improve efficiency and productivity. He adds that a "meaningful recovery will require a lot more than government bailouts, stimuli and other patchwork measures designed to resuscitate the old system or to create illusory, short-term upticks in the stock market, housing market or car sales." The great reset could take a generation or more.

There's no telling what the current great reset will produce. It started before the financial crisis and has years to go. There will be bumps along the way and moments when it feels like we have made giant missteps. As a perennial optimist with a vast faith in America, I believe we will emerge with a more robust economy and that we will make the right choices about education, regulation, social programs and the environment.

Richard A. Glaser is a financial advisor at Merrill Lynch where he specializes in working with entrepreneurs and their companies. richard_glaser@ml.com
The Future Is Your Decision
Getting the Most Out of The Recovery
Alan Beaulieu (Institute for Trend Research) was the guest speaker at The Future Is Your Decision hosted by the Finger Lakes Advanced Manufacturers Enterprise at Monroe Community College in Rochester.
Beaulieu began by describing himself as a business economist and made no apologies, suggesting that his main interest was in helping American manufacturers succeed by making informed strategic decisions. He called himself a pro-business economist and claimed to be politically neutral.
The message:
We are in a recovery. A sustained, mild recovery. This is what we will enjoy for the next 12 - 18 months.
Beaulieu gave his listeners six indicators to watch:
Beaulieu emphasized that the unemployment rate is meaningless. It measures the past… he instead suggested that we look at employment numbers. In six months the U.S. added 319,000 manufacturing jobs.
One hundred thousand new manufacturing jobs may be a so-so indicator; two hundred thousand manufacturing jobs is pretty nice; more than 200,000 new manufacturing jobs in six months and you've got a healthy economy humming along.
Corporate bond prices

Purchasing manager index

US composite leading indicator rate change

Housing starts

Industrial production index
Beaulieu thinks fears that China taking over the economy are unfounded and suggested that manufacturing will grow in the United States over the next 10 years and become more important than it is today, even without a U.S. policy on manufacturing.
He forecasted inflation, resulting from the unprecedented volume of money printed by the Federal Reserve, among other inputs. His advice to manufacturers? Buy inflation-adjusted assets and fixed assets now. Invest in marketing and advertising to differentiate yourself from the competition.
Everyone is going to need to raise, at least the rate of inflation. Inflation reduces the standard of living. If you want to retain valued employees raise their compensation to keep up with at least the rate of inflation. Raise your prices to cover it.
Our debt to GDP will be more than 100% in the coming years. We will become just like Ireland, Spain, Greece, etc. in that regard.
Taxes will go up, so make it part of your personal and business models.
The dollar will not collapse. Countries will continue to finance our debt just to keep the U.S. market stable. Remember, he suggested: The U.S. Navy keeps the world shipping lanes safe and everyone knows this.
What worries Beaulieu most? Dollar devaluation. Household net worth is back to normal compared with the 1980's. Families have not seen a significant increase in their standards of living.
Beaulieu echoed Steve Fantone in his talk in Rochester in 2008, and sees continued increases in cost structures that will make China less competitive as the manufacturing location… to the advantage of countries where manufacturers have continued investing in technology and workforce.
Based upon the current ITR models he predicted a mild recession in 2014, and a more substantial recession in 2019. Based upon those same statistical probability models, we will see a sustained bull market. Not big like we've known big in the recent past, but sustained.
Now is the time for manufacturers to continue development and investment.
Other News Briefs
The London Telegraph reported that Candover investment group, a British private equity firm has put Qioptiq on the market for £400 million. In April 2009 Andover announced that it was suspending investment activity for six months while seeking to recover from business devaluations due to the financial crisis.
---
Optical component and laser assembly fabricator Rocky Mountain instrument exited chapter 11 bankruptcy and settled an ITAR violation case with the US Department of State. RMI was sentenced to five years probation and a $1 million fine.
The charges stemmed from an investigation by the Department of Justice under the arms control export act, claiming that RMI caused customers to illegally export technical data four components used in equipment sold to the Pentagon. The raid on RMI's Colorado Lafayette, Colorado headquarters in October, 2007 contributed significantly to the bankruptcy filed in 2009.
---
Optical metrology instrumentation maker Zygo Corporation announced that it had entered into a contract with ASML US to purchase all of the assets of ASML's Richmond, California location, adding additional high technology optical fabrication capabilities to Zygo's arsenal.
Contact RRPC
How does one acquire the coveted RRPC Newsletter Cub Reporter Badge?
Contact us with industry news and be the first in your office to wear one (or hide it in your desk).

New York Photonics and the Rochester Regional Photonics Cluster are active and growing collaborative organizations. Efforts are under way on joint training events, workforce development, collaborative advertising opportunities, promoting commercialization, and the development of our website to further facillitate business development.
Join us! There are advantages to working together, and we are interested in working with you. Send an email to us at membership@rrpc-ny.org.
To subscribe, to unsubscribe, to submit a news item or upcoming event, to suggest a feature or column, or to offer feedback, contact Tom Battley, at 585-329-4029.