Rochester Precision Optics Acquires Tricon
Roughly one year after an $11 Million investment that included acquiring Kodak's precision optics business and opening the doors on a newly renovated building in Henrietta, Rochester

Precision Optics (RPO) has announced the acquisition of Tricon Machine in a deal that was consummated on December 6, 2006.
Long a mainstay for many regional optics companies, Tricon Machine was founded in 1979 as a high-precision contract machine shop. For the past decade they concentrated on very demanding, close-tolerance machining requirements. This made them a premier metal parts provider to optics-related businesses. The company has been owned and operated by Gary German since 2002.
RPO president, Bill Hurley said, "This move is a strategic acquisition for RPO as we continue to grow and vertically integrate our company. RPO is excited about all of the new equipment we are acquiring and we are very pleased to have Gary and his team joining us. The new acquisition will be integrated into our existing machine shop at the 850 John Street Facility under the leadership of Dan Missel."
Hurley emphasized that RPO has been in contact with the majority of Tricon's customers to assist in the transition. "We wanted to make certain that there would be no gaps in the delivery of existing orders"
Accucoat Expands into New Space
AccuCoat Inc. has relocated into an all-new facility at their existing 111 Humboldt Street address.

The expansion includes 6800 sq. ft. of offices and coating labs, which effectively doubles their facility space. The benefits of the new layout and utility improvements will be realized immediately. With the added capacity and larger facility, AccuCoat plans to expand their workforce in the first quarter of 2007. Facility improvements include a convenient office entrance, an enhanced coating lab with additional flow booths and work areas, optimized lighting and upgrades to the electrical system.
AccuCoat continues their growth in the optical coating industry supporting glass, polymer and metal component manufacturers. Their capabilities include AR, dielectric, beamsplitter, metallic, and filter coatings and many other custom applications. The company's design and metrology capabilities now encompass the 193nm. to 50um. operating range.
The team at AccuCoat has over 60 years combined engineering experience for prototyping or volume production. To discover more of what is new and on the horizon for Accucoat contact their office at (585)288-2330.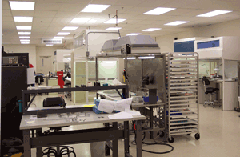 Gurley Precision
GPI adds High-End Dielectric Coatings
Gurley Precision Instruments, best known for their photolithography on glass substrates, has made the successful leap to high-end dielectric coatings.

Over the last two years Gurley has been ramping up for this change through planning, marketing and investing in new equipment and employees. This move forward to dielectric coatings is another step to broaden the current product and customer bases.
Customer demand for these coatings has been running high by YAG Laser system, vision system, motion control, photonics catalog and microscopy companies. The change comes at a time when customers are re-evaluating their supply lines and reducing the amount of vendors to only those who can supply a broader range of products they purchase.
To accommodate the demand, Gurley has added a new chamber specifically for dielectric coatings. Current capabilities for this new chamber are for coatings designed in the Visible and Near IR wavelength regions. Customers can customize their coating to a narrowband, broadband or dual wavelength design. To manage the newest chamber, they have also added a design team to help customers engineer the most efficient coating for their specific requirements.
Soon to be announced by Gurley is a line of YAG Laser windows to be stocked in-house at various dimensions and wavelength designs. This type of item compliments Gurley's current stock of optical components. As business increases Gurley intends on stocking more as well as tooling up for future product demands.
Alfano Resigns Position at CUNY
Dr. Robert R. Alfano has resigned his position as CAT Director at City University of New York.
Dr. Alfano received his Ph.D. degree in Physics from New York University in 1972. He was a Research Staff Scientist at GTE Research Laboratory from 1964 to 1972.
In 1972, he joined the Physics Department at The City College of CUNY as an Assistant Professor.
Three decades ago Dr. Alfano was credited with discovering the supercontinuum, a multicolored laser light that has many of the same desirable properties as conventional laser light of a single pure color. Since that seminal discovery, Dr. Alfano has become a world leader in photonics, ultrafast lasers and biomedical spectroscopy and imaging.
Alfano will continue to head CCNY's Institute for Ultrafast Spectroscopy and Lasers (IUSL); the NASA Center for Optical Sensing and Imaging; and the Department of Defense (DOD) Center for Nanoscale Photonic Emitters and Sensors.
UR Summer School Offerings
In 2007, The Institute of Optics will offer its 46th annual Summer School short-course series. This year's offering will be a mix of a one-week course and two-and-a-half-day courses.
Fundamentals of Optics (with labs) covering lenses, aberrations, principles of diffraction, optical systems, polarization, birefringence and crystal optics, and radiometry and detection. June 18-20, 2007
Modern Optical Engineering (with labs) covering optical testing and instrumentation, optical manufacturing, optical thin film coatings, diffractive optics, and glass in modern optics. June 20-22, 2007
Lasers and Optoelectronics (with labs) covering basics of lasers, laser systems and modern laser engineering, nonlinear optics, and semiconductor lasers LED's, and detectors. June 25-27, 2007
Biomedical Optics covers diffusion models of photon propagation in multiply-scattering tissues applications of photon migration: tumor detection and brain monitoring spectroscopic methods for glucose sensing and other analyte detection tissue alteration: photodynamic therapy and LASIK high-resolution imaging: confocal microscopy, multiphoton microscopy, and optical coherence tomography. June 27-29, 2007
High Resolution Microscopy: Optical and Scanning PROBE Methods covers material science and biological applications of traditional light microscopy and scanning probe-microscopy. Lectures will cover basics of light microscopy, illumination in microscopy, polarization, phase contrast and interference microscopy, biomedical microscopy and scanning probe and near field microscopy. June 18-20, 2007
High Resolution Microscopy: Electron Beam Methods (with labs) covering topics in electron optics, sample preparations, imaging processes, and x-ray microanalysis for compositional determinations. June 20-22, 2007
Optical Thin Film Coating Technology covers all aspects of optical interference devices including thin-film design, digital design methods, and coating and characterization. June 18-22, 2007
Enrollment forms or inquires about enrollment should be addressed to Gayle Thompson, The Institute of Optics, University of Rochester, Wilmot Bldg., R.C., Rochester, New York 14627-0186, Voice 585-275-0056, Fax 585-271-1027 or email: gayle[at]optics.rochester.edu, (homepage address: http://www.optics.rochester.edu)
Events
20 - 25 January 2007
Photonics West
San Jose, California USA
Exhibition
Medical Imaging
17 - 22 February 2007
San Diego, California USA
Call for Papers
Defense and Security Symposium
9 - 13 April 2007
Orlando, Florida USA
Call for Papers
Photonics North (co-located with Education and Training in Optics & Photonics)
3 -7 June 2007
Ottowa, Ontario, Canada
Call for Papers (Photonics North)
Call for Papers (Education & Training)
46th Annual Summer Course Series
University of Rochester Institute of Optics
18-29 June 2007
Rochester, New York USA

Geospatial Presents at NATO Conference
Geospatial Systems, Inc. was invited to present at a NATO Counter-IED Advanced Research Demonstration/Conference on November 7-9 in Madrid, Spain.

The Conference was a forum for invited delegates from NATO staff, NATO member countries, and Mediterranean Dialogue countries to share information on existing and emerging Counter-IED capabilities.
Kevin Kearney, CEO of GSI, presented the Kinematic Camera Module (KCM) Camera architecture that allows for large array system configurations to be quickly constructed. This system provides a very large Field of View (up to a 864 Megapixel) and with a Ground Sample Distance below 1-meter provides the ability for real-time Tactical downloading from the Air Platform with full on-board storage for forensic analysis. Both visible and IR solutions will be discussed.
Accompanying Mr. Kearney was a team from the joint Geospatial Systems, Inc. and ITT Industries Electro-Optical Wide Area Persistent Surveillance Project who assisted in the presentation. The discussion covered the fielding process for a Counter-IED technology: defining the threat and requirements, identifying and evaluating technologies, and fielding a capability. According to Kearney, "This conference and demonstration provided a significant step in increasing the ability of NATO and member countries to identify viable C-IED solutions, from nations, academia/universities, private laboratories and the global industrial base."
According to James McDonough, Director/Government Business Development at Geospatial Systems "A conference like this helps the credibility of smaller technology companies like GSI. We got to meet people from SHAPE and NATO that we could not have met any other way. Somewhat ironically, we also met mid-level US government folks from Washington that would have been difficult to contact in D.C."
First Albany Cluster Meeting Held
Exploratory Meeting a Success
New York Photonics hosted a networking event in Albany on Tuesday, November 28th. Twenty-five people attended the meeting, billed as an exploration of the regions's Optics, photonica and imaging resources and to discover whether the region has an "identity" in the market.
Development engineers, salespeople, researchers, entrepreneurs, and finance experts attended the meeting. From start to finish the room was abuzz with introductions, developing relationships, and information-sharing. "I learned a great deal here tonight," said Jim Castracane, Director, NYS Center for Advanced Technology in Nanomaterials and Nanoelectronics at Albany Nanotech. "Best of all, this was the first meeting of the sort I have been to recently without a Powerpoint Presentation. That was great, because I learned more from talking with the people in the room."
Tom Battley, Executive Director of New York Photonics and the Rochester Regional Photonics Cluster, credited Brian Molis, Director of Optic Sales at Gurley Precision Instruments with initiating the meeting. Molis, who joined the State Cluster in early 2006, said that the inspiration for the get-together came from attending a number of the events held in the Rochester area by the Regional Cluster. "The cordial relationships and warm welcome that I got from participating with the RRPC made me think that an Albany Chapter of New York Photonics was a good idea," says Molis.
Gurley plans on hosting another meeting at their facility in January/February, and New York Photonics is planning a State-Wide meeting in Albany during the month of March.
SBIR 07.1 Solicitation
Solicitation is open for proposal submission
The DoD SBIR 2007.1 solicitation is open for proposal submission from December 6, 2006 through 6 a.m. EST January 10, 2007. Six DoD components -- the Department of the Air Force, the Department of the Navy, the Office of Secretary of Defense (OSD), the Chemical Biological Defense (CBD), the Defense Threat Reduction Agency (DTRA), and the Special Operations Command (SOCOM) -- have R&D topics in this solicitation under which Phase I proposals are sought. The Solicitation, which contains detailed information on the parameters of the SBIR program and how to submit a proposal, and Topics are available at http://www.dodsbir.net/solicitation. You may also search the topics by going to http://www.dodsbir.com/Topics.
VC Corner
Business Plans
"Yeah, I know I should do a business plan, but how useful will it be anyway? It's only going to change." I rank that as one of the most common refrains among entrepreneurs. And, for owners of established businesses? I think the Sopranos would say "fahgedaboutit."
As a venture capitalist, if I didn't receive a business plan there wasn't a meeting. So if a company is raising money, whether from an angel or VC, one is prerequisite. But I suggest that a business plan has more utility than an opportunity to be grilled by a potential investor. It represents an invaluable process.
The best business plans are easy to read and no more than ten to 15 pages. They go right to the core issues and do not contain superfluous material. They cover several key topics.
As an investor, I bought stock in small, private companies run by one or more individuals who promised to deliver results and a substantial gain. I was investing in management and their promise. So, it was critical to determine if management was credible and competent. After reading a (hopefully) brief description of the business, I immediately turned to the management section. Does the team have the skill and prior experience to increase the likelihood of success? Do they understand their limitations and recognize the importance of looking outside for additional support as they grow?
Aren't these good questions for all entrepreneurs to ask themselves?
Next, I go back to the business description. Can I understand what the company does? If I can't understand the business and be able to explain it to my colleagues in a couple of sentences, I probably won't invest. It is important for entrepreneurs to be able to describe their business, no matter how technical it is, in a way that is easily understood. Otherwise, they will be at a disadvantage communicating with the many constituencies they will need to deal with: investors, potential employees, vendors, and potential customers.
Shouldn't any business owner be able to do this?
I then dive into the marketing section. This is not to be confused with sales, an entirely different discipline. It also happens to be the blind spot for most high-tech entrepreneurs. Iím hoping the plan will discuss the market size, growth potential, channels of distribution, competitors, and pricing models. I want a description of the marketing plan ñ branding, public relations, trade publication articles, etc.
How can any business succeed without this knowledge?
Then I'll review the entire plan seeking a clear understanding of resource requirements, like capital and human resources, and a discussion of how the company will attract the necessary resources and when. I like flow charts. This will help me develop specific benchmarks to determine progress over various intervals.
Isn't this how every business should operate?
Preparing a business plan is more than a requirement dictated by outside investors. It forces a management team to think clearly about building and growing a business. It involves asking important questions and articulating answers. It is something all companies should do, regardless of their stage of development or their need for outside funding.
It doesn't matter whether the business plan is written on the back of a napkin or prepared or a Xerox iGen3. It's the process that matters.
Richard A. Glaser is a financial advisor at a major securities firm. You can send him email here.
Contact RRPC
New York Photonics and the Rochester Regional Photonics Cluster are active and growing collaborative organizations. Efforts are under way on joint training events, workforce development, collaborative advertising opportunities, promoting the commercialization of I.P., and the development of our website to further facillitate business development.
Join us! There are advantages to working together, and we are interested in working with you. Send an email to us at membership[at]rrpc-ny.org.

To subscribe, to unsubscribe, to submit a news item or upcoming event, to suggest a feature or column, or to offer feedback, contact Tom Battley, at 585-329-4029.
Click here to download a version of this, or any of our previous Newsletters.

Forward this Newsletter to a Friend or Colleague!