Rochester
Reflexite Consolidates Display Operations in Rochester
Reflexite Corporation announced that it would consolidate U.S. manufacturing operations for its Display Optics Business in Rochester, NY. Reflexite Display Optics, on Lee Road in the City of Rochester, is a global business which produces

optical films for LCD displays. The Rochester Site will not only remain the corporate headquarters for the Display business, but it will also be the center for product development and manufacturing for high-end applications.
Simultaneously, the company announced it was opening of a new 200 thousand sq. ft. manufacturing operation in Suzhou, China, which will produce optical films for the Chinese Market. The Suzhou Operation is Reflexite's third in China and their 17th subsidiary worldwide.
Reflexite, a Connecticut Corporation, has three major operations in Rochester. In addition to the Display Optics Business, The Reflexite Precision Technology Center, in Henrietta, produces all optical tooling for Reflexite Worldwide, and the Reflexite Optical Solutions Business (collocated on Lee Road) produces optical components and films for markets such as military and lighting. The company employees about 100 people in Rochester.
Dr. Michael Foley, President and CEO of Reflexite Corporation, ran the Rochester Display business before being promoted to a corporate role and relocating to the company's headquarters in Avon, CT. Foley had this to say about the company's decision: "Reflexite remains committed to our Rochester businesses. We have an excellent, seasoned workforce in Rochester and we have found over decades that Rochester gives us access to optics technology and a workforce with optical expertise that is unparalleled in the world."
The Reflexite Display Optics business, has been headquartered in Rochester since the 1960s (when it was the Fresnel Optics subsidiary of Alliance Tool and Die). Up until this year, base optical films were manufactured in roll form in Avon, Connecticut, and shipped to Rochester for conversion to customer specifications.
Supply Chain Broadens
Glass Supplier Sets Up in Rochester
A new glass sales and distribution company, CDGM Glass Company USA, has been formed in Rochester. The new company will market, sell and distribute CDGM optical glass (China) exclusively to the North American markets (United States and Canada).
Muldowney feels that the new

company will benefit customers by providing a dedicated regional support team to service the North American market and eliminating issues such as language barriers that customers have had with CDGM in the past. By providing customers faster access to locally stocked inventory and quick turn around for quotes and the latest product information, CDGM Glass Company USA promises to provide excellent service for optical glass needs. The CDGM website has a search tool that provides the CDGM equivalent of any of the other major glass types.
Some Rochester fabricators that we spoke to suggested that CDGM will be a welcome alternative to Schott, Ohara and others, some of whom have begun to vertically integrate, competing with their own customers.
CDGM Glass Company USA
472 Old Country Road
Rochester NY, 14612
Phone: (585) 424-0800
Fax: (585) 227-2228
Email: rmuldowney[at]cdgmglass[dot]com
Web site: http://www.cdgmglass.com
Photonics West
Registered attendance at the conference this year was 17,320, up from 16,533 in 2006 (14,660 in 2004) for a total of 107,244 sq. ft. of exhibit space. SPIE tells us that we are at capacity for this show. 5,260 of those in that attendance were the exhibition reps.
An informal survey would seem to suggest that all RRPC and New York Photonics exhibitors felt that business was as good or better than last year. Members who exhibited in the South Hall were also satisfied, and New York Photonics is exploring the possibility of a New York Pavilion in the South Hall in 2008.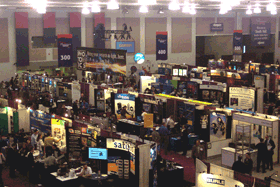 ---
Vincent Associates, the manufacturer of UNIBLITZ® and now UNIBLITZ®II shutters, showcased their new, even more reliable shutter product at Photonics West. The
UNIBLITZ II N-CAS NS series. The total number of moving parts has been reduced to six, five of which are the shutter blades themselves. The activating mechanism is non-contact and has shown to increase reliability through testing over similar type shutter designs. Three aperture sizes are available in the NS series, the NS15 (15mm – similar in overall size to that of a US Half Dollar), the NS25 (25mm aperture – similar in overall size to the UNIBLITZ CS25), and the NS45 (45mm aperture – similar in overall size to the UNIBLITZ CS45).
---
In the general meeting of APOMA members held on Wednesday, the 24th, Arnie Bazensky of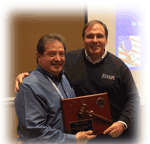 Schott North America passed the gavel to Jim Sydor of Sydor Optics and Sydor Instruments, who becomes the new President.
Bazensky becomes Past President; Sydor is president through January 2009, President Elect is Cody Green from PFG Optics. Jay Kumler of Coastal Optics has joined the APOMA Board, along with Rick Nasca of Corning Tropel.
A lot of the talk during the meeting concerned Optifab.
---
It's coming to Rochester in a mere three months or so, May 14 - 17, and already registration is at 115 companies. The goal is 200 and you can help make that happen by insuring that your company is registered now, and promoting the conference with your suppliers and customers.
Registration, Attendance and Sponsorships are crucial to making this growing show a success, and insuring that it keeps coming back to Rochester. Contact Jim Sydor at Sydor Optics, Rick Nasca at Corning Tropel, Tom Battley at RRPC/PIANY now to discuss how you can help make that happen. We still need sponsors for Tuesday night's reception on the 15th.
The Technical Session is full but there is room during the conference for about 20 commercial presentations at 12 minutes each. This is an opportunity for your company to present a technical pitch about a product, a special process, or a unique instrument to a captive audience of 50-60 or more people involved in fabrication. 13 companies have already registered to make commercial presentations, so there is still room for 7 more companies to present their best Powerpoint slides to the exact audience they are hoping to reach. It's a no-brainer!
Organized jointly by SPIE and APOMA, Optifab 2007 is held in conjunction with the largest optical manufacturing product and supplier exhibition held in the United States. With a unique technical focus on classical and advanced optical manufacturing technologies, Optifab 2007 offers conference attendees an exceptional opportunity to interact with worldwide experts in the field of optical fabrication.
Events
MD&M West
12 - 15 February 2007
Anaheim Convention Center
Anaheim, California USA
Exhibition
Medical Imaging
17 - 22 February 2007
San Diego, California USA
Exhibition
Defense and Security Symposium
9 - 13 April 2007
Orlando, Florida USA
Exhibition
OptiFab
14 - 17 May 2007
Rochester, New York USA
Exhibition

Photonics North (co-located with Education and Training in Optics & Photonics)
3 -7 June 2007
Ottowa, Ontario, Canada
Call for Papers (Photonics North)
Call for Papers (Education & Training)
MD&M East
12 -14 June, 2007
Jacob K. Javitz Convention Center
New York, New York USA
Exhibition
46th Annual Summer Course Series
University of Rochester Institute of Optics
18-29 June 2007
Rochester, New York USA
Program

PIANY / RRPC
New York Photonics Website
Did you know that you can now renew your membership online? From the main page of New York Photonics, select Membership > membership renewal. There you can either print out your membership form and mail it, or simply fill out the online form and complete a secure transaction through the website using your credit card.
Companies are also responsible

now for managing the content of their own listings, including adding a logo, filling in and modifying company descriptions, and selecting and adding services, capabilities, and products. Your main company contact person has your company personal log-in name and password. If you don't like what you see in your listing (or worse: if your company doesn't show up when others are using the website's search feature) you are able to modify how your firm is listed. Go to Membership> membership content manager> edit my account information.
Sydor Making a Move
Larger Facilities to Consolidate Operations
Sydor Optics has purchased two new facilities to accommodate their continuing growth. The expansion includes a 25,860 square foot building located at 31 Jetview Drive, as well as a 23,300 square foot facility at 29 Jetview Drive. Relocation is anticipated in the April / May 2007 timeframe. Both facilities are located in Chili, New York.

The facilities will be used by Sydor Optics, specializing in double-side grinding and polishing, Sydor's Laser Optics Division, and Sydor Instruments, concentrating on the commercialization of measurement technology, specifically the Ross Streak Camera.
Initially, Sydor will relocate its three manufacturing locations into the larger Jetview Drive facility, with the option for future expansion into the adjacent facility. The opportunity to combine all manufacturing under one roof will allow Sydor to expand capacity, exchange technology among the different Sydor groups, and take advantage of economies of scale.
STTR 2007
The DoD STTR 2007 solicitation has been pre-released at http://www.dodsbir.net/solicitation. It invites small businesses and research institutions to jointly propose cooperative research and development efforts in response to topics in this solicitation. During the pre-release period, which ends on February 19, 2007, you may contact the topic authors directly (contact information is listed with the topic) to ask technical questions about specific solicitation topics. The DoD will begin accepting proposals on February 20, 2007 and will close to proposals on March 21, 2007 at 6am EST.
Job Training
Steve Pasquarella of Vincent Associates Reports:
We (Vincent Associates) were recently awarded a training grant through Rochester Works! RRPC members, as you may be aware there are training monies available and it is a relatively easy process to apply. You can contact Claudia Gately at (585) 258-3541 to request the required paperwork. You can also go to the Rochester Works, Finger Lakes Wired web site, and download the grant application and related paperwork.
If you need to spend training dollars in the New Year, it is well worth your time and effort to see if you can get some 50% matching funds!!
Recognition
Martens Recognized for Contributions
Alex Martens of Upstate CTC, a consultant in technology, has been responsible for technology transfer from NASA and other government R&D entities for more than fifteen years. During that time Martens has arranged more than 36 licenses for diverse technologies and numerous partnerships, most of them for NASA's intellectual property.
In recognition of Martens' contributions, the Space Foundation's Space Technology Hall of Fame has awarded him a Certificate of Appreciation.
Alex continues his activities in technology transfer, technology assessments and assistance with proposals and contracts. You can reach him at 585-218-4260.
Albany
Attraction of AMD to Albany Region was economic development deal of 2006
Business Facilities Magazine - Critical to AMD's decision to site a new 300mm fab at the Luther Forest Tech Campus, 25 miles north of Albany, was its proximity to The College of Nanoscale Science and Engineering of the University at Albany. CNSE is the first college in the world devoted exclusively to the research, development, and deployment of innovative nanoscience, nanoengineering, nanobioscience, and nanoeconomics concepts. CNSE's Albany NanoTech complex - a $3 billion, 450,000-square-foot facility that has attracted over 250 global corporate partners - is the most advanced research complex of its kind at any university in the world.
Attracting AMD to the Luther Forest Technology Campus in Malta, NY (located about 175 miles north of New York City and 25 miles north of Albany, the state capital) was no easy feat. Unlike most competitive economic development projects, this wasn't a case of neighboring counties or states competing with each other - AMD was seriously considering building this next-generation facility in Dresden, Germany, where it already has a major plant. Dresden, the German state of Saxony, and the German federal government worked together to create an attractive package for AMD to grow there.
Among the incentives New York offered to AMD are a $500 million capital grant to defray the cost of its facility and equipment; a $150 million research and development grant to develop new microprocessor technologies for use specifically in the Luther Forest AMD facility (in collaboration with IBM in East Fishkill, NY and the Center of Excellence in Nanoelectronics at the University at Albany, part of the SUNY system); and special Empire Zone tax status.
Thorlabs Acquires OFR
On January 2, 2007, Thorlabs and OFR announced the acquisition of OFR Inc. located in Caldwell NJ by Thorlabs. OFR (a member of APOMA) has a 30 year history as an important supplier of critical optical components, sub-systems, and

systems to the photonic market. The OFR products are used extensively in both research (basic and applied) and industry. OFR brings a broad array of products that include both free space and fiber based optical isolators and circulators; high performance objective lenses for laser machining and marking; and a novel set of optomechanical building blocks in the form of their "Fiber Bench" series. The Fiber Bench series is used throughout the photonics market by scientists, engineers, and technicians to rapidly prototype complex optical systems that utilize both free space as well as optical fiber based light fields. Additionally OFR´s products have been adopted by a number of key market segments identified as critical to Thorlabs´ future, including the core research markets as well as the rapidly growing high power fiber laser and advanced imaging markets.
Contact RRPC
New York Photonics and the Rochester Regional Photonics Cluster are active and growing collaborative organizations. Efforts are under way on joint training events, workforce development, collaborative advertising opportunities, promoting the commercialization of I.P., and the development of our website to further facillitate business development.
Join us! There are advantages to working together, and we are interested in working with you. Send an email to us at membership[at]rrpc-ny.org.
To subscribe, to unsubscribe, to submit a news item or upcoming event, to suggest a feature or column, or to offer feedback, contact Tom Battley, at 585-329-4029.