In This Issue
OPTIFAB OPPORTUNITY!
Mergers and Acquisitions
RRPC Networking
SBIR
U.S. / China Commerce
World Currency Tips
APOMA News
The History of MRF
New York Product On Space Station
Events & Conferences
RPO Acquires ASE Optics
Rochester Precision Optics (RPO), a world leader in optical solutions, announced the acquisition of ASE Optics. Both companies are Rochester-based. ASE was formed in 1994 and has provided optical engineering services and research to over 200 different clients ranging from government agencies to Fortune 500 companies. The acquisition allows RPO to extend and grow its design and research services, and with RPO's extensive manufacturing capabilities it will allow ASE to not only design but build prototypes and full production systems for their customers.
"With the acquisition of ASE, we will enhance RPO's ability to design and fabricate very complex optical systems for our customers", said William Hurley, president of Rochester Precision Optics. "Chris Cotton, the founder of ASE, has built a unique company. Their Discovery Service™ gives the customer an economical path to understand and solve what are sometimes very complicated problems. Both companies have complementary expertise, strong market reputations and a passion for technological innovations. We look forward to integrating our similar entrepreneurial cultures and further strengthening our leadership position in the optics and photonics market."

ASE Optics and RPO will provide customers with a one stop option to solve complex problems facing the optics community today. With this acquisition, ASE Optics will become a wholly owned subsidiary of Rochester Precision Optics.
Rochester Precision Optics was formed in 2005 when it acquired the manufacturing technology, intellectual properties and assets from Kodak Optical Imaging Systems. RPO is a leading optics manufacturer providing components and full optical systems to both defense and commercial markets. Its commercial markets are served by both their Shanghai, China location and their headquarters in Rochester, New York. RPO has over 80,000 square feet of modern optical manufacturing and specializes in leveraging its aspheric optics capabilities to provide lightweight and affordable optical sub-systems.
IDEX Acquires Thin Film Firm
Semrock Parent Company Adds to Holdings
IDEX Corporation announced that it has entered
into an definitive agreement to purchase Advanced Thin Films, LLC (ATFilms). ATFilms, with approximately $9 million in revenue, specializes in optical components and coatings for applications in the fields of scientific research, defense, aerospace, telecommunications and electronics manufacturing. ATFilms' core competence is in the design and manufacture of filters, splitters, reflectors and mirrors with the precise physical properties required to support their customers' most challenging and cutting-edge optical applications.

Headquartered in Boulder, CO, ATFilms will operate within IDEX's Health and Science Technologies segment as a part of the IDEX optical products platform. ATFilms will be acquired for cash consideration of $32 million and is expected, inclusive of all potential earn-out, to accretive to earnings in 2011. The acquisition is expected to close by the end of the month pending the discharge of indebtedness of the company.

Commenting on the acquisition, IDEX Chairman and Chief Executive Officer Larry Kingsley stated," We are delighted with the opportunity to continue the expansion of our optical platform with the acquisition of ATFilms. ATFilms is a recognized leader in the design and manufacture of optical componentry. By producing custom products, which have both excellent spectral performance and environmental stability and durability, ATFilms has built a reputation as a critical supplier to a significant number of leading edge customers. ATFilms will now join Semrock, acquired in 2008, as a part of the IDEX optical products platform within their Health and Science segment."
Optimax
Optimax was selected as preferred supplier of high-precision optics to Shanghai Micro-Electronics Equipment Co., Ltd. (SMEE), China. The company has begun a $4 million facility expansion and will be adding approximately 50 new manufacturing jobs at their Ontario, NY, facility in the next two - three years.


This deal was signed as part of a summit at the White House in DC, as President Obama and Chinese President Hu Jintao met during the week of January 16th. White House fact sheet here.
In 2010, Optimax reported a 30% increase in sales, with a single digit turnover rate and a net employment growth of 16 full-time hires. This increase in business required the company to search for qualified candidates to work in their manufacturing environment. With a broad range of positions with varying job descriptions open for hire, it was and continues to be important to know where to look for the workers with the right skills.
Since most of the hiring focuses on technicians, Optimax uses the local pipeline which is known to provide individuals with foundational skills. This system includes students enrolled in metal trades programs, in science and technology based programs at local community colleges, and specifically, in the Applied Tech Center at MCC. Qualified candidates must have the ability to keep up with a fast-paced work environment and the motivation to seek the continued education required for success in the optics industry.
In 2010 the company entered the nationwide Top Small Company Workplaces Competition put on by Inc. Magazine and Winning Workplaces and placed in the top 20. To reach out to their customer base they traveled the world, making it all the way to China, while keeping up with the demand at home. Workforce development remained a priority as they strengthened their team through in-house and external training programs; the company is proud to have their first graduates complete the new Optical Manufacturing Technician Certificate at MCC.
According to management at Optimax, the company plans to continue its hiring streak and the search for experienced, qualified technicians. This includes a net growth rate of three people per month for the foreseeable future. For more information about the opportunities, please see www.optimaxsi.com/Careers.
APOMA
Two interesting presentations and a passing of the gavel were the focus of the APOMA general membership meeting in San Francisco during Photonics West.
Dr. Jeffrey T. Kohli, Technology Manager for Corning Gorilla Glass gave an informative presentation about the evolution of Corning's Gorilla Glass and its markets.
Dr. Thomas Toepfer of Hellma Materials gave a fascinating presentation about Hellma's calcium fluoride production process.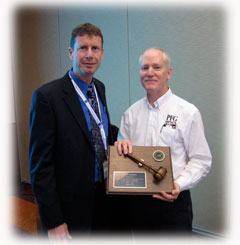 APOMA president elect is Rick Nasca, Corning Tropel.
SPIE Optifab
9 - 12 May 2011
Rochester Riverside Convention Center
Rochester, New York, USA
Attend SPIE Optifab, the largest optical fabrication event in North America-and it only happens every other year. Come see the newest optical technologies, the big machines, and talk to the people who use them.
One fee gives you access to:
A Robust Biennial Exhibition
Over 150 companies dedicated to optical fabrication technologies and applications
See the newest products via hands-on product demos
See the big machine builders: OptoTech, QED, Schneider, OptiPro, and Satisloh
Two Industry Forum Panels on Wednesday
"Win an iPad" prize drawing on Thursday
Unique Technical Program
Over 80 presentations (both technical and commercial) on the latest enabling technologies and applications for optical fabrication. Plus two industry forums are planned - "The Forbes Polynomial Surface: The Road Forward; A Return to Manufacturable Aspheres" and "The Future of Optical Manufacturing in North America."
Courses and Workshops
Designed for the working engineer, Optifab courses address challenges in optical design, engineering, manufacturing, and opto mechanics. Improve your capabilities with new courses in 2011.
Come to SPIE Optifab 2011 in Rochester, New York, for the most important optical fabrication event in North America.
Events and Conferences
OFCNFOEC
6 - 10 March 2011
Los Angeles, California, USA

SPIE Defense, Security & Sensing
25 - 29 April 2011
Orlando World Center Marriott
Orlando, Florida, USA
CLEO
1 - 6 May 2011
Baltimore, Maryland, USA
Optifab
9 - 12 May 2011
Rochester, New York, USA

Laser World of Photonics, Munich
23 - 26 May, 2011
Munich, Germany
Frontiers In Optics / Laser Science
16 - 20 October 2011
San Jose, California, USA


RRPC Networking: Intellectual Property
Sign Up Today
RRPC Member, Harris Beach will host RRPC Networking on Tuesday, March 15, 2011 at their facility at 99 Garnsey Road, in Pittsford, NY.
Neil Slifkin, the leader of the Intellectual Property practice group at Harris Beach PLLC, will talk about Intellectual Property: International Patents and Trademarks, an ever changing area of concern to many RRPC members.


Slifkin is a member of the International Trademark Association (INTA) and regularly litigates all types of intellectual property actions including patent, trademark, copyright and trade dress infringement action. He also represents technology companies in negotiating and documenting intellectual property transactions, including product development projects and intellectual property purchases, sales and licensing.

In his practice with Harris Beach he also prepares and prosecutes patent applications in a wide variety of technologies including complex mechanical systems, optical technologies, electrical components, lighting components, sporting goods, medical devices, and others. He has also prosecuted patent appeals before the Patent Board of Appeals and Interferences.

Slifkin holds CLE's for attorneys, speaks at international trade conferences, and published, in 2009, "Trademark Protection", a chapter in Inside the Minds: Trademark Protection and Enforcement, an Aspatore books, Thompson business publication.
Contact Tom Battley at 585.329.4029 or by email to confirm your attendance.
ITT Split
ITT Corporation announced that it will separate into three independent publicly traded companies.
ITT Corporation announced on January 12th that its board of directors unanimously approved a plan to separate the company's businesses into three distinct, publicly traded companies.
Under the plan, ITT would execute tax-free spinoffs to shareholders of its water-related businesses and its Defense & Information Solutions segment. Following completion of the transaction, ITT will continue to trade on the New York Stock Exchange as an industrial company that supplies highly engineered solutions in the aerospace, transportation, energy and industrial markets. Under the plan, ITT shareholders will own shares in all three corporations following the completion of the transaction.
A leading manufacturer of highly engineered industrial products and high-tech solutions
A global water technology leader
A highly engineered defense technology and information solutions provider
Following completion of the spinoff, the existing Defense & Information Solutions segment will be renamed and rebranded as a new standalone company that is an industry-leading provider of innovative technologies and operational services to meet the enduring requirements of the global military, government and commercial customers. The company's products and services will include premier technologies such as next generation night vision, integrated electronic warfare, networked communications, force protection, radar, global intelligence, surveillance and reconnaissance systems, composite structures, space-based satellite imaging, weather and climate monitoring, and navigation and imaging systems, as well as maintenance, engineering and professional services. The business will continue to focus on growth beyond the core Department of Defense customer, with nearly 30 percent of revenues already coming from adjacent markets, such as air traffic management, information and cyber security as well as strong international growth prospects.
Pro forma 2011 revenue for the new defense and information solutions business is estimated at $5.8 billion.
ITT expects to finalize and execute the plan before the end of 2011.
SBIR
The DoD STTR 2011
A solicitation has been pre-released here and here. The Army, Navy, and MDA invite small businesses and research institutions to jointly propose cooperative research and development efforts in response to topics in this solicitation. During the pre-release period, which ends on February 27, 2011, you may contact the topic authors directly (contact information is listed with the topic) to ask technical questions about specific solicitation topics. The DoD will begin accepting proposals on February 28, 2011 and will close to proposals on March 30, 2011 at 6:00 a.m. ET.
Space Station Imaging
Hyperspectral Camera Will Provide Unique Geospatial Imagery
A multispectral imager builtby FluxData, Inc.,a Rochester-based manufacturer of multispectral systems, was launched into space aboard the Japanese HTV-2 mission, heading to the International Space Station (ISS), on January 22, 2011.

In the upcoming months after arrival, the FluxData imager, a key component of the International Space Station Agricultural Camera (ISSAC) will be installed in the Window Observation Research Facility (WORF) by the crew onboard the ISS. ISSAC was developed by students and faculty of the University of North Dakota (UND) in Grand Forks, ND., in support of their Upper Midwest Aerospace Consortium (UMAC) research efforts. ISSAC will take frequent multispectral images of vegetated areas on the Earth, specifically focusing on the northern Great Plains and Rocky Mountain regions of the United States.
Through UND's campus-based operations center, ISSAC will provide end-users the ability to select specific geographical areas of interest and request the collection of imagery that will be downlinked, processed, and delivered within just 1 to 2 days. The data and information ISSAC provides will be used for a wide range of activities including: nitrogen application maps to improve fertilizer use, agriculture management zone decision support systems to improve nutrient and invasive species management, and rangeland management tools to improve livestock allocation and evaluation. The rapid responsiveness of ISSAC imagery may also aid in disaster management, flood monitoring and wild land fire mapping.

Pano Spiliotis, CEO of FluxData, said, "We are very pleased to be part of the ISSAC program. We have delivered a very high performance, complex and sophisticated multispectral camera system that will bring the unique benefits of space-based imaging to the general public. It is a great honor to have been selected to contribute to this program and a testament to the broad capabilities of FluxData's products and services."
Additional information regarding the ISSAC program can be accessed at the Upper Midwest Aerospace website. FluxData has a page devoted to the story as well, here.
International World Currency Tip
Book makers take the vig, why don't you?
Most businesses understand the importance of tapping international markets to drive new demand, juice up margins, or source cheaper parts. Most of you also take advantage of the fact that your mother tongue and corresponding currency are, like Visa, accepted everywhere.
Transacting in the World's currency – the US dollar – is convenient, clean, and simple. Everyone likes using $USD: you, your accountant… and your customers.
Yes, the Italian buyer is thrilled that you're drawing a hard line in the sand that you only take USD. Because he knows that you probably haven't taken the time to do the calculus to determine that the historical volatility of the USD/EURO is whatever %. Call it 5%. It doesn't matter what we call it in this exercise because most of the time he is baking in 20%, 30%, 40% volatility in the USD/EURO, because he is taking the currency risk – not you – and he wants to get paid for it. That means the amount of Euros he's prepared to pay is deflated way beyond what the market thinks $1 USD is worth. And he takes the vig all the way to his bank.
Next time you are on the phone with your buyer in Sweden, explain to her that you would like to negotiate price in Krona AND US Dollar, and that you are prepared to accept payment in six months. In Krona. A foreign exchange guidance line facility can allow you to lock the market rate today (with the market-determined historical SEK/USD volatility) – allowing you to slide the 'vig' back to you in the form of a higher sale price by taking the currency risk off the table for her. Or, Helga will come back with a new bid showing her hand in how bad she tried to fleece the exchange rate. Either way, it forces a more honest negotiation and should improve your gross margin on the sale.
So yes, the international sale opens new markets and usually improves gross margins. But remember - book makers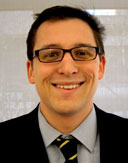 aren't in the business of taking risk - they are in the business of taking the difference between those who are. You aren't in the business of taking (or paying for) currency risk, you are in the business of selling a product for more than it cost you to make. The difference is your vig, so think about how to protect it.
History of Magnetorheological Finishing
The first commercial magnetorheological finishing machine (MRF) machine was unveiled in 1998. It was followed by more advanced models and by groundbreaking subaperture stitching interferometers for metrology. In 2006, QED was acquired by and became a division of Cabot Microelectronics.
Daniel C, Harris, a senior scientist at China Lake Naval Air Systems Command, has published a "definitive" history of MRF. Harris' paper recounting the history of the development of MRF and the founding of QED Technologies has been published in the SPIE proceedings. A PDF copy of the paper is available for download here.
Contact RRPC
How does one acquire the coveted RRPC Newsletter Cub Reporter Badge?
Contact us with industry news and be the first in your office to wear one (or hide it in your desk).

New York Photonics and the Rochester Regional Photonics Cluster are active and growing collaborative organizations. Efforts are under way on joint training events, workforce development, collaborative advertising opportunities, promoting the commercialization of I.P., and the advancement of our website to further facillitate business development.
Join us! There are advantages to working together, and we are interested in working with you. Send an email to us at membership@rrpc-ny.org.

To subscribe, to unsubscribe, to submit a news item or upcoming event, to suggest a feature or column, or to offer feedback, contact Tom Battley, at 585-329-4029.