Rochester
A Letter from RRPC Chairman, John Hart
Dear Colleagues,
As we look ahead toward 2007, I find myself reflecting on the important events of this past year and on the progress that the Photonics Cluster has collectively made in advancing Rochester and New York State as the place to be for people, parts, projects and brains in our industry. A few significant facts:
Rochester and New York State now have a major Optics/Photonics Conference every year (by the way, we are working examining the potential for adding 1 more event between the current shows)
We cannot find all the people we need to fill our job openings – both a good sign of growth and a tough problem to solve
We have a full time professional with amazing skills working both short term issues and long term strategy (don't tell Tom that I am talking about him.)
Our educational institutes are adding facilities, classes, and research programs - they are all needed!
Companies from outside the region are buying technology and companies and keeping them here because of our talent pool (think QED, RPO, EMF, to name a few)
Private and Professional finance organizations have been funding more and more of our startups - I keep getting asked "can I put money into your company?" Sorry, I don't need it right now… and that's a good thing.
These things are happening not because RRPC is some amazing new organization, or because the Institute of Optics has the best Optics training in the world, or because MCC trains the best Opticians, or because APOMA brings together the best technologies for glass fabrication, or because... there are dozens of these examples. Things are happening because we are all thinking about how we can interact together to advance the collective goal of moving our industry, vocation, passion, call it whatever, forward.
And yes, I am proud to say that all these things are actually true.
Have a great year! We look forward to working with you in 2007.

A Glance Back at 2006
Early in 2006 Rochester had two new major optics shops readying to open: JML and Rochester Precision Optics. GGC Imaging (Gary Conners, Conger Gable and Nick George) were moving into offices on Allen's Creek Road.
Research dollars continued to fund projects in the Rochester Region, including the UR/RIT/ITT infrared remote sensing project; RIT's NanoPower solar energy research; RIT's Collaboratory in a variety of photonics-related projects; the MINERvA nutrino project at UR; the CEIS at the UR; The Laboratory for Laser Energetics - just to name a few.
A number of articles in Rochester newspapers throughout the year highlighted the shortage of technically skilled workers to fill open jobs in OPI companies in the Rochester Region, reflecting the national deficit in science and technology college graduates. A lot of good work has been happening on that front - by volunteer groups, at Infotonics in partnership with others, at RIT - and more is being done by a couple of groups working to fill gaps in what is currently offered.
Professor Stephen Jacobs, Senior Scientist at the UR Laboratory for Laser Energetics was named an OSA Fellow for "For significant contributions to the development and understanding of magneto-rheological finishing and liquid crystal optics, and for pioneering work in educational outreach and teacher training."
Duncan Moore, the Rudolf & Hilda Kingslake Professor of Optical Engineering at the UR Institute of Optics won the OSA Gold Medal for his contributions to the field.
John Howell, assistant physics professor from the University of Rochester, won the 2006 Adolf Lomb Medal from the Optical Society of America. The Lomb Medal is presented once annually to distinguished scientists who have made noteworthy contributions to the field of optics before the age of 35.
With its published study in the Journal of Bone and Joint Surgery, Laget, a spinoff of the University of Rochester Medical Center, gained greater credibility and edged closer to successful commercial adoption of its "cartilage tissue restoration" gene therapy using ultraviolet light.
The University of Rochester and Bausch & Lomb announced their expanded research partnership in July, adding $11 Million to the $19 Million B&L has already spent in research with UR since 2000. (We still wish that more of the commercialized products resulting from the research were manufactured in New York.)
Despite continued layoffs at Kodak and Xerox, both companies continued to garner recognition for their commercial printing and medical imaging products. Wonder what will happen to Medical Imaging?
Representatives of the Rochester Regional Photonics Cluster, an industry association representing some 70 regional companies employing a few thousand workers visited Washington DC and met with Congressional reps and their appropriations staff. Nearly all of the Congressmen, Senators and staff that we visited mistook us as representatives from the Center for Infotonics. Talk about a public relations issue...
JenOptik, the German firm bearing the name of the town where George Eastman likely was inspired to make his investment in the University of Rochester Institute of Optics, purchased polymer optics assets from Eastman Kodak and set up shop in Rochester, NY.
The OSA Annual Meeting: Frontiers in Optics, was held in Rochester in October, and was the biggest and best annual meeting the organization has ever held: over 100 exhibitors, a 44% increase over last year's exhibit, and more than 1,900 attendees, up 42% from last year.
In an editorial on September 19, 2006, the Rochester Democrat and Chronicle stated that, "the place to seed the Optics and Photonics sector is the Infotonics Technology Center in Canandaigua."
Throughout 2006 there were numerous articles authored by OPI researchers and engineers from the Rochester Region in both technical and trade journals. Doug Kindred and the folks at Gradient Lens made the cover of Quality Digest in August. An article in Laser Focus World by John Kerekes, an associate professor in the Chester F. Calrson Center for Imaging Science at RIT, covered commercial imaging spectrometers.
The University of Rochester's Goergen Hall for Biomedical Engineering & Optics neared completion. The RRPC hopes to be holding our annual meeting there this year.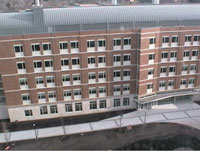 We hope you will share your news items with us in 2007. Stay tuned, stay connected, and enjoy a prosperous new year.
Events
20 - 25 January 2007
Photonics West
San Jose, California USA
Exhibition
Medical Imaging
17 - 22 February 2007
San Diego, California USA
Exhibition
Defense and Security Symposium
9 - 13 April 2007
Orlando, Florida USA
Exhibition
OptiFab
14 - 17 May 2007
Rochester, New York USA
Exhibition

Photonics North (co-located with Education and Training in Optics & Photonics)
3 -7 June 2007
Ottowa, Ontario, Canada
Call for Papers (Photonics North)
Call for Papers (Education & Training)
46th Annual Summer Course Series
University of Rochester Institute of Optics
18-29 June 2007
Rochester, New York USA

New York Photonics Unveils New Website
New Look, Expanded Search Capabilities & Services
Beginning Summer, 2006, New York Photonics began working on the redevelopment of both the New York State Photonics Cluster and Rochester Regional Photonics Cluster websites.
BrandOrchard was selected from among the marketing communications firms that responded to our Request for Proposals. The new website includes a sophisticated search engine which will allow users to readily identify Cluster members who can satisfy their development requirements.
The overall look of the web presence is also reflected in this newsletter and in the New York Photonics supplemental pages in the 2007 Photonics Spectra Buyer's Guide.
Your feedback is welcome.
Albany
Albany Nanotech, Hudson Valley CC, Einhorn Yaffee Prescott to Collaborate on 'GetNANO' Program
Albany Nanotech and Hudson Valley Community College signed an agreement on December 14th, 2006 that will provide critical education and training for students pursuing careers in the nanoelectronics industry, while at the same time announcing the start of discussions with Einhorn Yaffee Prescott Architecture & Engineering PC of Albany (EYP) to create a unique initiative that represents an important step in preparing the workforce necessary to attract additional high-tech jobs, companies and investment to the Capital Region and New York State.
A Memorandum of Understanding signed by CNSE and Hudson Valley established a new set of laboratory courses for students in Hudson Valley's Electrical Technology: Semiconductor Manufacturing Technology program. The program will provide Hudson Valley students with unprecedented hands-on education and training in Albany Nano's world-class laboratory and cleanroom facilities, addressing topic areas that are critical to the fabrication of computer nanochips in a process line, including mask preparation, wafer inspection, metal deposition, photoresist coating, etching and metrology, as well as cleanroom protocols, operations and safety training.
Officials from CNSE and Hudson Valley hope to build upon this important partnership by beginning discussions with EYP to develop The Global Education and Training for Nanotechnology, or "GetNANO" program, as a way to ensure the development of the highly skilled workforce necessary for the design and efficient operation of state-of-the-art nanoelectronics research, development and manufacturing facilities. The first topic for discussion will be the creation of a collaborative program that would train architects and engineers to design high-tech buildings and facilities with sustainability and zero energy, focusing on areas such as building information modeling, energy simulation, and system monitoring and control.
Applied Image in New Partnership
Applied Image Inc., located in Rochester NY, announced its latest partnership with Imatest LLC, of Boulder CO.

Expanding their excellent product offerings for the Photonics industry, Applied Image is now packaging the Imatest PRO and Imatest LIGHT software with their test targets, including the ISO and I3A standard targets, such as ISO12233, ISO14524 and ISO16067-1 as well as other standards, like the IEEE STD 208-1995.
The Imatest software, developed by Imatest LLC, measures the sharpness and image quality of digital camera images and digitized film images. It allows users to accurately and conveniently determine the performance of their cameras or imaging systems. Imatest LIGHT is ideal for individual photographers and enthusiasts who want to test their cameras, lenses and printers, while the Imatest PRO has a full range of features for professionals and imaging system developers. Imatest runs under Windows 2000, 2003, XP and Macintosh systems with Virtual PC 6 or 7.
Designed for ease of use, Imatest is the first commercially available program with graphic user interface for analyzing digital image quality. Imatest output can be exported to Excel or XML formats. Together, with the Applied Image test targets users can verify the quality and performance of their imaging systems with unprecedented convenience and accuracy.
Commenting about the new Applied - Imatest relationship, Norman Koren, owner of Imatest, said, "The partnership between Applied Image and Imatest offers exciting opportunities to better serve our customers with new chart designs and enhanced software capabilities."
In addition to the distribution arrangement, Imatest LLC and Applied Image, Inc. are working together to develop new test targets to meet the needs of photographers as well as manufacturers throughout the supply chain.
VC Corner
The Human Capital Issue
It may take a village to raise a child, but that seems like a trivial task compared to the act of building a successful start up. An entrepreneur aspiring for great heights requires contributions from legions of individuals and organizations.
As a venture capitalist, I've had the opportunity to observe entrepreneurs at many stages of company building. I've learned from the successful ones the importance of being able to operate in a resource constrained environment.
A lack of resources is one of the distinguishing features of an early stage company versus its larger, established competitors. On the other hand, a start up doesn't face organizational constraints (bureaucracy) common among larger companies. A small company's ability to move swiftly and adapt to the marketplace is its greatest strength in confronting Goliath.
New businesses are frequently short of money. But, they often have to tackle a more formidable shortfall – a lack of human capital. New companies require the aid of numerous professionals. Many tech companies need highly trained engineers. If intellectual property is important, a patent attorney is essential. All start-ups need the basic organizational help of a corporate attorney and CPA. If the management team is technically proficient, they may lack marketing know how and sales experience. The list goes on.
So, with little money, how does an entrepreneur acquire the resources that are necessary to grow a company? By being creative, flexible and prepared to evolve as the company achieves certain milestones.
I suggest that an entrepreneur start by explicitly identifying the resource requirements essential for success, and, then specifying whom can provide them. Now some out-of-the box (or non-big company thinking) will be in order. How can the parties be attracted to contribute?
Some will have to be paid. Others may defer compensation. And, others may not require any payment. To pick up on the "village" proverb, there are the family members, neighbors and officials. Family members are employees or professionals who work for cash compensation. Neighbors are on the periphery and include people who provide financial support, advice or contacts. Officials are affiliated with incubators, universities or agencies and are frequently charged with helping the regional business formation process.
The importance of networking by entrepreneurs is hard to overestimate. An entrepreneur must build a neighborhood of supporters interested in seeing the company succeed. Savvy entrepreneurs create networks of individuals with relevant experience and contacts that can be leveraged. Whether or not a formal board of advisors or directors is established isn't as important as having an assortment of people who behave as concerned and accessible advisors.
I encourage entrepreneurs to seek out individuals who have first-hand company building experience. Advisors who have tales of woe from prior setbacks, as well as stories of glory from previous successes are particularly valuable advisors. The two usually go hand-in-hand. Entrepreneurs or executives with start up experience have wisdom to impart and valuable contacts to share.
A future column will discuss networking and how to identify and recruit people to your entrepreneurial neighborhood.
Richard A. Glaser is a financial advisor at a major securities firm. You can send him email here.
Infotonics
Laura Weller-Brophy has joined the Infotonics Technology Center as Product Development & Commercialization Manager. Laura was formerly Intellectual Property and Business Strategist

for Optical Display Films at Eastman Kodak, and served prior to that as Manager, Photonics Applied Research, Component Technologies for Corning. In her new capacity with the ITC Weller-Brophy will initially focus on Medical Devices. Laura was also co-chair of the recent OSA Annual, Frontiers in Optics, held in Rochester.
Contact RRPC
New York Photonics and the Rochester Regional Photonics Cluster are active and growing collaborative organizations. Efforts are under way on joint training events, workforce development, collaborative advertising opportunities, promoting the commercialization of I.P., and the development of our website to further facillitate business development.
Join us! There are advantages to working together, and we are interested in working with you. Send an email to us at membership@rrpc-ny.org.

To subscribe, to unsubscribe, to submit a news item or upcoming event, to suggest a feature or column, or to offer feedback, contact Tom Battley, at 585-329-4029.