Rochester
Sydor Move Nearly Complete
On Monday, June 25 Boulter Rigging arrived at One Blossom Road, where Stefan Sydor Optics has operated for forty years, and loaded 150 tons of machinery onto three flatbed trailers.
A few hours later, the machinery and equipment was in Sydor Optics' new 26,000 square foot facility at 31 Jet View Drive, where the Sydor team was engaged in reassembling production and office operations. Everyone except President Jim Sydor that is, who could still be found at One Blossom Road that day and during the following week, cleaning, scraping floors in preparation for paint... in general seeming to be nostalgic about the old building.
In fact, Sydor didn't make it over to the new Jetview location for a look until Friday, July 6th. "I had every confidence that my team would manage the move-in perfectly without me," Said Sydor. "I didn't want to enter the new location until the set-up was complete and machines were running. It was worth the wait."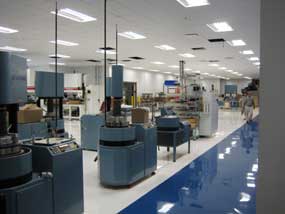 Sydor is expanding from 10,000 to 22,000 square feet, with an additional 4,000 for Sydor Instruments. They break ground on another 12,000 square feet later this month which will house their laser optics, which moves into the new facility in November, and to make room for future expansion.
We are hoping to host an RRPC Networking event at the new Sydor facility after the summer.
Solid State Lighting
Intelligent LED lighting pioneer joins global lighting leader
Here's a flashback: In our December 2005 Newsletter, we reported from Boston University's "Future of Light" conference and a segment covering Enabling Technologies for Future Optoelectronic Devices and Next Generation Solid State Lighting, Illumination and Display Systems.
Two young CEO's: George Mueller, Founder & Chairman, Color Kinetics Inc., and Charles Swoboda, Chairman & Chief Executive Officer, Cree Corporation made a very entertaining and convincing case for nothing less than the complete overhaul and dramatic transformation of the the lighting industry, enabled by low-power, high output LED's.
Mueller, at 35 years of age, had just been named 2005 Ernst & Young New England Entrepreneur of the Year.
Today: On June 19th, 2007, Color Kinetics announced an agreement for acquisition by Royal Phillips Electronics for $791 Million. Read more about this here.
Keep in mind:
More than80% of all traffic signals are now LED
33% of all light bulbs are changed annually
Lighting consumes 20% of U.S. power demand
"Harnessing Light," the 1998 study by the Commission on Physical Sciences, Mathematics, and Applications described optics as a critical enabler for technology that promises to revolutionize the fields of communications, medicine, energy efficiency, defense, manufacturing, and science.
One of their recommendations: The Department of Energy, the Environmental Protection Agency, the Electric Power Research Institute, and the National Electrical Manufacturers Association must coordinate their efforts to create a single program that will enhance the efficiency and efficacy of new lighting sources and delivery systems. The goal must be to reduce U.S. consumption of electricity for lighting by a factor of two over the next decade, thus saving about $10 billion to $20 billion a year in energy costs.
While the "coordinated effort" may not have occurred, the market is responding to this critical demand. Is there an opportunity in this market for your company?
Regional Optics Cluster Promotion
Look for the Rochester Profile In Your Seatpocket
RRPC and Rochester's Optics Industry figure prominently in USAirways' In-Flight Magazine this month, in a segment of a profile of Rochester, New York titled "Through a New Lens."
RRPC members also sponsored a full-page color ad in the Profile piece, with a link to the Rochester Regional Photonics Cluster's website featuring the sponsors.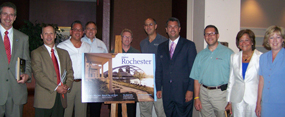 Events
7th annual WNY Optics Photonics Golf Tournament
to benefit The Golisano Children's

Hospital at Strong
19 July, 2007
Registration / Sponsorship
Frontiers in Optics 2007
16 - 20 September, 2007
San Jose, California
Conference
Photonics West 2008
19 - 24 January, 2008
San Jose, California
Conference
OFC/NFOEC 2008
February 24-28, 2008
San Diego Convention Center
Conference
Optatec 2008
17 - 20 June, 2008
Frankfurt, Germany
Conference
Note:
Although no date has been set, Optipro assures us that in August they will once again host the "Event in the Tent."
Optics Express
Intern Assisting Career and Education Initiative
Please welcome teacher / intern Colleen Lee, who is working with the RRPC this summer on the business plan for the Optics Express. Colleen joins us from the Rush Henrietta School District where she is the Ninth Grade Academy Career and College Seminar Teacher.
Colleen's experience in both the private sector and education, and her position as a career advocate with young students, make her an ideal candidate for bridging RRPC companies and University resources with science programs and teachers at the middle-school / high-school levels.
Colleen will be working with RRPC Executive Director Tom Battley on market research, financials, and curriculum concepts for the Optics Express. Please make time to meet with Colleen and Tom when they call. If you have input that you would like to share, contact Tom at 585-329-4029.
Rochester's Solux Smile
U of R Biomedical Engineering Students Assist Tailored Lighting
Some day when you sneak a peak in the mirror, you may not see the connection between your color-perfect teeth and a disassembled blow dryer.
"We cannibalized a hair dryer and an electric drill," said designer Amber Czajkowski, a senior in biomedical engineering with a concentration in optics at the University of Rochester. She and her design team recently took a blow dryer apart for its outer shell. They needed the part to build an unusual light fixture that switches between natural light and incandescent.
"It looks like a halogen bulb, but the backing is special," said Kai Kao, another member of the team.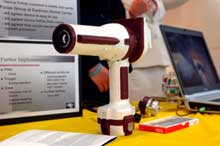 The prototype, called the SoLux Smile, resulted from a Rochester corporate-student partnership. Kevin McGuire, president of Tailored Lighting Inc, located in Rochester, requested the project. McGuire (University of Rochester Institute of Optics, Class of '83), is inventor of the natural-daylight replicating light source SoLux found at the Rochester Memorial Art Gallery, the Van Gogh Museum, the National Gallery of Art, Wegmans, and color-choosing displays at Home Depot. He sought to add a light to his line of products, a light dentists could use to ensure crowns and veneers match tooth color both in the office and outside in the sun.
McGuire was the senior-design project customer and advisor to the SoLux Smile R&D team of four: biomedical engineering majors Czajkowski, Kao, Elizabeth LaLime, and Reggie Sandhu. The team was one of eight in this year's senior design class taught by Amy Lerner, associate professor in the Department of Biomedical Engineering. Other teams developed devices for surgery, for medical treatments, and for daily task assistance for children with disabilities.

"We don't let students come up with a problem, we seek out people with a problem to solve," said Lerner. "The course is set up to be customer driven and students apply to work on a project as if they are applying for a job. The project-based course helps students put together pieces of what they've learned, to make something that demonstrates a concept."
"One of my main criteria for the students was to produce a device you could hold, turn on and off, and change the lighting conditions, all with one hand," said McGuire. "The most difficult mechanical part was the trigger design. The trigger actuates a filter inside that switches the light from daylight to incandescent, the two lights required for color matching."
Team supervisor Nick Kuzma, assistant professor in biomedical engineering and imaging sciences, provided some optics coaching. He discussed with the students implementation of their design, which involved optical fibers and lenses to focus the light from the SoLux bulb. Packaging the design required machining of special lens mounts with Paul Osborne in the Department of Electrical and Computer Engineering.
Osborne, campus mechanical guru, heads a machine shop outfitted with a cache of inventor tools: machine lathes, soldering equipment, and mills. And busy chalkboards. "Engineers talk with their fingers," he said. "Pencils, chalk, scribbles on the backs of napkins." Known for taking idea to prototype, he helped lead the SoLux team to mechanical solutions.
At first, the approach was to make the device stationary. According to Lalime, they had the idea that if the light were on a stand, they could aim it. Originally, the students designed a fiber-optic extension, but ended up planting the fiber optics inside the shell and creating a removable cap.
Coming up with the workable hand painted device with its smile-enhanced SoLux logo (created by Czajkowski) took all semester. According to Sandhu, who has a concentration in electrical and computer engineering, developing the 12-volt, 3.9 amp-drawing device required up to 20 or 30 hours a week on the part of each student, using Mondays as meeting time to catch up on individual and collective tasks to meet milestones.
The SoLux Smile team won first place in this year's Forbes Entrepreneurial Competition, sponsored by the School of Engineering and Applied Sciences.
"The devil is in the detail," said McGuire. "Ideas are cheap, but when it comes to executing them and making them work, it's difficult." McGuire is pleased with the team's results and expects to take the light from prototype to market.
Workforce Development
#25-M ADVANCE-NY
Issued on March 7, 2007 by the New York State Department of Labor, #25-M (snappy title) is DOL money intended to help you train your incumbent (existing) workforce. A limit of $50,000 per year and a total lifetime limit of $100,000 per company ($2,000 per course, per employee) makes this a great opportunity for New York State companies looking to upgrade the skills of their existing workforce.
Thanks to Scott Lippa for the information. Learn more about the opportunity here.
Product Announcements
Semrock, Inc., announced the release of its new 56-page full-color 2007-2008 catalog. This catalog presents six product families for
applications ranging from fluorescence instrumentation and microscopy to Raman spectroscopy and other laser analytical instrumentation, augmented by a series of helpful technical notes of a tutorial nature. Over 50 new products and 5 new in-depth Technical Notes were added to the hundreds of products and many notes from the previous catalog released in January 2007.
Contact RRPC
New York Photonics and the Rochester Regional Photonics Cluster are active and growing collaborative organizations. Efforts are under way on joint training events, workforce development, collaborative advertising opportunities, promoting the commercialization of I.P., and the development of our website to further facillitate business development.
Join us! There are advantages to working together, and we are interested in working with you. Send an email to us at membership@rrpc-ny.org.
To subscribe, to unsubscribe, to submit a news item or upcoming event, to suggest a feature or column, or to offer feedback, contact Tom Battley, at 585-329-4029.