In This Issue
New Products & Capabilities
Syntec Achieves ISO 9001:2000
SBIR Phase II Winners
ITAR & Recession Clobber RMI
Golf Tournament Recap
LLE wins DOE Grant
Entrepreneur Program Seeks Candidates
Collaboration Everywhere!
Conferences
Phase II SBIR Awards
SBIR Grants consist of three phases. Phase I provides funding that allows the company to test the scientific and technical feasibility of a concept and takes about six months to complete. Phase II is the expansion of Phase I which gives funding to the company to develop their concept and see it through to the prototype stage, usually taking two years. Phase III requires private sector dollars to see the prototype turned into a product for sale in the marketplace.
With a big assist from the HTR SBIR Program team and letters of support from Congressman Massa of NY-29, the NSF awarded Lumetrics a Phase II grant of $489,179 to develop and commercialize a Fiber-optic System for Non-contact measurement of the optical structure of the human eye.


Under the guidance of Todd Blalock, CTO of Lumetrics, Principal Scientist, Filipp Ignatovich, PhD successfully completed a Phase I award in 2008 and was asked to submit a proposal to commercialize the technology developed under that award. Since Lumetrics is located in the Lennox tech Center along with HTR which manages the Center and many supporting programs, it was a "no brainer" for Lumetrics to utilize the HTR SBIR program under the guidance of Rami Katz, to help develop and critique the Phase II submission.

Congressman Eric Massa, who many of us know because of his extensive outreach to the Optics Photonics and Imaging community, also jumped into our efforts and provided valuable support in the form of letters and communication to NSF. The congressman has also been very involved in the reauthorization of the SBIR program and has personally taken up this cause with President Obama.
---
Optimax has also been awarded a Phase II SBIR Grant on the topic of manufacturing an Aerodynamic Infrared Dome using their VIBE technology. The SBIR program is a competitive program that ensures that the nation's small, high-tech, innovative businesses are a significant part of the federal government's research and development efforts. Eleven federal departments participate in the SBIR program. Optimax's SBIR grant was funded through the Navy.
VIBE is a conformal, high-speed polishing process that utilizes many of the concepts of conventional lapping (grinding) and polishing and combines them with a high-speed motion to maximize removal rates. In Phase I, Optimax researched the feasibility to use VIBE to efficiently polish difficult to manufacture shapes and hard polycrystalline materials. The research and development department's Phase I results were met with success. Optimax soon became eligible to apply for Phase II of the SBIR Grant and was awarded the funding in June 2009. The goal of the SBIR Phase II is to use VIBE to create a polished transparent aerodynamic infrared tangent ogive dome out of polycrystalline alumina.
New SBIR Solicitation
The DoD SBIR 2009.3 and STTR 09.B solicitations were pre-released at on July 27, 2009. For SBIR 09.3 the Air Force, Army, Navy, DARPA, MDA, DLA, and OSD and for STTR 09.B the Air Force, Navy, DARPA, MDA, and OSD invite small businesses to submit proposals under these solicitations. During the pre-release period, which ends on August 23, you may contact the topic authors directly (contact information is listed with the topic) to ask technical questions about specific solicitation topics. The DoD will begin accepting proposals for both solicitations on August 24, 2009 and will close to proposals for both solicitations on September 23, 2009 at 6:00 a.m. ET. Plan ahead and submit your proposal early to avoid the risk of website inaccessibility due to heavy usage on the final day.


ITAR Raid & Recession Hit Colorado Optics Firm
Double Whammy sends RMI into Chapter 11
Rocky Mountain Instrument Inc. (Lafayette, CO) has filed for reorganization under Chapter 11 (protection from creditors) early this month. Company sources pointed to dropoff in business caused by a 2007 raid by U.S. Department of Defense investigators and the global recession as causes for its bankruptcy.
RMI forecasts that revenue this year will fall 16 percent to 30 percent below the $15.5 million posted in 2008.
The 2007 raid by investigators of the military's Defense Criminal Investigative Service has remained a bit of a mystery in the optics industry, with many assuming that the raid was the direct result of ITAR violations, but no charges have ever been filed. The fleet of black cars arrived at RMI's Lafayette, Colorado headquarters on Oct. 11, 2007, and investigators removed computers and files as part of their investigation. RMI lawyers said that the raid was related to U.S. export controls. The company reopened for business several weeks later.
In an affidavit to the bankruptcy court, Steve Hahn, company executive vice president, said that an employee filed a complaint with the DCIS, triggering the raid. According to Hahn, the employee claimed that RMI committed a procedural violation of export controls by allowing specifications for an unspecified product to go overseas. According to Hahn, RMI has since received government licenses to send such specifications to overseas suppliers.
No charges were ever filed against RMI, but the bankruptcy document claims that a 15 percent decline in business is attributable to the raid, because some customers lost confidence in RMI. Then came the current economic recession. According to court documents, RMI attempted to refinance its debt or sell its laser division last year in order to generate cash and forestall bankruptcy. The inability to make payments on its bonds is listed as the major factor leading to the filing. The default may also put RMI's Headquarters property into foreclosure.
RMI has asked the court to be able to use $1.06 million of its available lines of credit before the end of July to keep operating and fulfill customer orders while it reorganizes under bankruptcy protection. Acording to Hahn, more money could be needed between the end of July and the end of October to keep the company functioning.
The primary reason for asking the court's permission to use the cash is to retain employees. The affidavit states that RMI employees are highly specialized and it would take months to train replacements if the workers moved on.
RMI makes optics and photonics products for industrial and defense use. Some of its more lucrative contracts were with military prime contractors such as Lockheed Martin.
New Products and Capabilities
Laser Machining of Wafers
Sydor Optics has recently enhanced its offerings
by the addition of Laser Machining to their list of capabilities. Laser Machining provides a fast, cost effective way to cut, edge and drill fused silica and fused quartz wafers with high precision. Thru-holes of various shapes, sizes and quantities with high precision for size and location are now possible. Sydor now offers a quick turnaround with minimal fixturing requirements for this service. They also utilize a proprietary laser edge polishing technology that enhances the mechanical resilience of wafer edges in low to high production volumes.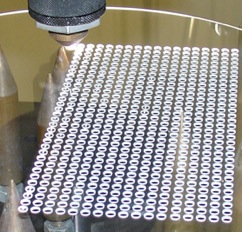 ---
Laser Engraving of Filters
Semrock, Inc. now laser engraves its catalog dichroic beamsplitters at no extra charge, thus solving the nagging questions of "What is this filter?", and "How should I orient it?", often associated with unhoused, all-glass optical filters.

Especially useful for selecting the proper orientation when populating a microscope filter holder, or for cataloging loose filters and filter sets in a laboratory setting, the dichroics are marked with the part number and Semrock name just outside the ample clear aperture. And OEM instrumentation manufacturers can enjoy custom-marking to their desired specifications. This laser-marking does not affect the "no-burn out" performance and five-year warranty that is standard with all Semrock filters. Even with this new marking feature same-day shipping is available for the vast collection of stock filters.
Syntec Achieves ISO 9001:2000

Syntec Optics has been certified to be in compliance with ISO 9001:2000. The certification audit was conducted by the Bureau Veritas Group. This recognition of Syntec's quality management system reinforces the company's credentials as a high precision manufacturer of injection molded polymer optics and opto-electronic assemblies. Syntec Optics integrates all steps of the process to deliver total solutions that exceed customer expectations.

"We have long pursued continual improvement of our quality management system and wanted to take it to the next level. This certification represents the culmination of continued efforts by every Syntec employee to better our processes to achieve optimal results. This affirms that Syntec values and strives for customer satisfaction and operational excellence," said Lori Steffenilla, VP of Manufacturing Operations.

Syntec plans to leverage this qualification to expand its reach to other markets worldwide that are characterized by cost constraints and tight schedule demands which require strict process control.

"This ISO accreditation further demonstrates our ability to contribute to the global polymer optics field. Compliance with internationally recognized standards grants us access to customers who can be assured of the strength and quality of our processes. We look forward to continued market leadership and defining the future of the industry," stated Rick Arndt, Vice President and General Manager.
Robert Earl Hopkins Passes
The optics community lost a great mentor, entrepreneur and family man on July 4, 2009.
Nothing that we could say here would surpass the compendium of information you can find here.
Events and Conferences
SPIE Optics + Photonics
2 - 6 August, 2009
San Diego, CA, USA
Frontiers in Optics 2009
11 -15 October, 2009
San Jose, California, USA
SPIE Photonics West
23 - 28 January, 2010
San Francisco, California, USA
SPIE Defense, Security & Sensing
5 - 9 April, 2010
Orlando, Florida, USA
Optatec
15 -18 June, 2010
Frankfurt, Germany

9th Annual Golf Tourrney
220 golfers (and an extra 10 for dinner!) convened in Rochester, NY for the 9th annual WNY Photonics Golf Tournament on July 23rd. The tournament, converging on both Shadow Lake and Shadow Pines Golf Clubs in Penfield NY, was blessed with a pretty nice summer day in what has been a soggy summer in the northeast U.S..


Final numbers are not yet in, but the event has donated $60K thusfar, to benefit the Golisano Children's Hospital at Strong.

Participation is from WNY photonics companies, their suppliers and friends, including companies from as far away as Florida, Pensylvania, Massachusetts, Illinois, Texas, Arizona, and once again this year, a team from Phoenix Optical Glass in Wales, UK.
Thanks goes out to all of the volunteers who make the extraordinary logistics happen, and to all of the sponsors and donors.
LLE Wins DOE Grant
The U.S. Department of Energy has awarded $8.2 million to the University of Rochester to support its Fusion Science Center for Extreme States of Matter for another five years. The funding represents a 50 percent increase over the previous $5.5 million grant, which founded the center in 2004.
Riccardo Betti, Chuang Ren and David Meyerhofer, professors of mechanical engineering and physics and astronomy, oversee the project, which makes use of the lasers at the University's Laboratory for Laser Energetics (LLE), including the new ultra-high-intensity laser beam lines of the Omega EP.
"In conjunction with the newly enhanced Omega laser, this fusion center has allowed us to make important strides in performing cutting-edge physics research in advanced fusion concepts," says Betti, the center's director. "We've been able to develop new fusion schemes and learn more about relativistic laser-matter interactions, which are so important in our quest to make fusion a viable energy source for the future."
Collaboration Acknowledged

Shortly after Optifab, Damon Diehl, Christopher Ditchman and Christopher Cotton, from ASE Optics, were recognized in an article in photonics.com for their work on a scanning low-coherence dual-wavelength interferometer that can measure the transmitted wavefront of [freeform] hemispheric dome optics, with accuracy, by mapping optical thickness.
The "Quad-Probe" is part of the work ASE is doing while expanding applications for Lumetrics' OptiGauge technology.
Entrepreneurs Sought
TEN seeks 20 Candidates for Entrepreneur Immersion
The Entrepreneur's Network is now accepting applications for its next class, which begins September 23, 2009. Based on best practices of leading entrepreneurial training, education and networking programs, TEN's mission is to grow life sciences, technology-based, and/or scalable, high-revenue potential firms across the upstate region.
TEN is an intense six-month program, focused on helping entrepreneurs - new or old - avoid the pitfalls that can limit growth or decrease the likelihood of securing investment. Even if you're a proven entrepreneur, business is an ever-changing environment and we cover the latest strategies for improving sales, securing financing, building or enhancing business plans, and presenting your firm to key stakeholders - be it venture capitalists, banks, insurance companies, or potential customers.
A refrain often heard from TEN alums gores something like this, "If only I knew these things before I got started. I could have saved so much time and done a better job!"
Class size is limited to 20 participants to allow for maximum interaction. The cost of this program is $7,500 per participant, but thanks to the support of the County of Monroe, Finger Lakes WIRED, and COMIDA, the cost to you is only $350 per person - payable only if you're accepted into the program.
The deadline to submit is September 7, 2009.
If you're interested in participating in this year's program, click on the TEN Membership Application to register.
Looking for A Peak-to-Valley Spec That Works
Does this sound familiar? The drawing says 10th wave, peak-to-valley, or PV. The shop interferometer measurements look like 11th or 12th wave, but the measurements on the brand-new interferometer in the QA laboratory look more like 8th or 9th wave. Trying a third instrument just gets a third answer. Your engineers try swapping references, checked settings, trim, filtering and temperatures, but the numbers just don't agree. Why can't we just get the same answer?
The reason is in the definition of PV. In the days before digital interferometry, we used Newton's test with poorly resolved fringes and some very good judgment, and we were mostly all on the same page. Now we have computers processing the fringe patterns, digitized anywhere from 100,000 to 4,000,000 data points across the surface, and the meaning of "Peak" and "Valley" are subject to more than just interpretation, with interferometer resolution, point exclusion, and test noise skewing the data. If you don't exclude enough points, you can quickly find yourself judging the quality of a six inch, tenth wave flat by the height of a phase feature smaller than a #10 dig.
One solution, according to a proposal to ASC/OP last year by Dr. Chris Evans of Zygo Corporation, is to redefine the Peak-to-Valley specification for use with digital interferometers. The new definition, dubbed PVr for "robust", is based on the PV of a 36 term Zernike fit to the interferometric data, plus three times the RMS of the residual. The results are impressive; regardless of the resolution of the interferometry, the PVr result is remarkably, well, robust. At OSA's Optical Fabrication and Testing conference in 2008, Dr. Evans reported (see footnotes) that while the PV term is still all over the map, everyone seems to get the same PVr result in round robin tests.

Figure from ASC/OP meeting minutes, showing the stability of PVr compared to PV for various interferometer resolutions. Click for larger view.
Dr. Evans is quick to point out that it is far better to use statistical surface descriptions like RMS or even PSD. Such parameters are inherently robust and in most applications far more informative in about the performance of the optic. But when you're asked to quote a job and the drawing says 10th wave PV, re-writing the specification in terms of RMS is not an option. But including a clarification regarding interpretation will usually be acceptable. People have been doing this for scratch and dig for years.
When I need to respond to a PV, I use the following language:

PV specifications are interpreted as PVr with 1% total area clipping following the mathematical definition given in: C. Evans, "PVr - a robust amplitude parameter for optical surface specification" Optical Engineering, Volume 48, Issue 4 (2009).
It may not be as good as using an RMS spec, but it's good to know we can at least get the same answer.
Dave Aikens is president and founder of Savvy Optics. He lives in central Connecticut with his wife and three children, two cats, and about ten chickens.
Global Foundries Sinks the Shovel in NY
$4.2 Billion Fab Project Under Way
Site work on GlobalFoundries' $4.2 billion computer chip plant in Malta, New York (Saratoga County) began early this month.
GlobalFoundries delivered their commitment letter to New York State in late June, clearing the way for them to receive $650 million economic in economic development incentives from the state. The commitment letter was the final hurdle that needed to be cleared in plans to build the 1.3 million-square-foot factory dubbed 'Fab 2."
"We're basically starting down the path of spending the money and building the building," said GlobalFoundries CEO, Douglas Grose.
GlobalFoundries is the company created in March by Advanced Micro Devices and an Abu Dhabi investment fund to take over AMD's manufacturing operations, including its plans for Luther Forest. As an independent "foundry," the new company will sell computer chips to AMD but also to other customers.
Even as AMD foundered during recent economic turmoil in the chip market, New York State Officials from three different administrations remained optimistic. Plans were first announced in 2006. With the spin-off of Clobal Foundries it appears that it's full speed ahead. The $7.8 million land purchase closed in June.
GlobalFoundries also completed a development agreement with the Town of Malta and the Town of Stillwater. Through the agreement the company will contribute $5 million, including $1 million towards the creation of a 32-acre public recreation field complex. The remaining $4 million will be used to establish two independent foundations designed to provide dedicated funding for future community enrichment programs in each town.
The construction project is expected to take approximately two years to complete and an additional 12 to 18 months to ramp to full operating mode, with volume production anticipated in roughly 2012. The Fab 2 project is expected to create approximately 1,400 new direct semiconductor manufacturing jobs at full scale production with an estimated annual payroll of more than $88 million. In addition, the project is expected to create approximately 5,000 new indirect jobs in the region with a sustained estimated total annual payroll of $290 million per year for all jobs.
Most of the $4.2 billion investment will be in chip-making tools, but building construction will be worth about $800 million, company officials said. Construction is expected to create about 1,600 new construction jobs plus an additional 2,700 local construction-related jobs.
Contact RRPC
How does one acquire the coveted RRPC Newsletter Cub Reporter Badge?
Contact us with industry news and be the first in your office to wear one (or hide it in your desk).

New York Photonics and the Rochester Regional Photonics Cluster are active and growing collaborative organizations. Efforts are under way on joint training events, workforce development, collaborative advertising opportunities, promoting the commercialization of I.P., and the development of our website to further facillitate business development.
Join us! There are advantages to working together, and we are interested in working with you. Send an email to us at membership@rrpc-ny.org.

To subscribe, to unsubscribe, to submit a news item or upcoming event, to suggest a feature or column, or to offer feedback, contact Tom Battley, at 585-329-4029.