In This Issue
RRPC / New York Photonics Annual Meeting
Optifab
Schumer on China Rare Earth Policy
WNY Golf Tourney
Albany Nano DOE Photovoltaic Grant
FAME Networking
New Products, Awards
New Appointments

Conferences and Events
Schumer Throws Down on Trade Issue
Warms to a Subject Dear to Optics Fabricators
Senator Chuck Schumer (D-NY) has become a vocal advocate for U.S. businesses suffering under China's restriction of rare earth exports.
Schumer walked into a press conference at Sydor Optics (Rochester, NY) on January 18th, just prior to Chinese president Hu Jintao's U.S. visit, and shared a letter that he sent to Secretary of State Hillary Clinton that minced no words concerning China's embargo on rare earth exports.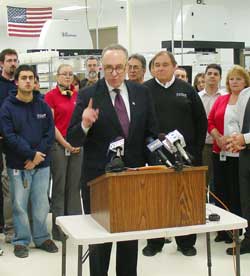 After visiting Sydor Optics in January, it appears that Schumer has found a manufacturing issue with a message he is going to keep reinforcing: China's unfair trade practices are affecting an industry critical to our national security… and one that employs a large number of people.
In a letter to Treasury Secretary Timothy Geithner, Schumer and fellow democratic senator Debbie Stabenow (MI) urged the Obama admininstration to use everything in its power to block funding of Chinese mining projects.
Monroe Comunity College

The Monroe Community College Board of Trustees has appointed Todd M. Oldham vice president for Economic Development and Innovative Workforce Services.
Oldham was previously associate vice president of Corporate & Continuing Education at Clark College in Washington state.
As head of MCC's newly created division, Oldham will provide leadership and direction in the areas of workforce development, technical education, college partnerships, grants and external funding sources. He will serve as the college's chief outreach officer to the business, industry and economic development sectors and will be responsible for developing innovative, entrepreneurial and strategic initiatives designed to proactively respond to local economic development and training needs.
"As someone who clearly understands community colleges and business, Todd has an impressive record of building partnerships with employers and of creating career pathways for students," said MCC President Anne M. Kress. "With Todd on board and with our partners around Monroe County and in this region, MCC is poised to do even more to move the local workforce forward and strengthen our community."
Photovoltaic Manufacturing Consortium
Senator Chuck Schumer announced a major victory for a partnership between SEMATECH and the College of Nanoscale Science and Engineering (CNSE) at UAlbany, along with the University of Central Florida., as they secured a $57.5 million federal grant that will provide a major boost to the U.S. Photovoltaic Manufacturing Consortium (PVMC). For months, Schumer has pushed for approval of the SEMATECH-CNSE application to form a new photovoltaic manufacturing consortium with support from the Department of Energy's Photovoltaic Manufacturing Initiative. With this federal funding, the partnership can massively increase the United States' share of the photovoltaic technology and products market, and potentially create millions of jobs over the next decade.
New Scale
New Scale Technologies earned its second "Golden Mousetrap" award for engineering innovation and creativity in product design. The company's M3 Micro Mechatronic Module, a miniature high-precision linear motion system, was awarded Best Product honors in the Automation and Control category in the competition sponsored by Design News, a leading industry trade journal. New Scale's piezoelectric SQUIGGLE micro motor won a Golden Mousetrap award in the same category in 2007.
Design News editors recognized the M3 Micro Mechatronic Module as being smaller, more precise and easier to integrate than traditional electromagnetic motor systems. Modules have 0.5 micron position resolution and a footprint of 12x30 mm or smaller, and operate on 3.3V input with low power consumption for long battery life in handheld devices. Each module is a complete closed-loop motion control system integrating a patented SQUIGGLE micro motor, a position sensor, a drive ASIC and a microprocessor for on-board closed-loop motion control. This combination of features means that no external control board is necessary.
Design News editors selected 18 winners and 95 finalists from "a record number" of entries in electronics, motion control and automation, design tools (hardware and software), and materials and assembly. Other winners in the automation and control category were Siemens Industry and Bosch Rexroth.
New Scale also announced that Imaging Diagnostics, a leading provider of embedded imaging solutions for machine vision, has integrated New Scale's miniature M3-F focus module into its Camelot USB 2.0 smart camera. Volume production of the smart camera is expected to begin in June 2011.


The M3-F module is a compact lens motion system with a piezoelectric motor, position sensor, drive IC and microprocessor integrated into a single package - about the size of a fixed lens holder - operating on a 3.3 V battery supply. Imaging Diagnostics will use the M3-F to move a custom lens from Sunex (www.sunex.com) with 0.5 micron position resolution. The custom smart camera has a 5MP sensor and embedded DSP for high processing and data transfer capabilities at the price of a regular industrial USB 2.0 camera system.


SPIE Optifab
9 - 12 May 2011
Rochester Riverside Convention Center
Rochester, New York, USA
Attend SPIE Optifab, the largest optical fabrication event in North America-and it only happens every other year. Come see the newest optical technologies, the big machines, and talk to the people who use them.
One fee gives you access to:
A Robust Biennial Exhibition
Over 150 companies dedicated to optical fabrication technologies and applications
See the newest products via hands-on product demos
See the big machine builders: OptoTech, QED, Schneider, OptiPro, and Satisloh
Two Industry Forum Panels on Wednesday
"Win an iPad" prize drawing on Thursday
Unique Technical Program
Over 80 presentations (both technical and commercial) on the latest enabling technologies and applications for optical fabrication. Plus two industry forums are planned - "The Forbes Polynomial Surface: The Road Forward; A Return to Manufacturable Aspheres" and "The Future of Optical Manufacturing in North America."
Courses and Workshops
Designed for the working engineer, Optifab courses address challenges in optical design, engineering, manufacturing, and opto mechanics. Improve your capabilities with new courses in 2011.
Come to SPIE Optifab 2011 in Rochester, New York, for the most important optical fabrication event in North America.
FAME Senior Exec/CEO Networking Event
Thursday, April 14
5:30 - 7:30 PM
Speaker:
Don Mazzullo, Partner
Harter, Secrest & Emery LLC

Don is a professional lobbyist serving his clients with his work in Albany for more than 20 years. Don has been instrumental in helping to advance technology and manufacturing throughout New York State, including important policy work for Biotechnology, Photonics and other industries in advanced research and manufacturing.
For this event FAME is collaborating with the RTMA (Rochester Tooling and Machining Association) and RRPC. Any manufacturer who is a member of FAME, RTMA or RRPC can send two executives to this event for free. All others will be charged $25 per company.
Location:
Mario's Italian Steakhouse
2740 Monroe Avenue, Rochester
Please RSVP to Michele Stolberg, email: fame@NYFAME.org or via phone: (315) 521-7826 by April 7.
Events
RRPC / New York Photonics Annual Meeting
13 April, 2011
STC MEMS
Canandaigua, NY
F.A.M.E. Senior Executive Roundtable
14 April, 2011
Mario's Italian Steakhouse
Rochester, NY

SPIE Defense, Security & Sensing
25 - 29 April 2011
Orlando World Center Marriott
Orlando, Florida, USA
CLEO
1 - 6 May 2011
Baltimore, Maryland, USA
Optifab
9 - 12 May 2011
Rochester, New York, USA

Laser World of Photonics, Munich
23 - 26 May, 2011
Munich, Germany
Frontiers In Optics / Laser Science
16 - 20 October 2011
San Jose, California, USA
RRPC / New York Photonics Annual Meeting
Wednesday, April 13th, 2011,
3:00 - 7:00PM
Smart System Technology & Commercialization Center
5450 Campus Drive
Canandaigua, NY 14424
Guest Speaker:
New York Lieutenant Governor Robert Duffy
Panel:
Leveraging Rochester's Strategic Advantage in Optics
Panel Moderator: Mark Zupan
Dean, University of Rochester's William E. Simon Graduate School of Business Administration
Panel:
Robert Beeson, VP Engineering, Semrock (subsidiary IDEX Corporation)
Jim Burns, Director of R&D and Acquisitions, Carestream
Don Golini, Entrepreneur, Founder, QED Technologies, Adjunct Professor UR Simon School
Bill Hurley, CEO, Rochester Precision Optics
Paul Tolley, VP Disruptive Technologies and CEO, STC MEMS
The nation is in the midst of what some call a "jobless economic recovery..."

New York's Optics, Photonics and Imaging Companies are busy and hiring...

What are the greatest challenges the industry faces going forward?

How does the region capitalize on our strategic advantage in Optics?
The RRPC / New York Photonics annual meeting also serves as a fundraiser for the organizations. RRPC and New York Photonics members are allowed one member admittance without charge. Early bird attendance for all others is $45. $50 at the door.
To register for the event go to the event website, here.
Space is limited.
Don't miss out!
Save the Date!
WNY Golf Tournament Announces Date
The 11th annual WNY Photonics Golf Tournament will be held Thursday July 21st at Shadow Lake and Shadow Pines Golf Courses in Penfield NY.
Rochester's largest annual networking event for the Optics Comunity has raised over $93,000 for the Golisano Childrens Hospital at Strong.
Registration details will be forthcoming. If you have not participated and are interested, please email wnyoptics@rochester.rr.com and / or contact Ron Schulmerich at 585-455-4447 and you will be on our contact list. Look forward to seeing everyone there!
Company Updates
New Patent, New Digs For Lumetrics
Lumetrics is planning a move to new facilities in Eagle's Landing Business Park, Rochester, NY. The move is slated for May 16th. "Business is expanding. First quarter, 2011 exceeded expectations. We have outgrown our space at the Lennox Tech Center and the new space at Eagle's Landing is being custom tailored to our needs. This is a veryexciting time at Lumetrics." said company president, John Hart.

Lumetrics has received patent approval for their newest technology for evaluating internal structure of human eye. The United States Patent #7884946 is titled "Apparatus for Measurement of the Axial Length of an eye."

With the U.S. population of over 65 year old expected to be over 70 million in 2030 and world populations increasing at a similar rate, there is a dramatic need for tools to treat the wave of eye diseases and problems expected with that population. Diabetic retinopathy, glaucoma, macular degeneration and cataract disease will climb tremendously. Information about the structure of the eye is required in refractive surgeries, which deal with replacement of the natural crystalline lens.

"The system will allow eye surgeons to obtain highly reliable comprehensive data about the patient's eye with no discomfort to the patient. . . the technology also allows for seamless integration with other existing ophthalmic instruments, and can even be used in real time during cataract surgery to monitor proper placement of the artificial lens inside the patient's eye" said Filipp Ignatovich, Principal Scientist at Lumetrics.

This patent approval is a significant milestone for Lumetrics – it marks a segue into instrumentation for use in the ophthalmic and medical fields.
G-S Plastic Optics In Next Gen Scanners
Project Develops Injected Molded Optic
G-S has been working with HP Company for over 6 years in the development and manufacture of a key scanning optic deployed in the latest generation of workgroup enterprise document scanners. HP's state of the art Scanjet Enterprise 7500 is capable of scan resolutions up to 600 X 600 dpi. The Scanjet can seamlessly integrate into existing workflows, using full-featured drivers. The device can scan up to 3,000 pages per day.



At the heart of the optical system is the injection molded scanning optic that was developed at G-S. The injection molded optic combines an array of aluminum coated spherical and aspheric optics as well as an aperture—all of which are held to within micron tolerances. This new type of scanner bridges the gap between systems with traditional CIS-type optics and higher cost systems using bulkier reduction optics. The G-S scanner optic is a very cost effective way to reduce the footprint of the scanner system and at the same time provide high resolution performance.
Will Beich, Director of New Business Development at G-S said, "Simply put, this is a product enabler. This new scanner would not be a feasible product without the injection molded polymer scanner optic. This product illustrates our unique capacity to work closely with our client's engineering team to bring new products to life. This type of array required a great deal of manufacturing design to make it viable for production."
G-S has been manufacturing polymer optics for over 30 years.
VC Corner

A tel is a raised mound marking the site of an ancient city. In the past, new construction would simply be built on top of old. Often, building materials were reused and incorporated into the new structures.

On a recent trip to Israel, I was able to visit Jerusalem and tour ancient sites excavated by archaeologists. Israel is a modern country with a growing economy and state-of-the-art technology sector. The presence of modernity sitting atop several thousand years of settlement made me aware of the natural and spasmodic linkages formed over time.

A tel reveals how progress involves prosperity, followed by disruption and turmoil, then further development. This evolutionary process is also revealed at excavation sites in great urban centers such as London, Shanghai and Lower Manhattan. Economies develop in a similar way.

Recentlywe encountered an enormous economic crisis that brought our financial system to the brink. Government intervention on a global scale helped restore stability. Many actions were unprecedented, such as the bailout of auto manufacturers and TARP. This gigantic disruption and the steps that have followed are producing profound change to our economy.

This cycle is characteristic of economic progress. It isn't pretty and causes hardship for many. The Federal Reserve was created in 1913 in response to a series of financial panics. Social security was introduced in 1935 to address the poverty faced by the elderly, widows and orphans during the Great Depression. Many great companies, such as GE, HP, FedEx and Microsoft, were launched during recessions. Joseph Schumpeter called this process of economic innovation and progress "creative destruction."

I refrain from making predictions for 2011 other than one. (There is no shortage of "experts" with crystal balls and I don't own one.) My single prediction is that we will not encounter a crisis on the scale of the one we experienced in 2008. Corporate America is relatively healthy. Consumer confidence is respectable. The economy is growing. The financial sector is stable. And my favorite indicator, the bond market, signals moderate growth and little inflation as reflected by the yield curve. Unemployment will remain at historical highs and our elected representatives will behave like politicians, which is what they are.

We are only several years into a major economic retrenchment that is changing our relationship with government, international affairs, and our lifestyles. We have not yet fully recovered the ground we lost during the recession with GDP still smaller than it was at its peak. The S&P 500 is 18% off its record high. But, we continue to move gradually in the right direction. Certain imbalances are going to be addressed. Health care can't continue absorbing a greater share of our GDP. We can't sustain an arrangement where one out of every six American workers is employed by government at the Federal, state or local level with the current wage and benefit arrangements. Private colleges and universities are rapidly pricing themselves out of reach for most Americans. And, entitlement programs face a demographic ticking time bomb.

In conclusion, I encourage you to be conscious of time and how we can lose perspective. Newspapers move according to a daily calendar. Other new sources move even faster. Stock prices change in nanoseconds. Meanwhile, our economic recovery and readjustment is gradual and will be measured in years. Investing is a long term proposition, at least as I ply the trade. My clients often took years to accumulate their wealth and expect it to last many more. Thus, I adhere to my asset allocation models and the principal of diversification.

One final cautionary remark. To quote Bob Farrell, who was Merrill Lynch's legendary stock market analyst for many decades: "when all the experts and forecasts agree, something else is going to happen."
Richard A. Glaser is a financial advisor at Merrill Lynch where he specializes in working with entrepreneurs and their companies. richard_glaser@ml.com
Contact RRPC
How does one acquire the coveted RRPC Newsletter Cub Reporter Badge?
Contact us with industry news and be the first in your office to wear one (or hide it in your desk).

New York Photonics and the Rochester Regional Photonics Cluster are active and growing collaborative organizations. Efforts are under way on joint training events, workforce development, collaborative advertising opportunities, promoting the commercialization of I.P., and the development of our website to further facillitate business development.
Join us! There are advantages to working together, and we are interested in working with you. Send an email to us at membership@rrpc-ny.org.

To subscribe, to unsubscribe, to submit a news item or upcoming event, to suggest a feature or column, or to offer feedback, contact Tom Battley, at 585-329-4029.