Palomar Space Telescope in the News
"Lucky Camera" takes sharpest ever images of stars (and it's 50,000 times cheaper than Hubble)
The Lucky Imaging System ("Lucky"), developed by U.S. and U.K. astronomers, uses a new adaptive optics system which is able to take out much of the distortion from Earth's atmosphere, in order to produce
some of the best digital images from ground telescopes.
In fact, the website of the Lucky Imaging team states, "In the absence of the Earth's atmosphere, a telescope will produce sharp images of stars. Our atmosphere degrades this image—small variations in density on millisecond timescales cause the starlight to be deflected, and the images become a bit fuzzy. By using a high-speed camera, and choosing those images least affected by the atmosphere and combining them, we can form a higher resolution image than just adding all the images together."
When the astronomers attached the Lucky system to the PALMmar Adaptive Optic (PALMAO) system, they found that its resolution was about twice as good as with the Hubble Space Telescope. Without the Lucky camera attached, the reflector telescope at Palomar is, on average, about ten times less sharp and detailed as the Hubble Space Telescope.
The images obtained so far are the "highest resolution direct images, about 50 milliarcsec FWHM [full width at half maximum], ever obtained either from the ground or from space in the visible at about twice the resolution of the Hubble Space Telescope."
The technique could now be used to improve much larger telescopes such as those at the European Southern Observatory in Chile, or the Keck telescopes in the top of Mauna Kea in Hawaii. This has the potential to produce even sharper images.
"The images space telescopes produce are of extremely high quality but they are limited to the size of the telescope," said Dr. Craig Mackay, from the Institute of Astronomy at the University of Cambridge, who led the research. "Our techniques can do very well when the telescope is bigger than Hubble and has intrinsically better resolution."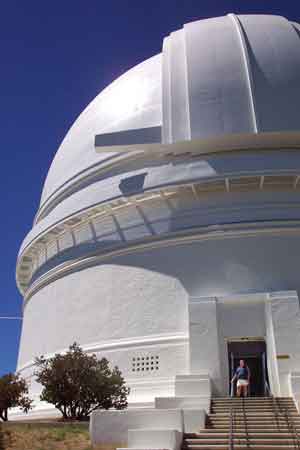 Statewide News
CUNY CAT AWARDS $111K FOR EQUIPMENT PURCHASES
In May 2007, the Center for Advanced Technology at the City University of New York (CUNY CAT) inaugurated its Equipment Purchase Program, issuing an RFP for equipment purchases. The purpose of the CUNY CAT Equipment Purchase Program is to improve the scientific research infrastructure throughout the CUNY system, in order to attract company-sponsored research projects resulting in economic impact to New York State companies. The RFP was open to faculty members throughout CUNY.
Nineteen proposals were received in response. The following awards have beenannounced:
$34,500 to Prof. Mark Arend, with Profs. Fred Moshary and Roger Dorsinville, Department of Electrical Engineering, City College, for purchase of a polarization maintaining fiber fusion splicer. Prof. Arend's research on Quantum Information Processing is sponsored by Corning, Inc. (Corning, NY)
$40,815 to Prof. David Crouse, Department of Electrical Engineering, City College, for construction of a modular FTIR characterization system and purchase of a HeCd laser. Prof. Crouse's research on Semiconductor Heterostructure Quantum Wires is sponsored by Phoebus Optoelectronics LLC (Brooklyn, NY).
In order to more closely coordinate the efforts of administrative staff and the CAT Director, the CUNY CAT has established a satellite office at CUNY's Queens College effective Wednesday, August 15th, 2007. The mailing address for this new CAT operations office will be:
CUNY Center for Advanced Technology in Photonics Applications
Queens College Razran Hall, Room 314
65-30 Kissena Boulevard
Flushing, NY 11367
The new telephone numbers for the CUNYCAT are 718-997-4280 for the general office and 718-997-4278 for the fax
The new direct line for Alan Doctor, Deputy Director for Business Development, is 718- 997-4279, and his new e-mail address is alan.doctor[at]qc.cuny.edu
The direct line for Joseph Tomaras, Senior Administrator, is 718-997-4285, and his e-mail address is joseph.tomaras[at]qc.cuny.edu. CAT Director Harry D. Gafney may be reached directly at 718-997-4114, or via e-mail at harry.gafney[at]qc.cuny.edu
The CAT continues to maintain an office at City College which will be staffed by Ms. Yessika Zuniga, her telephone number is 212-650-8226 and her email remains zuniga[at]soe.ccny.cuny.edu.
---
New Scale Adds Distributors
New Scale Technologies has added distributors in the UK, Germany and Italy for its patented piezoelectric SQUIGGLE motors. The new distributors are SI Scientific Instruments GmbH (http://www.si-gmbh.de/) in Munich, Germany; Orlin Technologies Ltd. (http://www.orlin.co.uk/) in Ridgmont, Bedfordshire, England; and Optoprim SRL (http://www.optoprim.it/) in Monza, Italy.
The new distributors join New Scale's pan-European representative, Cedrat Technologies (http://www.cedrat.com/) in Meylan, France.
New Scale's patented SQUIGGLE motor is the world's smallest linear motor. With very few parts and no gears, SQUIGGLE motors are smaller, more precise, less expensive and more efficient than conventional electromagnetic motors. SQUIGGLE motors also operate reliably in extreme environments such as vacuum, cryogenic temperatures and high magnetic fields. Applications include tiny 'focus and zoom' optics in mobile phone cameras and other imagers; electronic locks and intelligent fasteners; nano-scale fluid control including lab-on-a-chip systems; medical devices including miniature drug pumps and endoscopes; automotive modules; lasers; aerospace and defense systems; cryogenic and MRI-compatible instruments; and consumer electronics including micro fuel cells.
Events
UVANY Rochester Capital Forum
Successfully Raising Venture Capital:
Tricks and Tips for Attracting and Closing
an Early VC Round
Tuesday, September 18
5:00PM - 9:00PM
RIT Inn & Conference Center
5257 West Henrieta Rd.
Henrietta, NY 14467
The event will feature an interactive panel discussion. Area entrepreneurs who have successfully raised venture capital will talk about their experiences and strategies for attracting and closing an early stage venture round. The panel will provide insights on how to prepare for an upcoming round, what investors look for, what pitfalls to avoid and how to identify the best investors for your business. The evening will also offer an opportunity to personally network with Upstate and NYC capital providers; legal and accounting firms; and others interested in venture and private equity transactions.
---
Shephard's 16th Annual Night Vision
Conference & Exhibition
Ronald Regan Building
Washington DC
October 30 - 31
Technologies and Future Trends
Commercial Applications
Homeland Security Challenges
Maritime Perspectives
Law Enforcement and Maritime Operations
Surveillance / Border Patrol Requirements

Rapid Response Requirements
Police Operations
US Defence Perspectives
Future Combat Systems
Helicopter Perspectives
Thermal IR for Drivers Vision
Night Vision Training Challenges

More Information here
---
2007 International Photonics, Food, & Agriculture Conference
"Roadmap to Security and Production in the 21st Century"
Agribusiness as an industry presents significant problems and opportunities that photonics, optoelectronics and microsystems-enabled technologies hold the key to solving. To address these challenges, the Finger Lakes New Knowledge Fusion Project, in conjunction with The International Photonics Commercialization Alliance (IPCA), Cornell University, Infotonics Technology Center, Inc., and the New York AgriDevelopment Corporation will be sponsoring the 2007 International Photonics, Food, & Agriculture Conference: Roadmap to Security and Production in the 21st Century which will take place:
Friday, November 16, 2007, 8:00 am - 4:30 pm
8:00am-4:30pm
Canandaigua Inn on the Lake
770 South Main St.
Canandaigua, NY 14424
---
Lasers & Photonics Marketplace Seminar
Including:
Review and Forecast for Global Laser Markets
Semiconductor Laser Market Review and Forecast
World Markets for Industrial Lasers and Applications
World Markets for Medical Lasers (or Biomedical Optics)
Photonics: is the best yet to come?
Ultrafast Technology Forum
Opportunities for ultrafast lasers in materials processing
The Fairmont Hotel
170 South Market Street
San Jose, CA 95113
Phone: 408.998.1900
(Coinciding with Photonics West. Click here for info.)
---
Frontiers in Optics 2007
16 - 20 September, 2007
San Jose, California
Conference
Photonics West 2008
19 - 24 January, 2008
San Jose, California
Conference
OFC/NFOEC 2008
February 24-28, 2008
San Diego Convention Center
Conference
Optatec 2008
17 - 20 June, 2008
Frankfurt, Germany
Conference
9th Annual Glass Cartel Clambake
Annual Event Draws Optics Industry Professionals from New York State and Beyond
Location:
Brook Lea Country Club
891 Pixley Road
Rochester, NY 14624
tel: 585-247-3242
Thursday, September 27, 2007, 6:30 PM
Please RSVP by Sept. 18
$75/person
All payments must be made in advance, payable to Sydor Optics, 31 Jet View Dr, Rochester, NY 14624. Please forward to the attention of Jude Schnarr. (tel: 585-271-7300x105, fax: 585-271-7309) or Mike Naselaris (585-271-7300x107). You may also contact Jude or Mike for information about Hotel Accomodations.
Cash, checks or MasterCard/Visa accepted. Payments must be received by Tuesday, September 18.
Please note: no payments taken at the door.
Funds for Connecting
RFP Seeks Ideas for Business Problem-Solving Together With Other Business Leaders
Finger Lakes Wired is interested in connecting business leaders throughout the nine-county Finger Lakes region in order to support collaboration among businesses to assist in the solution to critical business issues or the development of new products or services.

The organization has budgeted $100,000 to fund multiple initiatives throughout the region for the period November 1, 2007 thru January 31, 2008. It is anticipated that several organizations will receive awards within the $100,000 and that all efforts will be coordinated to impact the region.
Go here to see the RFP and details. There will be an informational session on Friday, September 14, 2007, 1 - 2 p.m., Double Tree Hotel at 1111 Jefferson Road near Route 390 in Henrietta (a Rochester suburb).
Have an idea how this might possibly help our industry? Want to discuss it? Contact Tom Battley at 585-329-4029.
SBIR 07.3 Solicitation
A Little Time Still Left!
The DoD SBIR 2007.3 solicitation is open for proposal submission untill 6 a.m. EST September 19, 2007. Four DoD components -- the Department of the Air Force, the Department of the Navy, the Missile Defense Agency (MDA), and the National Geospatial-Intelligence Agency (NGA) -- have R&D topics in this solicitation under which Phase I proposals are sought. The Solicitation, which contains detailed information on the parameters of the SBIR program and how to submit a proposal, and Topics are available at http://www.dodsbir.net/solicitation.
You may also search the topics by going to http://www.dodsbir.com/Topics.
Workforce Development
Even Stars Struggle – Recommendations for Hiring Managers
Once you've hired a new employee, the first 90 days are critical in getting that employee up to speed and successful. Too many companies use the "Prove Yourself" method, offering little feedback and waiting to see if the new employee is as good as everyone thought. Or they just assume that their new employee will understand the job expectations, develop instant acceptance by co-workers, and assimilate into the company culture.
Even a Star will struggle if the expectations are murky and the responsibilities and relationships not well defined. This attitude of sink or swim many times results in a new highly talented employee becoming disillusioned or disconnected, or even worse, one who leaves after a short time. In this candidate short market, the effort cannot end with finding the right candidate and negotiating an acceptable compensation package. You already have a significant investment in this employee, and to ensure a positive ROI, you need to do everything possible to ensure their success and well-being.
As the Hiring Manager, the first 90 days should be focused on getting the employee up to speed as quickly as possible and integrating them into your team and company culture. This involves strong coaching, observation and evaluation. Here are some things you can do to help ensure success:
Develop a vision with the employee of what success will look like (job accomplishments, relationship with co-workers, subordinates and management, professional development, etc.)
Clarify the expectations of the position. Make sure they are realistic for a new employee and the employee understands them.
Discuss how performance will be measured, and set the metrics.
Set up a 90 day plan which involves weekly meetings to review progress, discuss concerns (on both sides), and offer feedback/suggestions.
Don't micro-manage. Allow the employee to show good judgment, make decisions and develop credibility with co-workers.
Be approachable, don't be obscure or aloof, or "too busy" to listen.
If you perceive the employee is having trouble fitting into the company culture, discuss it with them. Listen and try to understand their comfort zone, and make suggestions as to how they can adapt or assimilate.
Observe the employee's personality style. If they are having trouble interacting with co-workers, offer different approaches and suggestions. If the problems continue, as a last resort bring in a behavioral/personality assessment consultant.
The time invested with a new employee in the first 90 days will pay back many times over in the employee's success, attitude, and longevity. It makes all the difference when a new employee feels the company cares about them, wants them to be successful, and is committed to assisting in their development.
---
Training Dollars
New Grants from Finger Lakes WIRED
Finger Lakes Wired announced that it is allocating $350,000 to make more scholarships available to businesses in the nine-county Finger Lakes region.
Businesses in the following industries may apply for up to $10,000 in funding: Advanced Manufacturing, Alternative Energy, Bio/Life Sciences, Business Services, Engineering, Food & Agriculture, Health Care (including not-for-profit Health Care organizations), Information Technology, and Optics/Imaging.
---
Training Dollars
#25-M ADVANCE-NY
Issued on March 7, 2007 by the New York State Department of Labor, #25-M is DOL money intended to help you train your incumbent (existing) workforce. A limit of $50,000 per year and a total lifetime limit of $100,000 per company ($2,000 per course, per employee) makes this a great opportunity for New York State companies looking to upgrade the skills of their existing workforce.
Learn more about the opportunity here.
VC Corner
David vs. Goliath
One large company in Rochester did a fine job of extinguishing the entrepreneurial culture of its employees for years. No one disputes it has squandered its competitive advantages. It now employs less than one third of its peak workforce and continues to struggle to find its direction.
Small companies, like most members of the optics community, don't have a vault of patents, a large cash flow to afford legions of patent lawyers and management consultants, or global name recognition. Their advantage resides in their ability to deliver tremendous service to their clients and respond quickly to changes in the marketplace.
In order for small companies to survive and thrive in our "flat" world, they need to encourage the entrepreneurial behavior of their employees and avoid imposing stifling conditions that hinder the behavior that differentiates them from large companies.
I taught entrepreneurship at RIT for a semester to career engineers completing a masters program. Initially I was skeptical about teaching entrepreneurship. How can you teach someone to "risk it all" and "leap out of the plane without a parachute?" While preparing for the course I reflected back to many years of experience with entrepreneurs and was reminded that the typical personality trait is not one of a brazen risk taker. Most are driven by a perceived market opportunity and a passion to pursue it without interference.
Prior to the course, I spoke with the students to understand their reasons for collectively electing to take entrepreneurship their final term. I benefited from following one of my main dictums: know your customer. I learned that they wanted to study what made start ups successful and glean useful lessons that they could apply to their career advancement. A good teacher learns from his students. I certainly did.
The basic lessons of entrepreneurship can be taught and infused into an organization. Some of those lessons will be the theme of my next column. It is critical for the Davids of the business world to understand that a main competitive advantage they have over the Goliaths is their entrepreneurial behavior.
Manufacturing Processes
RIT CIMS Offers Free Lean Intro
This overview session is designed to provide participants with a solid foundation and equip them with the essential tools for a successful Lean journey in their organization. Topics to be covered include: Principles of Lean, Forms of Waste, Lean Tools, Cultural Changes, and a Q & A Session. An overview of additional industrial services provided by CIMS as well as opportunities for state and federal grant assistance will also be provided. Click here for more info.
Contact RRPC
New York Photonics and the Rochester Regional Photonics Cluster are active and growing collaborative organizations. Efforts are under way on joint training events, workforce development, collaborative advertising opportunities, promoting the commercialization of I.P., and the development of our website to further facillitate business development.
Join us! There are advantages to working together, and we are interested in working with you. Send an email to us at membership@rrpc-ny.org.

To subscribe, to unsubscribe, to submit a news item or upcoming event, to suggest a feature or column, or to offer feedback, contact Tom Battley, at 585-329-4029.