In This Issue
New Products & Capabilities
11th Annual Clambake!
RPO Sales & Marketing Chief Testifies
The Galileoscope Challenge
New Faculty and Big Enrollment Numbers at MCC
New High Index Glass for New Solutions
New Members
Advanced Glass Takes On The Impossible
Entrepreneur Program Seeks Candidates
Collaboration Everywhere!
Conferences
US - China Commission Hearings in Rochester
July Hearings Focused Upon Economic Growth
While many were golfing in the 9th Annual WNY Golf Tournament, Ed Patton, Director of Sales and Marketing at Rochester Precison Optics, represented Rochester's Optics Industry at U.S. - China Commission hearings in downtown Rochester.
The topic was The Impact of Trade with China on New York State and Opportunities for Economic Growth.
Patton's testimony touched upon Rochester's rich optics history, the national image of the Optics Industry, and government policy recommendations, among other topics.
New UNIBLITZ Products Unveiled In San Diego
Vincent Associates, the manufacturer of UNIBLITZ® shutters showcased a series of new products at SPIE Optics and Photonics in San Diego in August.
The latest product offering includes the new UNIBLITZ®II N-CAS® NS series of shutters and UNIBLITZ®II N-CAS® shutter driver controllers, the VDM1000 (housed for bench top applications) and the VDM1000B (board level controller for OEM applications).
UNIBLITZ® has again endeavored to provide an even more reliable shutter product for the Photonics industry with the introduction of the 15mm, 25mm, 45mm aperture version of the patented N-CAS® (Non-Contact Actuation System) shutter. The device's reliability has been enhanced by significantly reducing the number of moving parts. In the 15mm, 25mm, 45mm aperture bi-stable version, there are a total number of six moving parts, five of which are the blades themselves! The activating mechanism is non-contact and has shown to increase its reliability through testing over similar shutter designs.
UNIBLITZ prides itself on the integrity and operational life of their shutters. For the past 40 years they have been delivering fast, durable, and customized products. Their engineers continue to test shutters, drivers, and mounting systems so customers can integrate their shutters with confidence into any optics application.
Welcome to Munro Design & Technologies
RRPC welcomes our newest member, Munro Design & Technologies, LLC.
Established in 2007, MD&T is a consulting firm with expertise in the areas of optical, electrical, mechanical, software, systems, and algorithm design and engineering. Areas of specialization include lens design, non-sequential optical system design, signal processing, algorithm development and simulation, and electro-optical instrumentation.
MD&T is also a holding company from which technologies developed by the CTO, Jim Munro, are commercialized. Jim has recently developed a digital camera that can capture imagery in 3D, without the use of rastering lasers or stereoscopic cameras. The 3D camera has megapixel resolution, distance accuracy of 1mm, and can capture 3D images and video with sub-millisecond aperture speeds. Applications include autonomous vehicles and robotics, cell-phones, homeland security, facial recognition, and many more.

A recent addition to the MD&T IP portfolio is a novel solar concentrator for converting sunlight into electricity. The converter is made with low-cost materials and photocells, and has a theoretical best-case conversion efficiency of 54%. A prototype is in the works, and with it MD&T anticipates making a run at the current photovoltaic conversion record of 41% .
MD&T also has technologies in the fields of LED lighting and rangefinding, and Jim was instrumental in developing the cryptography algorithm being implemented by Digital Lobe, LLC.
Several readers may have interacted with Jim over the years. He earned his MS Optics degree from the Institute of Optics in 1990, and has worked at several local optics companies including Tropel, Hampshire Instruments, PSC, Spectronic Instruments, and Reflexite.
Advanced Glass Industries
AGI Steps Up On Tough Projects
A lot has changed in optical manufacturing during the pasttwenty-five years. To be sure: automation and metrology have transformed optical fabrication, enabling optical engineers and designers to specify very unusual designs. The availability of glass foundries has changed as well, with closures of some, and consolidations among others occurring worldwide -- and with emerging competitors entering the market from low-labor-cost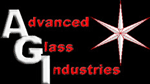 nations.
Despite all of the changes, niche markets continue to sprout, and innovative entrepreneurs continue to mine niche opportunities. Where do customers turn, for instance, when their design demands the impossible, the unlikely, or simply the very-hard-to-find? One suspects that quite a few call Advanced Glass Industries in Rochester.
AGI's literature says that they are a premier supplier of optical and molded glass blanks... a core business that they execute extremely well.
The company that is AGI today existed in various forms as it grew, from its beginnings as Fischer Optical to stages as Bunington Corporation and HJF Optical during the 70's and 80', adopting the current name, Advanced Glass Industries under Tony Marino's leadership in 1994.
There is always something interesting on the shop floor at AGI. The last time we wrote about AGI in August '05, they were using a custom-built machine (call it the "TM Edge Polisher") to polish the edge on a two-ton optic 72 inches in diameter and 12 inches thick, worth about $400,000. Definitely not your average project. AGI also does a fair amount of glass slumping for customers. For instance below is a shot of a 27" SBSL-7 slump they just completed.
And the pièce de résistance on the shop floor at AGI this time around? Where the TM Edge Polisher once stood, now stands the Deckel Maho HSC 105, a true 5-axis linear vertical high-speed milling machine that AGI is adapting for large optics fabrication.
Tony Marino, President of AGI, who graduated from the MCC Associates Degree program in 1975, seems to thrive on extraordinary challenges. Since AGI was established, bigger, more difficult and seemingly impossible projects have found there way to his door. Customers that are willing to pay the price for a custom solution on their extraordinary project always walk away happy.
If you or your design staff have a project that nobody seems willing to quote, or that you cannot find a fabricator for, Tony Marino and Advanced Glass Industries ought to be your next call.
Collaboration with MCC & SUNY Yields Results
On July 29, thirty representatives from RRPC companies spent a full day in a Dale Carnegie Training session: Foundations For Increasing Sales.
Thanks to a grant from SUNY and the collaboration of Monroe Community College, the training session, which ordinarily costs several hundred dollars per person per day, cost RRPC members $100 per participant.

The course covered foundations for consultative selling; telephone skills: outbound & inbound; cultivating customer referrals, and cross & up-selling techniques.
Thanks go to Chuck Caples and Ross Micalli at MCC, and to Rick Plympton at Optimax (and an RRPC Board member) for their efforts in making this program a success.

Northrop Helps Photonics Academy
Northrop Grumman Corp., which operates its Laser Systems business unit in Apopka, Fla., has helped establish the new Wekiva High School Photonics Academy there by contributing $50,000 in cash and equipment, the company announced Monday.
The academy, open to high school students in Apopka, was created in partnership with Orange County Public Schools and Valencia Community College. To participate, students must maintain a 2.5 grade point average and are required to enroll in Valencia Community College, where they will receive college credits for courses taken at the Photonics Academy in mathematics, science, communications, electronics, and optics.
"This is a great opportunity for the students at Wekiva High School and for us," said Gordon Stewart, vice president and general manager of Northrop Grumman Laser Systems. "Once they graduate from this program, they will be well on their way to becoming laser technicians. And, since we have a continuing need for trained and certified laser technicians, we are very pleased to be a part of this innovative education and training process."
Northrop Grumman Laser Systems makes ground-based military electro-optical (EO) targeting systems. The company donated $30,000 in lab equipment and $20,000 in cash to the academy.
Entrepreneurs Sought
TEN Seeks Candidates for Entrepreneurial Immersion
The Entrepreneur's Network is now accepting applications for its next class, which begins September 23, 2009. Based on best practices of leading entrepreneurial training, education and networking programs, TEN's mission is to grow life sciences, technology-based, and/or scalable, high-revenue potential firms across the upstate region.
Class size is limited to 20 participants to allow for maximum interaction. The cost of this program is $7,500 per participant, but thanks to the support of the County of Monroe, Finger Lakes WIRED, and COMIDA, the cost to you is only $350 per person - payable only if you're accepted into the program.
If you're interested in participating in this year's program, click on the TEN Membership Application to register.
Events and Conferences
Frontiers in Optics 2009
11 -15 October, 2009
San Jose, California, USA
OP TEC Workshop on Optics & Photonics Education
12 - 13 November, 2009
Monroe Community College
Rochester, New York, USA
SPIE Photonics West
23 - 28 January, 2010
San Francisco, California, USA
SPIE Defense, Security & Sensing
5 - 9 April, 2010
Orlando, Florida, USA
Optatec
15 -18 June, 2010
Frankfurt, Germany

11th Annual Glass Cartel Clambake
Monday, October 5, 2009 starting at 6:30 PM
Please RSVP at your earliest convenience.

Reservations & Payment:
All payments are to be made in advance, payable to Sydor Optics, 31 Jet View Dr, Rochester, NY 14624 and received by Wednesday, September 30.
Please forward checks and credit card information using the attached form to the attention of Jennifer Vocco. (tel: 585-271-7300, fax: 585-271-7309). Cash, checks or AmEx/MC/V credit cards accepted. The form is here.
Please note: no payments will be accepted at the door.
Location:
Brook Lea Country Club
891 Pixley Road
Rochester, NY 14624
tel: 585-247-3242
The Galileoscope Challenge
In support of the International Year of Astronomy the OSA Foundation has launched a special campaign - The OSA Foundation Galileoscope Challenge - to distribute thousands of Galileoscopes to students and teachers around the world. Special priority will be given to recipients in underrepresented communities.

About the Galileoscope…
The Galileoscope™ is a high-quality, low-cost telescope kit developed by a team of leading astronomers, optical engineers, and science educators. No matter where you live, with this easy-to-assemble, 50-mm (2-inch) diameter, 25- to 50-power achromatic refractor, you can see the celestial wonders that Galileo Galilei first glimpsed 400 years ago and that still delight stargazers today. These include lunar craters and mountains, four moons circling Jupiter, the phases of Venus, Saturn's rings, and countless stars invisible to the unaided eye.

Constructing and using a Galileoscope is a terrific learning experience for students of all ages, and the OSAF Galileoscope Challenge is a wonderful opportunity for our community to encourage the next generation of innovators!

Donations can be made online. If you prefer to receive a donation form in the mail, please contact Meredith Smith, OSA Foundation Director.
email: msmith|at|osa.org , tel: 202.416.1421.
Monroe Community College Optics Program
Optics Program Kicks-Off with Excellent Faculty, Including One New Full-Time Position

Monroe Community College announced that Marcelo Guimaraes has accepted a full-time faculty position in the Technical Education Division as a professor of Optics. With a B.S. in Electrical Engineering from the University of Kansas and a Masters Degree in Optical Engineering from the Institute of Optics at

the University of Rochester, Guimaraes brings experience in digital imaging and optical systems to MCC's Optics Program. Guimaraes was most recently employed at Q.E.D. Technologies in Rochester.
As classes begin at MCC this September, 80 students are enrolled in optics courses. 20 Students are enrolled in OPT213 - Optical Processes, the first time the course has run in eight years. OPT31 - Optical Elements and Ray Optics has 18 students, taught by Bob Hallock (QED Technologies, and former JDS Uniphase; Corning) and Josh Cobb (Corning Tropel, and former Eastman Kodak Research), two highly qualified adjunct professors known to many in the Rochester Optics community.
Two sections of OPT135 - Measurement and Analysis are under way, with 28 students in one class and 14 in the other. The class is being taught my James Taylor (JML Optical), Matt Fetzner and Marcelo Guimaraes.
In associated news, the Optics Lab has been fitted with two PR1 2-Sided Hoffmans: a grinder and a polisher, and two four-spindle machines for spherical or plano work from Sydor Optics, and a Rogers and Clark lens generator from Advanced Glass Industries. Thanks are due to Sydor and AGI for their generous machineryloans to the program, and to the other RRPC member companies that are working to secure other equipment for the Optics Lab.
---
DACUM Training held August 10 – 14
The Technical Education Division at Monroe Community College hosted a DACUM (Developing a Curriculum) Institute from August 10 – 14, 2009. DACUM is a process that enables a specific job and task analysis to be completed for any given occupation. The Institute focused on technician-level training for the Advanced Manufacturing industry.
DACUM experts from Ohio State University lead the Institute; 12 MCC faculty and administrators successfully completed the training and are now certified DACUM facilitators. MCC initiated this training as part of their on-going initiative to support advanced manufacturing in the region. Facilitators spent two days conducting in-depth interviews of front line workers from industry and have identified duties and tasks associated with operators, technicians and front line supervisors from small and medium sized manufacturing companies.
Local companies were well represented by the 17 experts from industry that participated as part of the DACUM panel. Their contributions will provide invaluable insight to the curriculum development and redesign efforts for a new associate's degree program at MCC. Additionally, in support of curriculum development efforts MCC faculty will participate in faculty externships; enabling them to work on-site in industrial settings. In response to industry input the new degree program will also include a co-op and a capstone course.
These activities were funded by a grant from NYSTAR (New York State Foundation for Science, Technology and Innovation).
Thanks from the RRPC to the following participants for their invaluable contribution to this effort, and to their companies for granting them leave to participate:
Jim Crittenden, ITT Space Systems
Gene Galasso, CVI Melles Griot
Liz D'Orazio, Advanced Glass
John LeFrois, JML Optical
Mark Pankratz, Rochester Precision Optics
Bob Pecoraro, Sydor Optics
Craig Shaffer, Qioptiq/LINOS
Mark Stauffer, Corning Tropel
Paul Wolff, Optimax
New High Index Glass
Since the early 1700's, when Hall and Dollond started making doublets by combining crown window glass and flint tableware glass, the development of new glass types has been enabling an ever-widening array of new lens types. This year has seen the introduction of at least ten new glass types already, some of which are quite significantly different from existing available glasses.

Optical glasses have many properties of interest, such has index, dispersion, partial dispersion, transmission spectrum, melting point, and cost, just to name a few. The greatest areas of development for new glasses seem to be high index glasses, low Tg glasses which can be easily molded, and glasses with excellent transmission in the blue and UV end of the spectrum for life-science applications.

Figure 1 shows the upper right corner of the Abbe diagram for optical glass, which maps "common" glasses with an index (nd) greater than 1.90 versus their Abbe number, or dispersion (Vd). Schott glasses are shown in blue, and Ohara glasses are shown in green. The one purple glass is made by the Chinese glass supplier, CDGM. Of the nine glasses in this chart, over half were released in the last five years. Not all these glasses are produced regularly, and many are only available in smaller sizes; check with your glass company representative for more information.
One important attribute of a glass is the melting temperature, or Tg. Most older high-index glasses, like S-NPH2 or N-SF66, have a Tg of 650 or 700 degrees C. Many of the new glasses, however, like Ohara's L-LAH86, released last year or Schott's P-SF67 released in 2006, have a Tg of 580 or less, which make them good candidates for molded lenses.

If index is all that matters, then Schott's new LASF35, released in May is the glass for you. At an index of 2.022, it has taken the prize of the highest index optical glass away from Ohara's S-LAH79, which came out in 2002. According to Rob Lee of Ohara, though, L-BBH1, with an index of greater than 2.1, is due out later this year. And it's going to be a low Tg glass as well.

The Abbe number of a glass is inversely proportional to its dispersion, another very important property of optical glass. In many applications the performance of a glass is limited by its dispersion, so trading off a little index for a lower dispersion glass like CDGM's H-LaF78, introduced this spring, or Ohara's new L-LAH86 is appropriate.

Selection of glass types is an extremely important part of the optical design process, and chances are that for most applications, the use of the RoHS compliant equivalent of the old common glass types is the most cost-effective approach. After all, none of these glasses come cheap; prices for high-index materials are typically 10-15x that of common crown glasses, and fabrication costs are often much higher. But in some applications, the availability of new high-index glass types will be a significant factor in enabling new optical solutions.
Dave Aikens is president and founder of Savvy Optics. He lives in central Connecticut with his wife and three children, two cats, and about ten chickens.
Ready to Grow Your Business?
Then join RIT for an upcoming workshop "Creating and Leading Strategic Growth".
This program is being offered in collaboration with the Finger Lakes Wired grant project, Federal funding aimed at boosting economic development in our area. The workshop is designed for small and medium size businesses like yours. Through the use of lecture, presentation, case studies, guest speakers and small group discussion with assigned mentors; this program promises to provide you with strategic planning tools, techniques and processes that will help you grow your business.
The eight-week program begins on Monday, September 14 and runs through Monday, November 2 with participants meeting once a week each Monday from 4:00pm - 8:00pm with dinner included. The listed registration fee is $1500.00, but RIT is offering the program to you at a specially discounted rate of $750.00 (thanks to WIRED funding). Additional discounts are available to organizations that want to bring a team. The registration fee includes all materials, parking and dinner.
For more information and a registration form, please visit the RIT website at www.saunders.rit.edu/executive.com or contact Cenette Burdine at 585-475-6994.
Not sure? Then join the program on the first evening. If you decide the program is not for you then no registration fee will be billed. Don't miss out on this great opportunity to set aside time from the day-to-day and focus on growing your business for the future.and don't delay, register yourself or your team right away!
Closing Words
There has been a lot of fuss made recently about improving New York State's competitive position in the global economy by assisting its "sunrise" industries. Hearings are held. Diplomacy is observed. Occasionally a pundit has the presence of mind to mention the Optics, Photonics and Imaging industry.
When asked for a view on making New York's OPI Companies more competitive -- and growing the economy, one RRPC member recently offered this terse perspective:
"Lower our utility costs; cut our taxes, and stop the insurance companies from screwing us."
Too simple?
Contact RRPC
How does one acquire the coveted RRPC Newsletter Cub Reporter Badge?
Contact us with industry news and be the first in your office to wear one (or hide it in your desk).

New York Photonics and the Rochester Regional Photonics Cluster are active and growing collaborative organizations. Efforts are under way on joint training events, workforce development, collaborative advertising opportunities, promoting the commercialization of I.P., and the development of our website to further facillitate business development.
Join us! There are advantages to working together, and we are interested in working with you. Send an email to us at membership@rrpc-ny.org.

To subscribe, to unsubscribe, to submit a news item or upcoming event, to suggest a feature or column, or to offer feedback, contact Tom Battley, at 585-329-4029.