In This Issue
OSA Annual Meeting
Quick Guide to Government Grants
Innaugural Optipro U
East High Summer Optics Sizzler
EMF Unique Coating Projects
Cash Flow In Your Corporate Tax Return
Army Buys Scratch & Dig Inspection Tools
Getting the Most from the Recovery
Inc. 5000
Professional Advancements
A Farewell to Ed Navarro
A Quick Guide to Government Grants
If you are a small business and you aren't watching for government grants that fit your business profile, you may be missing out on great opportunities. And thanks to the consolidation of the grants solicitations in the past 10 years, the investment in time to monitor the opportunities has never been easier.
Past issues of this newsletter have carried some great articles on SBIRs, especially reminding us when the DOD SBIR solicitations are released. These announcements, made three times a year, are extremely important because they include the solicitations for the Army, Navy, Air Force, DARPA, DLA, DTRA, MDA, OSD-DHP and DDRE.
The DOD SBIR2010.3 solicitations were pre-released in July. Opportunities here are very diverse, from biomedical to logistics to directed energy weapon development. We found a lot of promising solicitations in the Air Force announcement, with a 247 page solicitation and many optics or photonics related grants, DARPA, with a few specific projects, and the Missile Defense Agency, with many photonics and laser related topics. It's always good to browse, of course, but these aren't bad places to start. Since the DOD offers rolling solicitations which are released about when the previous one closes, there's usually something to look at. The DOD's topics tend to be very specific, and there are lots with a tight optics focus.
But there are lots of other optics and photonics SBIR opportunities that aren't DoD related, and you should keep an eye on the overall SBIR solicitation schedule. It may be worthwhile to look at some of the solicitations from the National Institute of Health, the USDA, NIST, DOE, or NASA, which run on different time tables from the DoD. NIH offers many broad grants into areas like optical imaging and spectroscopy, image-guided intervention, and the like; the NIH may be a better place to start for people with ideas they want to develop in the biomedical sector. The Education, Transportation and USDA solicitations typically have little in them for us, while the DOE solicitations, usually released in September, seem to have been focusing on solar technology in the recent past. This leaves NASA's solicitation; on July 19th the NASA solicitation opened, and it includes sixteen imagery, optics, and photonics related projects that we could find in a quick review.
Another site that is worth checking out is grants.gov. This is a searchable relational database on all solicitations and contracts across all the departments and agencies that are being issued. While it is daunting at first, a little experimenting with the search engine and filters can get you the information you need for your business fairly quickly. I have a set of filters I use, and take ten minutes to review the lists for projects relevant to my business once a week. Even if I'm not looking for government funds, knowing what is going on our market can be critical to business planning. Luck, after all, favors the prepared.
By Dave Aikens and Nick Takaki, Savvy Optics Corp.
EMF "Earning The Business"
Two Unique Products Developed with Innovative Coating Technology
EMF, a Dynasil company, in Ithaca NY, has been providing thin film coatings since 1936. The work EMF did with Infection Prevention Technologies is indicative of the growth strategy that the company has employed for the last several years: "Earn Business" through providing solutions to specific customer challenges at superior service and delivery levels. Two of EMF's recent light based projects are interesting applications of light and thin film coatings.
Infection Prevention Technologies (IPT) Launches Superbug Killer
Hospitals, surgical centers, schools, prisons, and similar institutions have been battling pathogens or "superbugs" that have adapted and have become resistant to antibiotics. The current MRSA epidemic is an example of the growing number of pathogens which have developed resistance to common antibiotics.
The Center for Disease Control reports that:
One in every 20 patients contracts an infection in the hospital, causing 99,000 deaths each year
An estimated 1.7 million health caree-associated infections in U.S. hospitals each year cost the industry $30 billion annually
Data from intensive care unit patients in the United States show that 28% of the bacteria that most frequently causes hospital-acquired infections are resistant to the preferred antibiotics for treatment
Hospital associated pathogens and Multi Drug Resistant Organisms (MDRO) survive in the health care environment for up to two months
Patients have a >200% greater risk of acquiring a MDRO when the room was occupied by a patient that had the organisms previously, even after "terminal cleaning"
The current cost estimate for HAI complication per 1000 admissions is $120,750 to $1,276,500. Based upon 30,000 Admissions this equates to $3,622,500 - $38,295,000 per year. With a 10% reduction in HAI's the potential savings range from $362,500 to $3.8 million per year. To combat this problem, IPT has introduced a patent pending, mobile Intelligent Room Sterilization(tm) system named IRS 3200m which delivers a calibrated UV-C dose to aid in the destruction of multi-drug resistant pathogens. The IRS 3200m is simple to operate and provides a cost effective room treatment that requires no chemicals. The system includes Steri-Trak(tm), a patent pending web based data tracking, scheduling and management program to meet compliance requirements as well.
EMF developed the UV radiating strip mirrors for the Superbug Killer
Mirrus develops new mirrir-based advertising medium
This next initiative was a result of a customer requiring a highly engineered coating for a product that had a very rapid market entry timeline. The total time to develop the optimum coating and complete the initial phase of the project ramp up (which included the manufacture of several thousand units processing in excess of ten tons of glass) was 3 months.
In 2007, Mirrus reached out to a recognized leader in the sports research and asset analysis industry to determine the true effectiveness of this advertising medium. Through their multifaceted analysis, it was determined this was one of the most effective and highest reaching advertising vehicles that had been measured. The analysis that was performed also revealed a piece of critical information that ultimately set the foundation for the Company's flagship product. This analysis determined that there were two places a person was guaranteed to visit when attending a sporting event. Everyone in attendance is guaranteed to sit in his/her seat and visit the restroom.
Mirror Image was born.
Mirrus needed to invent an advertising medium that could live in the restroom, but was captivating enough to eliminate any negativity associated with the restroom environment. This quest resulted in the Company's development of an interactive advertising mirror that leveraged state of the art technology to ensure memorable and measurable results.
Army Buys Scratch & Dig Inspection System
Savvy Optics Corporation announced on August 30, 2010 that they have completed the installation of a scratch and dig measurement system at the Picatinny Arsenal in New Jersey. The system, a SavvyInspectorTM SIF-4, has been purchased by the Product Quality Management group of the US Army Armament Research, Development and Engineering Center (ARDEC) to allow software assisted scratch evaluation and certification of surface quality standards. This group at the Picatinny Arsenal is responsible for maintaining the supply of certified scratch and dig comparison standards for use in all government contracts in accordance with MIL-PRF-13830B.
Commenting on the sale, Dave Aikens, president and founder of Savvy Optics Corp, said, "This sale is extremely important. The system has been set up in the QA lab at Picatinny, on the same bench as the master limit standards, and we'll be working closely with them to update their standard operating procedure to use the SIF-4 for calibrating the surface quality standards." The system was installed on the 5th of August, and has since been used by Army personnel in evaluating optical surface quality standards returning from the field.
For all government contracts which involve optical components MIL-PRF-13830B, the scratch and dig standard, is used for surface quality. The scratch standard is a visibility based comparison standard which employs a set of certified artifacts provided by Picatinny Arsenal. The subjective nature of the standard has long been a source of problems in the optics community, the standard is nevertheless the de facto standard for optical surface quality for the US and much of the world. Moving towards a more objective measurement of scratches would make the evaluation of surface quality significantly easier.
"This is important on many levels," said Allen Krisiloff, President of Triptar Lens Company, Inc, and Chairman of the Optics and Electro-Optics Standards Council (OEOSC), which oversees voluntary commercial surface quality standards for optics in the United States. "Not only is it important to the defense community, but also for the commercial optics community at large, which now has access to the same technology used by ARDEC." The American National Standard for surface quality, ANSI OP1.002-2009, is based in part on MIL-PRF-13830B, and includes the same subjective visibility standard for scratch and dig evaluations.
Professional Recognition
Congratulations to Bill Greener, a patent attorney with RRPC member Bond, Schoeneck, & King, PLLC, on his recent inclusion in the 2011 edition of The Best Lawyers in America® in the practice area of Intellectual Property Law. Selection to Best Lawyers is based on peer-review and no fee or purchase is made for inclusion.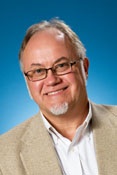 This fine honor for Bill is a result of his commitment to provide clients with the best in service, work quality, and value in legal services. Please contact Bill at wgreener@bsk.com, (607) 330-4012 (direct), (585) 233-1727 to learn more about the services he and his firm can provide your company.
TYhose of us who know Bill know that he earned his M.S. in Optics from the UR Institute of Optics in 1976.
In addition, BS&K recently moved into its new Rochester office at 350 Linden Oaks. Bill would be glad to meet with you there, at your location, or in his Ithaca office at your convenience.
Congratulate Bill next time you see him!
New Hires
Syntec Optics, with locations in Pavilion, NY and Rochester, NY, has hired Doug Hand as
Sales Manager. Hand holds a Bachelor of Science Degree in Optics from the University of Rochester and has over 15 years of industry experience working for Opkor, G-S Plastic Optics and most recently Qioptiq in Fairport, NY.
Rick Arndt, VP and GM of Syntec Optics said, "Doug will be a great asset for us and our customers. His knowledge, experience and positive attitude make him a perfect fit for Syntec."
Hand agreed saying "This position will allow me to utilize my degree and experience to the fullest and I'm happy to be part of the team.
---
New Scale Technologies named David Simpson vice president of sales and marketing.
Simpson has 24 years of experience in sales and marketing of technical products and services. Most recently with New Scale's strategic partner austriamicrosystems, he was instrumental in introducing New Scale's SQUIGGLE micro motor to austriamicrosystems' worldwide direct sales force and distribution network. In this role he drove sales, marketing, engineering and channel activities for the companies' jointly-developed micro-mechatronic systems.
"Dave has been a champion of New Scale products within the austriamicrosystems sales network since 2008, and has been a key force in helping sales reps add value to their offerings while dramatically expanding New Scale's global sales reach," said New Scale co-CEO David Henderson.
RRPC Health Care & Benefits Committee
A working group has been established to examine costs saving opportunities that may be afforded by Cluster power in Health Care and Benefits packages. The group met twice over the summer and has begun evaluating group packages including Multiple Employer 401k plans and hybrid health care options.
Understanding the mandated changes that will be occurring in health care over the next few years is a complicated subject, one that some people do not want to face until the bill comes due.
We are interested in hearing from you about this issue. A number of companies have voiced their concern about mandated increases in health care costs to our members.
What is your forecasted increase? No names or company names will be printed. We are simply interested in tallying increase percentages.
Simply click here and give us a percentage number.
Our next meeting will be at JML Optical on Tuesday, September 14. Contact Tom Battley.
Inc. 5000
Both Stefan Sydor Optics (#2702) and Sydor instruments (#1294) made the Inc. 5000 list once again in 2010.
Congratulations!

Think you've got what it takes to beon th list? To apply for the Inc. 5000 List in 2011 go here.
The Future is Your Decision!
Getting the Most Out of the Recovery
October 5, 2010; 3-5pm
Monroe Community College
Alan Beaulieu (Institute for Trend Research), acclaimed economic trend forecaster and one of the country's most informed economists, will present the financial outlook for U.S. industry and the global economy.
Hosted by Finger Lakes Advanced Manufacturers' Enterprise (FAME), Finger Lakes Community College, Genesee Community College and Monroe Community College.
To learn more or to register click here.
Frontiers in Optics
OSA Annual Meeting 2010
Scientific and industrial leaders and decision makers come from around the globe to attend and exhibit at Frontiers in Optics (FiO) at the Rochester Riverside Convention Center this October 24 – 28 (Exhibition Hall open October 26 and 27). All seven of OSA's technical divisions are covered at FiO which include Optical Design, Fabrication and Instrumentation; Optical Sciences; Optics in Biology and Medicine; Optics in Information Science; Photonics; Quantum Electronics and Vision and Color. Of particular note is the Industrial Physics Forum featuring experts discussing exciting laser applications in biomedicine, the environment, metrology, and more. Selected highlights and speakers include:
Laser Refractive Cataract Surgery with the LenSx Laser, Michael Karavitis, Lens X, USA
Applications of Table Top Lasers Developed from the FEL, David Piston, Vanderbilt Univ., USA
Tunable Infrared Laser Measurements of Industrial Process and Product Emissions, Charles Kolb, Aerodyne Res., USA
Epitaxial Graphene: Designing a New Electronic Material, Walter de Heer, Georgia Tech, USA
The Status of the CERN Large Hadron Collider (LHC), Dan Green, Fermilab, USA
Viewing the High-Energy Universe with the Fermi Gamma-Ray Space Telescope, Peter Michelson, SLAC, USA
Quantum Entanglement and Information, Chris Monroe, University of Maryland, USA
With everyone from business leaders to optics and photonics pioneers and legends in attendance, FiO will prove itself yet again to be the must attend event of the year. Register to exhibit today!
Annual APOMA Workshop
Join your colleagues on November 10th and 11th for the APOMA Fall 2010 Optical Manufacturing Workshop, to be held in Tucson, Arizona, at the Optical Science building at the University of Arizona.
The workshop will cover a variety of topics on optical fabrication such as materials, bound and loose abrasive grinding, optical pitch and polishing pads, optical tolerances & metrology and presentations by optical machine builders on the latest equipment, and much more. Cost for the workshop is $150.00 and includes a light breakfast and lunch each day.
A reception and tour of the facilities at the Optical Science Center are planned for Wednesday evening. A complete program description and registration form will follow shortly. Current up-to-date membership in APOMA is required for all workshop attendance.
http://www.optics.arizona.edu/Maps/Default.htm
http://www.visittucson.org/visitor/accommodations/
Events and Conferences
The Future is Your Decision!
October 5, 2010; 3-5pm
Monroe Community College
Rochester, NY

OSA Annual / Frontiers In Optics
24 - 28 October, 2010
Rochester, New York
APOMA Manufacturing Workshop
10 - 11 November, 2010
Tuscon Arizona

SPIE Photonics West
22 - 27 January, 2011
Moscone Center
San Francisco, CA, USA

SPIE Defense, Security & Sensiing
25 - 29 April, 2011
Orlando World Center Marriott
Orlando, FL, USA
Save The Date!
12th Annual Glass Cartel Clambake
Monday, October 25, 2010
Brooklea Country Club
891 Pixley Road
Rochester, NY 14624
That's Monday evening prior to the OSA Annual FiO.
To make it easiest for everybody,
the Credit Card form is here.
You may also contact Judy Schnarr at Sydor Optics to make your reservation.
telephone: (585) 271-7300 ext.105
fax: (585) 271-7309
Vincent Uniblitz in Space
The French PICARD satellite launched on June 15, 2010 carries one of Vincent Associates® 35mm aperture VS35 shutter products. The prime contractor for PICARD is CNES (Centre National d'Etudes Spatiales). PICARD was successfully launched aboard a Russian DNEPR launcher along with the PRISMA Satellites built by the SSC (Swedish Space Corporation).

The electronic shutter in operation aboard PICARD is an off-the-shelf, 35mm aperture, VS type, modified for this particular space flight application. The shutter has been tested to survive the shock, vibration and environmental extremes to allow it to be the choice for this application. The shutter has also been qualified to survive a minimum of 1,330,000 exposures.
The VS35 shutter is used in the SODISM instrument which stands for Solar Diameter Imager and Surface Mapper: an imaging telescope accurately pointed, and a CCD (Charge Coupled Device) used to measure the solar diameter and shape with an accuracy of a few milliarcseconds. According to Mustapha Meftah of CNRS-LATMOS "SODISM is an 11-cm Ritchey-Chrétien imaging telescope, developed at CNRS (Centre National de la Recherche Scientifique) by LATMOS (Laboratoire Atmosphères, Milieux, Observations Spatiales) and contains a 2K x 2K CCD, taking solar images at five wavelengths. The shutter performs a variety of functions; however, its main function is to provide CCD exposures at specified wavelengths. The VS35 shutter provides exposure times between 0.5 second to 16 seconds."
The PICARD satellite took its first successful photograph of the sun on July 22, 2010 at 16h12. It is a raw image, level L0, thus obtained before processing, at 607.1 nm wavelength in a very narrow band of 0.7 nm width. For additional information on this first photograph, see the PICARD News page. For information and other links see the PICARD Home page.
According to Stephen Pasquarella of Vincent Associates, "UNIBLITZ® shutters have been used in other space-borne applications in the past. Our 35mm, VS35 type shutter was a part of the SOLSE (in 1997) and SOLSE-2 (in 2003) experiment packages aboard the Space Shuttle, and our 25mm shutters, VS25 type devices, flew to Halley's Comet aboard the Vega Probes in 1986. These are just a few of the many applications for which UNIBLITZ® shutters have been selected."
First Annual East High Optics Summer Sizzler
Our Goal: Dual Credit Course in Optics at East High School / MCC
Eleven students from East High School, Rochester, NY came together on June 28, 29 & 30 to learn about optics and the science of light. The three day event began with demonstrations by Josh Cobb (Corning Tropel) and Marcelo Guimaraes (MCC).

By Monday afternoon, the students had broken into three teams (presentations on YouTube are linked to each team):
. Team Spectra (Kruschwitz)
. Team Lightbender (Guimaraes / Vankouweberg)
. Team Projection Science (Conrow / Cobb)
. Team Stereo Vision (Crittenden)
Each team undertook study and experiments with their team leaders, and by Tuesday afternoon had begun Powerpoint presentations for presenting their findings to their peers and a panel of guests from industry on Wednesday. This was a steep curve in a three-day workshop setting.
After a brief period polishing their presentations Wednesday morning, the teams presented to the larger group and the panelists on Wednesday. Several came in early to work on their presentations.
The students created the presentations entirely on their own, and presented their findings and fielded questions from panelists without their team leaders to assist them. The setting was designed to put them into the professional circumstance of presenting to known and unknown parties where information had to be transmitted effectively.
The presentations were professional, articulate and informative, and the students fielded questions with aplomb and composure. There is video here.
The group that worked on the Summer Optics Sizzler has identified a source of untapped talent in one city high school, and there are more opportunities where outreach of this sort in city schools will make a difference. I encourage you to speak to anyone who participated about their experience with the students.
Special thanks goes out to the following people:
Program design and extreme generosity, especially with their time:
Jim VanKouwenberg - Optimax Systems (team leader)
Jennifer Kruschwitz - JK Consulting (team leader)
Jim Crittenden - ITTSSD (team leader)
Josh Cobb - Corning Tropel (team leader in absentia)
Paul Conrow - East High School (team leader)
Marcelo Guimaraes (team leader), Dianna Phillips (panelist, food and facilities donation), Ross Micali (extraordinary logistical support), Debbie Smith - all from MCC
Guest Panelists (and their companies!) for their time and support:
Dan Balonek - Lasermax
Elise Michaels and Katherine Hasman - ITTSSD
Alexis (Spillman) Vogt - Bausch and Lomb
Thanks to our Sponsors:
ASE Optics
ITT SSD
Sydor Optics (Jim Sydor: East High Graduate)
Monroe Community College
OptiPro
Optimax Systems
Optics Technology
Vincent Associates
G-S Plastic Optics
CVI Melles Griot
Moondog Optics
PLS Launch Solutions
Andy Germanow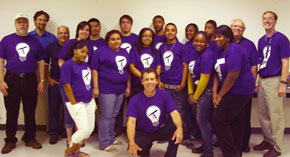 Very special thanks go out to Paul Conrow (on the right), a science teacher at East High School, for inviting us to take a chance on a program like this with the kids from the school where he teaches and from which he graduated.
Remember our goal: East High School will offer a dual credit optics program with MCC in Fall, 2011.
CNC Training for Glass Fabrication
First Optipro U a Success
OptiPro held its innaugural OptiPro U trainingcourse on Advanced Optical Manufacturing from August 16th to August 20th, and people left very satisfied with the training and hands-on experience they received. The course consisted of a morning lecture followed by afternoon lab, during which they were able to practice the techniques they learned on OptiPro's grinding and polishing machines and metrology equipment. The course was taught by OptiPro engineers Ed Fess, Jayson Tierson, and Dave Mohring.
You may recall the story concerning the genesis and deveiopment of the course from our June newsletter: MCC / Optipro Collaboration Delivers Training.
The twelve students that participated in the course had numerous positive things to say when filling out their course evaluations, including the following statements:
"Lectures were a nice surprise as I didn't think I would receive so much historical and scientific background to optics."
"The instructors and lab personnel were very knowledgeable, approachable, and responsive to questions."
"It was an awesome experience. Very friendly and helpful people and wonderful technology."
Students also gave OptiPro valuable feedback regarding the course; ideas that will be integrated when OptiPro holds their next OptiPro U course in March 2011. Among the suggestions given were:
"More detail on K-ratio optimization and synchro-speed polishing correction."
The continuous improveement process is built into the OptiPro U training course just as you would want it built into your processes on the chop floor. Those who attend the next OptiPro U class can expect an even more refined course than the one that was unanimously viewed as "a week well spent."
For more information on OptiPro U or to register for the next class, feel free to contact OptiPro by calling 585-265-0160 or by sending emails to sales@optipro.com.
Small Business Accounting
Look for Cash Flow Opportunities in your Corporate Tax Return
We are already more than half way through the calendar year 2010. Kids are back to school and we are making Thanksgiving plans. As we head towards our last calendar quarter I suggest that business owners or their financial executives take some time out to step back and review their prior year corporate tax return. There could be opportunities for additional cash flow infusions into your business. Let's review some of these potential opportunities and perhaps the government can return some of your hard earned tax dollars before the calendar turns again.
As a majority of the membership is involved in some form of manufacturing, the Domestic production deduction (a/k/a Code Section 199 deduction) remains available to reduce taxable income. For 2009, the deduction generally equals 6% of the lesser of (1) qualified production activities net income for the year or (2) taxable income that does not take the deduction into account for the year. The deduction may not exceed 50% of the W-2 wages allocable to domestic gross receipts. The deduction increases to 9% for 2010. Research and Development
(R&D) Credits. Is your business developing a new product or process? Are you testing new materials for use in manufacturing? Are you working to increase efficiencies and cost savings in a production process? Each of these activities likely qualifies your company for R&D credits as long as there is an engineering and experimentation process involved. Both the Federal and New York State governments have programs to reward these activities. The Federal credits cannot be used unless the company has a tax liability while the New York program credits are refundable. To qualify for the New York program the company must spend at least 6% of its sales revenues on allocable R&D costs and have under $10 million in sales and fewer than 100 employees. For the New York R&D program eligible costs include labor, materials and allocable portions of overhead costs such as rent, depreciation, utilities and employee benefits.
Does your business use alternative fuels for motor vehicles? This could be as simple as forklift trucks powered by propane. The Federal government has a $0.50 cent per gallon credit that incentivized the vehicle use of propane, compressed natural gas, liquefied natural gas and liquid fuel derived from biomass. A registration process is required to claim these credits. The economic downturn has been tough for many companies. If this is true for your business be sure that all available loss carrybacks have been applied for. Taxpayers may elect for losses incurred in 2009 a special carryback to the third, fourth or fifth preceding tax year instead of being limited to the second preceding tax year. This provision is for eligible small businesses which the IRS defines as less than $15 million of gross receipts.
The items addressed above can provide significant tax benefits to your business. Davie Kaplan, CPA, P.C. has been successful at helping our clients realize the full potential of these tax incentives, including several that have reached the $1 million maximum amount ($250,000 per year) of New York R&D refundable tax credits. If you are interested in learning more about any of the topics mentioned we would be glad to discuss the opportunities available to your business with you.
Obituary
The Rochester Optics Community Mourns the Passing of Eduardo Navarro
Ed Navarro: The true gentleman. The natural athlete. The extraordinary family man. The guy who took the Hispanic Business Association to a "new level." The guy who always had a pocket square in his jacket.. The natty dresser who always wore a jacket! These were a few of the comments and remembrances we heard when talking to Ed Navarro's friends and colleagues.
Ed, though not schooled in classical optics, was a part of the Rochester optics community for over 30 years.
"Ed was an immigrant from Cuba, and I, an immigrant from Italy," remembered Bruno Glavich of Applied Image Group. "We met each other in the "old neighborhood" of Clinton & Clifford when we were kids. Our friendship strengthened in our late twenties when I founded Applied Image and convinced Ed that he should join my company as the sales manager."
"Ed knew nothing about optics or imaging, but was willing to learn, and a quick learner he was! Over the next twenty years he helped me build Applied Image into a unique, world-recognized custom component imaging company, as we struggled and navigated the everyday ups and downs that go with a small business."
"Ed had the ability to make everyone he came into contact with comfortable, as only a true gentleman can do. Difficulties were always made easier with Ed around."
It becomes apparent upon talking with friends, colleagues and loved ones that Ed was multi-faceted, and was active in many places in the community. Not many of us knew, for instance, that Ed had a beautiful singing voice. He sang in the St. Pius X church choir. One of his wishes was for an upgrade to new robes for the church choir. Shortly after Ed's passing, the church created a foundation -- and donations to that foundation helped the church achieve Ed's goal. Tthe choir now wears new robes.
"Most important to Ed was his family, which was everything to him," said friend and colleague Sergio Esteban, at Labella Associates. "Ed was a devoted father, a good husband, always making sure nothing was lacking for his family, all the while having a steady hand on the rudder as only a good captain could do. He was also a man of deep faith. And in his later years Ed involved himself with the hispanic community helping others reach their aspirations of a better life in this country."
In 2000 Ed became Hispanic Business Association Business (HBA) business person of the year. He joined the HBA board shortly afterwards, and later succeeded Sergio Esteban as president of the HBA. According to Mario Rodriguez of Fibertech Solutions, a colleague and friend from the HBA, "When Ed stepped in he took us to places we had not thought of."
According to Sergio Esteban, "As chair of the HBA, Ed was a driving force and an excellent ambassador. He reinforced our relationship with the Rochester Business Alliance and grew the relationship with the Progressive Credit Union. Ed brought the HBA to another level altogether. Our scholarship fund grew under Ed's leadership"
In a personal aside, Esteban noted, "Not many people know that Eduardo was a good golfer. He was a natural at the game. Although he would play infrequently, he always played well. And he still used old persimmon woods! He played better with those old clubs than I did with all of my new technology! And we might be in shorts, but Ed, of course, was in creased slacks and an impeccable polo shirt. He looked like a PGA player."
Nicole Navarro, Ed's daughter, laughs when remembering her dad's sense of style. "It was a joke in our family that dad did not know how to dress down. The man cut the lawn in tassel loafers!"
Ed Navarro touched many lives in the optics community and throughout the community during his generous, productive life. He will be missed by many.
"I can say, with confidence that Eduardo Navarro was appreciated by everyone that he ever touched with his kindness and gentle ways," said Glavich.
The City of Rochester has inaugurated the Eduardo Navarro Empresario Latino Business Development Training Program. The program's first classes begin September 13 and will be held Monday evenings from 7:00 – 9:00 PM.
Ed will be also be honored later this month. The St. Pius X Federal Credit Union is planning their annual Scholarship golf tournament in memory of the late Ed Navarro. Ed and his family have been members of the St. Pius X Church and the credit union for many years.
The money raised from the tournament will be used for scholarships given to high school seniors entering college. Since the tournament's inception in 1996 they have awarded over $80,000 in scholarship money. Contact Florence Layton at 585.889.1992 or Ann Hynes at 585.247.0724
Contact RRPC
How does one acquire the coveted RRPC Newsletter Cub Reporter Badge?
Luke, you finally got yours but I didn't see you wearing it at Photonics West. Everyone else: contact us with industry news and be the first in your office to wear one (or hide it in your desk).

New York Photonics and the Rochester Regional Photonics Cluster are active and growing collaborative organizations. Efforts are under way on joint training events, workforce development, collaborative advertising opportunities, promoting the commercialization of I.P., and the development of our website to further facillitate business development.
Join us! There are advantages to working together, and we are interested in working with you. Send an email to us at membership@rrpc-ny.org.
To subscribe, to unsubscribe, to submit a news item or upcoming event, to suggest a feature or column, or to offer feedback, contact Tom Battley, at 585-329-4029.