In This Issue
13th Annual Clambake
RRPC Expansions
Manufacturing Renaissance
Sizzler Recap
Patent Reform Repurcussions
Conferences
Rochester Expansions Add Up To Jobs
Where Will Applicants Come From?
Hot on the heels of Optifab, substantial growth plans were announced -- and continued being announced -- by RRPC companies throughout the summer.
G-S Plastic Optics, JML Optical, Optimax, OptiPro and Rochester Precision Optics all announced new investments, some to be accompanied by significant facility additions. Expansion projects got busy quickly, with opening dates projected in October / November time frames.
If the companies are able to reach their projected growth numbers, 450 qualified job applicants will need to be available in the region over the next two years.
OptiPro's 12,500 sq ft facility is expanding to to 20,000 sq ft. The new addition has 3 purposes:
A new state of the art optics machine tool build area triples the current working space
Additional space for he Advanced Process Development (APD) lab and Metrology lab
Expanded Machine Tool Showroom
OptiPro's APD Lab and the Machine Tool showroom are now being recognized by manufacturing industries as innovative "technical centers" where customers can work with OptiPro personnel to develop advanced solutions for high quality, cost effective manufacturing processes. Since the beginning of 2011, the optical fabrication and metalworking industries have been extremely busy.
With the development of OptiPro's new "PRO 80" series of machines, a major goal with this new expansion is to increase the number of machine build cells thus reducing lead times to meet the rapidly growing market demands.
Ultimately this expansion will increase Optipro's ability to meet customers' critical demands for advanced research and development projects. Optical training courses (OptiPro U) will also benefit from this increased floor space and new equipment, allowing for more students and hands-on experience.
The addition is expected to be completed by the end of September, with both OptiPro U and OptiPro's annual open house to follow in the fall.
Rochester Precision Optics is adding 40,000 square feet to their facility. The building is being expanded to the north along Bailey Road and to the west along John Street. RPO will invest $10.7 million to expand its Henrietta, New York facility, adding 151 new jobs to its current 144 head count. RPO is expanding its 64,500 square foot facility by adding an additional 43,000 square feet of new space, including clean room space.
Optimax Systems is adding an additional 20,00 square feet to their Ontario facility, increasing their footprint by a third and investing over $5,000,000 in capital equipment to double their manufacturing capacity.

The 20,000 square feet addition is designated space for the lean manufacturing of high precision production optics. It will include 2000 square feet of space in the form of two environmentally controlled rooms specifically engineered to provide enhanced metrology capability.
G-S PLASTIC OPTICS will add 25 new employees. G-S specializes in the custom manufacture of precision polymer optics for use in imaging, scanning, detection, and illumination applications worldwide. The company produces injection molded aspheric imaging optics and mirrors from 170 mm to less than 2mm in diameter. In addition, the company has in-house capability to provide custom designed diamond turned and injection molded prototypes, thin film and reflective coatings, and integrated optical solutions enabling high performance products for a wide range of commercial, military, medical, and consumer markets.
The project encompasses doubling the space dedicated to precision optics plastic injection molding and metrology; completion of the final phases of operating, monitoring and maintenance of two Brownfield clean up programs; and the purchase of new manufacturing equipment.
JML Optical Industries announced its recapitalization by BB&T Capital Partners. Bob Bicksler from BB&T joined JML as CEO to with existing management in order to position the company for continued long-term growth. Company founder, Joe Lobozzo will stay on as an advisor.
Bicksler will oversee the continued organic growth of JML while also pursuing acquisition opportunities within the industry. In an interview with the Gannett Rochester newspaper Bicksler estimated that a 50% employment increase would be required over the next year due to customer demands and acquisitions.
The successful development of MCC's Optics program; internships for students; dual credit optics programs between high schools and MCC; and effective marketing of our region's optics industry are all key for companies companies like these to be able to grow.
Second Annual Summer Optics Sizzler
RRPC / East High School / Monroe Community College Summer Optics Sizzler
Seventeen East High School students participated in the second annual Summer Optics Sizzler, June 27 - 30.
The staff, mostly volunteer, led the students through a rigorous four-day program that included an intro to optics and how the brain sees, and break-outs into five teams studying coherent light, stereo vision & imagery, interferometry, spectrometry and projection science. The team leaders were:
Light Pipe - Jim Van Kouwenberg (Optimax) / Marcelo Guimaraes (MCC)
Stereo Vision & Imagery - Jim Crittenden (MCC)
Interferometer - Josh Cobb / Paul Michaloski (Corning Fairport)
Spectrometer - Jennifer Kruschwitz (UR / JK Associates)
Projection Science - Paul Conrow (East High School)
Following three days of study, the teams offered presentations of their work via Powerpoint slides to their peers and a panel of experts.
This year's panel was composed of:
Alexis Vogt (UR, Bausch and Lomb)
Katie Hasman (UR, ITT Geospatial Systems)
Elise Michaels (UR, Optical ProcessDevelopment and Optical Metrology Engineer)
Jim Petrosino - Current Interim MCC Dean of Technologies
Special Thanks to Ross Micali, Special Projects Administrator at Monroe Community College, and to the sponsors: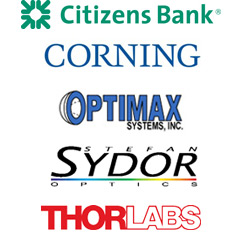 This season, East High School began offering the region's first dual-credit optics course with credit bearing in the optics program at Monroe Community College.
Resources For Business Success
One Stop Shopping for How To Do Business in Our Region
Monday, September 26, 7:30 AM - 12:00 PM
Rochester Museum and Science Center
Eisetnhart Auditorium
657 East Avenue
Rochester, NY 14607
Business Basics
Navigating Taxes and Permits
Access To Capital
Government Contracting
Seminar on Patent Reform

With the America Invents Act now enacted into law, it is important that companies assess its impact on how their research and development is done, and how patent protection must be sought for new products and technologies. All businesses pursuing patents need to make key changes in their patent strategies, including patent application filings, and how to protect proprietary information prior to filing.
On October 24th at the Lennox Technology Center in West Henrietta, Robert Gunderman and John Hammond of PatentEducation.com will present a two-hour lunchtime seminar titled ""Patent Reform is Law: What You Need to Know." There is no charge to attend, but pre-registration is required. Further details and registration information are available here.
Counterintelligence and I.P. Protection
On Wednesday, October 19 Sydor Optics will be hosting a presentation by the Rochester/Buffalo Division of the FBI regarding counterintelligence and protecting our intellectual property - with concerns specifically directed to our local optics industry.
Events and Conferences

OSA Frontiers In Optics
16 - 20 October 2011
San Jose, Calfornia, USA
SPIE Photonics West
21 - 26 January, 2012
San Francisco, California, USA
SPIE Defense, Security & Sensing
23 - 27 April, 2012
Orlando, Florida, USA
Optatec
22 - 25 May, 2012
Frankfurt, Germany
Register Today!
13th Annual Glass Cartel Clambake

Monday, October 10, 2011, 6:00 PM
RSVP Today!

$60/person
Steamed clams plus dinner buffet including: BBQ chicken, sausage, hamburgers, hot dogs, baked ziti, salt potatoes, corn and salad.

Three hours of open bar for beer, wine and soda sponsored by Ohara Corp & Schott North America. A cash liquor bar will be available as well.

Reservations & Payment:
All payments must be made in advance, payable to Sydor Optics, 31 Jet View Dr, Rochester, NY 14624 and received by Tuesday, October 4.
Please forward checks and credit card information using the attached form to the attention of Shawna Reitz :
tel: (585) 271-7300
fax: (585) 271-7309
email: Shawna(at)sydor.com
Cash, checks or AMEX/MC/V credit cards accepted.
Please note: no payments will be accepted at the door. Every year their are a few people who don't acknowledge this. You must prepay!
Location:
Optimax Systems
6367 Dean Pkwy
Ontario, NY 14519
Manufacturing Renaissance?
Made in America, Again: Why Manufacturing Will Return to the U.S.
A new Boston Consulting Group report elaborates on why America is likely to see a 'Manufacturing Renaissance.'

Building on earlier research, the report details how China's escalating costs and the strategic advantages of making goods closer to consumers will accelerate a return of U.S. manufacturing by around 2015.
This reiterates what RRPC members have been hearing from panelists at our annual meetings for three years, and what we heard from panelists during the panel during Optifab in May, when we asked "What is the future of optics manufacturing in the U.S.?"
Patent Reform
The U.S. Senate passed H.R. 1249, the House version of the "America Invents Act." This completes the legislative process or the most significant revision to our patent laws in nearly 60 years. The next stop for the bill is the Resolute Desk in the Oval Office of the White House. Assuming President Obama signs it, and that seems likely, the "America Invents Act" will be the law of the land.
After many years of starts and stops, a major overhaul of U.S. patent laws has finally happened. On September 16th, President Barack Obama signed the "America Invents Act" into law at a ceremony at the Thomas Jefferson High School for Science and Technology in Alexandria, Va.
According to the Patent Office Director David Kappos, "This Act sets into motion the most comprehensive overhaul to our nation's patent system since 1836." Its major provisions are as follows:
Changing from a "first to invent" to a "first inventor to file" system, such that in a conflict between two applicants, the first inventor to file a patent application is awarded the patent. The date of conception of the invention is no longer relevant.
Expanding the definition of prior art to include any disclosure of an invention that occurs prior to filing a patent application. (A "personal" one-year grace period remains as an exception.)
Expanding "prior user" defenses of infringement to be applicable to all patents, not just business method patents, as the previous law required.
Extending the period during which third parties may submit prior art to the Patent Office to consider in examination of a pending patent application.
Addition of a post-grant review process administered within the Patent Office, which permits any third party to institute a challenge to a patent on any ground of invalidity within nine months of issuance of the patent.
The effective date of these and other provisions of the law varies. The change to "first inventor to file" and prior art definitions will become effective eighteen months from enactment. Post-grant review and third party submissions of prior art become effective twelve months from enactment. Prior user infringement defenses and various other provisions are effective immediately. Additionally, a fifteen percent surcharge will be applied to most Patent Office fees as of September 26, 2011.
Although the law was passed with broad bipartisan support in both legislative chambers, the America Invents Act is highly controversial. Advocates of the AIA assert that it will stimulate innovation, reduce patent litigation, create jobs, and harmonize our patent laws with the rest of the world. Opponents argue that it will significantly damage the abilities of startups and small technology companies to compete with large companies, making it more difficult and expensive for small businesses to obtain and enforce patents, and to thus build an asset base that attracts investment and creates jobs. Major effects of the law will likely not be known for at least several years.
See information about the free Patent Education seminar below in the left hand column.
Spanish Cluster Members Visit Rochester
The week of the 10th of October representatives of Sensofar-Tech SL, and the Southern European Cluster in Photonics and Optics (SECPhO) will visit the Rochester area. The people attending this mission are:
Niels Schwarz, Maganging Partner, Sensofar LLC, USA, based in Carefree, Arizona and Hilsborough, New Jersey. schwarz(at)sensofar.com
Agustí Pinto, Project Manager, Sensofar. Agustí is the lead engineer for the Plu Apex. He is based in Terrassa, Spain at the Sensofar HQ. pinto(at)sensofar.com
Andrés Cifuentes, Manager, SECPhO. Andrés runs the cluster, which is based in Terrassa (Barcelona) Spain. acifuentes(at)secpho.org
SECPhO is a Spanish cluster group, born in Terrassa (Barcelona) Spain, which now has over 45 members in Spain and Portugal. As a cluster to cluster outreach, SECPhO would like to explore areas of collaboration and opportunities between SECPhO and the Rochester Cluster and its members.
The Sensofar team will be at the Glass Cartel Clambake on the 10th of October at Optimax.
Sensofar, a founding member of SECPhO, will take this opportunity to introduce the Plu Apex, a compact, non-contact 2D optical profiling system especially designed for measuring any optical surface, including aspheric and free-form optics. The PLu apex provides shape measurement with form accuracy errors of less than 100 nm and a radius measurement uncertainty of less than 0.01%.
A demonstration session of the Plu Apex will take place at Sydor Optics, Rochester, NY, on Tuesday, 11th of October, at 9:00 a.m.
Secpho and Sensofar would like to specially thank Mike Naselaris from Sydor Optics for his support in this visit and kindly hosting the demonstration session on the 11th of October. We would also like to thank William Hurley and Edward Patton of RPO and Rochester Regional Photonics Cluster for helping make this mission possible.
For more information on Sensofar and PLU Apex visit: http://www.sensofar.com
Welcome new RRPC Member SEKO
SEKO is an innovative, flexible provider of first-class transportation services. Leading the logistics industry with new technologies and customizable solutions, SEKO has triumphed in the outsourced transportation management marketplace. Beginning first as an air freight forwarder operating out of a single Chicago office in 1976, the company is pioneering a new path for the logistics industry through a commitment to providing global reach, local control and robust technology tools.

Global Reach
SEKO is everywhere. The SEKO network reaches more than 50 offices in the United States and in more than 40 countries around the globe. We provide outsourced logistics solutions to meet any business need. Place one call or make one click; we've got the rest covered.

Flexible and Scalable
The SEKO advanced technology solutions can handle any supply chain need in any mode. With dedicated transportation professionals around the globe, your SEKO team provides the best customer service in the industry. Whether your business demands a 2am pickup 4,000 miles away, or bottom line savings contribution through proactive communication with your vendors overseas, SEKO is at your service.

Outsourced Transportation Solutions
The SEKO model is flexible. Non-asset based, we are not beholden to a specific carrier and will use a variety of vendors to meet your business needs. Our sheer size and history allows our team special relationships with select carriers offering premium service in our markets. This powerful combination with our best-in-class technology suite leverages our global buying power so we can pass bottom-line savings to you.
Seko Logisitcs Rochester
Mike Burns, Managing Director
585.235.4221
Contact RRPC
How does one acquire the coveted RRPC Newsletter Cub Reporter Badge?
Contact us with industry news and be the first in your office to wear one (or hide it in your desk).

New York Photonics and the Rochester Regional Photonics Cluster are active and growing collaborative organizations. Efforts are under way on joint training events, workforce development, collaborative advertising opportunities, promoting the commercialization of I.P., and the development of our website to further facillitate business development.
Join us! There are advantages to working together, and we are interested in working with you. Send an email to us at membership@rrpc-ny.org.

To subscribe, to unsubscribe, to submit a news item or upcoming event, to suggest a feature or column, or to offer feedback, contact Tom Battley, at 585-329-4029.